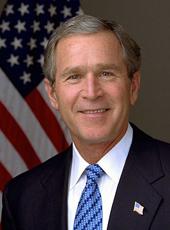 Remarks at a Luncheon Hosted by Chancellor Gerhard Schroeder of Germany in Mainz, Germany
Gerhard, before I raise my imaginary glass—[laughter]—I do want to thank you for your hospitality. You and Doris have been very kind to Laura and me, and we appreciate that. I want to thank all the folks who have come to say hello from around this great country. It means a lot to both of us that you're here.
You know, in the course of my political career, I've often been accused of following in my father's footsteps. I don't know why people say that. [Laughter] I'm proud to be here, 16 years after he was here. I hope he brought my mother because, like me, we both married above ourselves. [Laughter] I'm proud to be traveling with Laura.
The first trip I took since my second inauguration was to Europe, because Europe is a vital relationship for the United States of America. It is in my Nation's interest that Europe be strong. We want a strong partner for peace and freedom. We can't have good, strong relations with Europe if we don't have good relations with Germany. This great nation is the heart of Europe.
My trip today should say to the people of this good country and my country that past disagreements are behind us, and we're moving forward for the good of mankind. And that shouldn't be a surprise to people, because we believe in human rights and human dignity and the worth of every individual.
And so today I come to Germany to raise my imaginary glass to our friendship, our relationship, our ability to work together, and for freedom and peace. May God bless you all.
NOTE: The President spoke at 11:58 a.m. in the Grosser Saal Lobby of the Electoral Palace. In his remarks, he referred to Doris Schroeder-Koepf, wife of Chancellor Schroeder. The transcript released by the Office of the Press Secretary also included the remarks of Chancellor Schroeder.
George W. Bush, Remarks at a Luncheon Hosted by Chancellor Gerhard Schroeder of Germany in Mainz, Germany Online by Gerhard Peters and John T. Woolley, The American Presidency Project https://www.presidency.ucsb.edu/node/216646