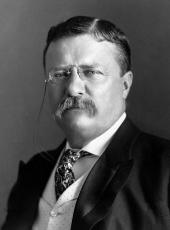 Remarks in Lowell, Massachusetts
When I got the train this morning one of the first to greet me was ex Governor Allen, of Porto Rico, your fellow townsman. Now, you don't hear much about our government of Porto Rico, because there is nothing sensational in a complete success. Under Governor Allen and since under his successor Porto Rico has been governed so well that it is not entitled to any space in the newspapers.
Now, gentlemen, we have done our full duty by Porto Rico. We have done our duty by Cuba. But I want to ask the people to act further than under a sense of bare duty, to act in a spirit of generosity such as befits a great republic in dealing with a new and weaker republic which, itself, has started on the career of self-government. And I want, furthermore, that our people should be awake to their own interest in the seas and lands south of our country. We drove out those who had been oppressing Cuba and we cleaned house for them. Not an easy task, for many of those cities had never before been cleaned in their entire history. We introduced a school system. We made justice in fact as well as in name. We stamped out the plague of yellow fever, a plague which was a menace not merely to Cuba, but to our own Southern States, and then we left them independent. But from the very necessities of the case we are bound to have intimate relations with them. Cuba has got to be in a sense a part of our international political system, and I ask most earnestly that in return we make her part of our economic system by establishing reciprocal trade relations with her. And I ask in her interest and in ours. There is a great market in Cuba, and I wish to see it controlled in the interest of our own people.
We did well in Cuba. We did well in Porto Rico. That was be cause we could count on the services of men like Governor Allen, services which should be both interested and intelligent. Mind you, both. You have got to have morality first, but if morality has not got common sense with it, the result will be unhappy. And now, in dealing with Cuba, in dealing with the isthmus across which we are to build the great inter-ocean canal, we must remember that we can do good for ourselves permanently only if we do good to those with whom we are brought in contact. I ask you, then, to see to it that we give Cuba reciprocity with this country, primarily in Cuba's interests but also for our own great benefit.
Theodore Roosevelt, Remarks in Lowell, Massachusetts Online by Gerhard Peters and John T. Woolley, The American Presidency Project https://www.presidency.ucsb.edu/node/343483