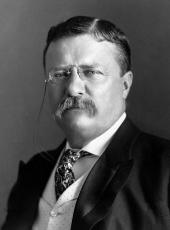 Remarks at Los Angeles, California
My Fellow-Citizens:
I greet you and thank you for the enjoyment you have given me today. I cannot say how I have appreciated being here in your beautiful State and your beautiful city. I do not remember ever seeing quite the parallel to the procession I have just witnessed. [Applause] I find, men and women of California, that California believes implicitly in two of my own favorite beliefs—the navy and irrigation. [Applause] The navy, because this country is one of the great leading nations of mankind and is bound to become ever greater as the years roll by, and therefore it must have a navy corresponding to its position. [Applause] Moreover, we as a nation front two great oceans, and we must have a navy capable of asserting our position alike on the Pacific and the Atlantic. [Applause] This year we have begun the preparations for the completion of the Isthmian Canal. [Applause] That is important commercially; it will become even more important should we ever become involved in war, because holding that canal it would be open to our own warships and closed to those of any hostile power. [Applause] I want a navy, I want to see the American republic with a fighting navy, because I never wish to see us take a position that we cannot maintain. I do not believe in a bluff. I feel about a nation as we all feel about a man; let him not say anything that he cannot make good, and having said it let him make it good. [Applause] I believe in doing all we can to avoid a quarrel, to avoid trouble; I believe in speaking courteously of all the other peoples of mankind, of scrupulously refraining from wronging them and of seeing that in return they do not wrong us. [Applause] I believe in the Monroe doctrine, and I believe in it not as an empty formula of words, but as something we are ready to make good by deeds, and therefore I believe in having an adequate navy with which to make that doctrine good. More than that, here on the Pacific, the greatest of the oceans, we as a nation are growing by leaps and by bounds, our interests increasing with ever accelerating rapidity, and if we are to protect those interests, and to take the position we should take, we must see that the growth of the navy takes place with equal rapidity with the growth of the interests that it is to protect.
When I come to speak of the preservation of the forests, of the preservation of the waters, of the use of the waters from the mountains and of the waters obtained by artesian wells, I only have to appeal to your own knowledge, to your experience. I have been passing through a veritable garden of the earth yesterday and today, here in the southern half of California, and it has been made such by the honesty and wisdom of your people, and by the way in which you have preserved your waters and utilized them. I ask that you simply, keep on as you have begun, and that you let the rest of the nation follow suit. We must preserve the forests to preserve the waters, which are themselves preserved by the forests, if we wish to make this country as a whole blossom as you have made this part of California blossom.
In saying good-by to you I want to say that it has been the greatest pleasure to see you, and I am glad, my fellow-Americans, to think that you and I are citizens of the same country. [Cheers and applause]
Theodore Roosevelt, Remarks at Los Angeles, California Online by Gerhard Peters and John T. Woolley, The American Presidency Project https://www.presidency.ucsb.edu/node/297897