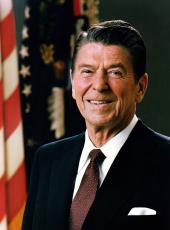 Remarks on Lighting the National Community Christmas Tree
The President. My fellow Americans, the Christmas and Hanukkah decorations are up around the country, and in a moment we'll be lighting the National Christmas Tree here in the Nation's Capital.
In this holiday season, we celebrate the birthday of one who, for almost 2,000 years, has been a greater influence on humankind than all the rulers, all the scholars, all the armies and all the navies that ever marched or sailed, all put together. He brought to the world the simple message of peace on Earth, good will to all mankind.
Some celebrate the day as marking the birth of a great and good man, a wise teacher and prophet, and they do so sincerely. But for many of us it's also a holy day, the birthday of the Prince of Peace, a day when "God so loved the world" that He sent us His only begotten son to assure forgiveness of our sins.
The Yuletide season is characterized in our country by the giving of gifts, a spirit of charity, and, yes, good will, more so than at any other time of the year. Already traditional programs are underway, drives to collect food and clothing for those who are in need. The U.S. Marine Reserves have a toy collection drive to make sure that old St. Nicholas—Santa Clause—has enough to go around. And this is matched in countless American communities by firemen, policemen, churches, religious groups, and service clubs.
Let me give you one specially moving example of what the Christmas spirit can do. I told this the other night. In Bridgeport, Connecticut, the Police Athletic League for years has maintained a kind of Christmas Center. It consists of a ranch-type house, a manger, and all the other things associated with Christmas. And during the holiday season it's manned by a Santa Claus, elves, and helpers. Thousands of children visit it every year, and thousands of toys are given out to them.
This year, on Tuesday, December 7th, it was destroyed by fire set by a suspected arsonist. The mayor of Bridgeport called an emergency meeting. He asked for constructionists, carpenters, electricians, all the skills that are needed to help rebuild such a place. The answer to his call was instantaneous. More than 250 volunteers worked in shifts around the clock.
On Sunday, December 12th, 5 days later, at about 1:30 p.m. I phoned the mayor. He was officiating at the reopening of that Christmas Center to the cheers of hundreds and hundreds of the citizens of Bridgeport. It had been rebuilt in only the 4 days between the fire and the opening ceremony.
A recent initiative of Postmaster General William Bolger's will make it easier for all of us to do our part. He has instructed post offices across the country to display lists of the Christmas food, clothing, and toy drives in their local areas, a guide to holiday giving open to all Americans.
This holiday season, as we work our way out of a recession, too many still find themselves without jobs, forced to cut back on things that they once thought of as their normal pattern of living. They aren't statistics; they're people. They're our neighbors, friends, and, yes, family, and they make up that group that right now we call the unemployed. Their number's greater than it has been for some time past. Still, for every unemployed individual there are 9 of us who do have jobs, and with that ratio of 1 out of 10 in mind, I'd like to make a suggestion. How about those of us who are employed making sure that those who aren't will nevertheless have a merry Christmas. This is something that needs doing at the community level—neighbor helping neighbor.
The people we're talking about may be members of your church, brothers and sisters in your local union, or that family across the street or down the block in your neighborhood. Surely between the nine of us, we can find a way to make Christmas merry for that one who temporarily can use our help. But remember, time is growing short, and Christmas is almost here, which brings us back to lighting the National Christmas Tree.
This beloved tradition, which began nearly 50 years ago, has a special symbolism for our people. It's as if when we light this tree, we light something within ourselves as well. And during the Christmas season I think most Americans do feel a greater sense of family, friendship, giving, and joy. And there's a special joy in our children at this time of year. I've heard from many of them recently. I wish Nancy and I could personally thank all you children who've written in, but I want you to know how good your cards, letters, and artwork make us feel.
Now, while Christmas is a time for children, it's also a time to think of those who are less fortunate than we are, and let us also remember the constant vigil of the families of our missing in action. As we light this Christmas tree, may it light hope in the hearts of those who are lonely and needy.
In Ephesians we read that "Each of us has been given his gift, his portion of Christ's bounty." Well, let us share our bounty this Christmas season. Let us offer not only our hearts and prayers but a generous hand to those who need our help. And as we light this tree, let us brighten the lives of those here at home and around the world whose Christmas may not be as glowing and as cheerful as ours.
So, to all of you, God bless you and keep you during this cherished holiday season. And now let's turn on the National Christmas Tree.
[At this point, the President pressed the button which lighted the tree, located at the annual Christmas Pageant of Peace ceremonies site on the Ellipse, near the White House. ]
And there it is. It's lighted.
Mrs. Reagan. Pretty.
The President. Yes. It's surrounded by 57 trees for each State and Territory.
Well, thank you all, and Merry Christmas. Mrs. Reagan. Merry Christmas.
Note: The President spoke at 5:45 p.m. in the Rose Garden at the White House.
Ronald Reagan, Remarks on Lighting the National Community Christmas Tree Online by Gerhard Peters and John T. Woolley, The American Presidency Project https://www.presidency.ucsb.edu/node/244857