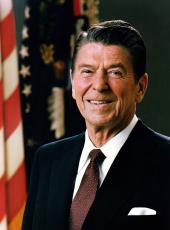 Remarks on Lighting the National Community Christmas Tree
Ladies and gentlemen and fellow Americans:
This is a wonderful occasion, an annual occasion here in Washington, when we turn on the nation's Christmas tree.
Christmas, of course, is, I think for all of us, is a time of memories of our own childhood, of our children, grandchildren—but anyway, it is a time of children. And so, here tonight we're surrounded by children, I'm happy to say, here in the East Room of the White House.
Maybe it's fitting that children should be here and that Christmas is a time for children, because the man whose birthday we celebrate in this season came to us the Prince of Peace, not in a chariot, but as a babe in a manger. I know there are some who celebrate this day, the Christmas Day, as the birthday of a great teacher and philosopher. To others of us, he is more than that; he is also divine. But to all of us, he taught us the way that we could have peace on Earth and good will to men, and that is if we would do unto others as we would have others do unto us.
Now, this button here and this box has been used for turning on the national Christmas tree since 1923, I believe it was, when President Coolidge first did it. It didn't always get turned on here in the White House. Sometimes it was outdoors and down where the tree is and sometimes it wasn't even in Washington. Harry Truman turned the tree on once with this same switch from Independence, Missouri. Franklin Delano Roosevelt turned it on at times from Hyde Park. But it's going to be turned on here from Washington.
I had hoped that—in fact, I one day said that our grandchild, Cameron Michael, might be able to push the button, but he's 3,000 miles away. All these children are here, and I couldn't pick one of them out of all of this number to push the button, so I'm going to have to do it myself.
And in doing it, we all know that this Christmas is not as happy for some Americans as it could be, not as happy for some people out in other parts of the world. We've had other Christmases in our land-the first one when we were a nation in 1976 [1776], and Washington led his men across the Delaware River in a battle that set the stage for our independence. And legend has it that the path of their march through the snow was one of blood-stained footprints. But we shall live with the hope and the promise of the man of Galilee that Christmases will be better and that we will have peace and good will among men.
And now—[pressing the button]—the tree is lighted.
Do you want to look around and you can see the tree over there on the monitor? There it is. All lighted up.
Note: The President spoke at 5:40 p.m. in the East Room at the White House where he pressed the button which lighted the National Christmas tree at the annual Christmas Pageant of Peace ceremonies on the Ellipse.
Ronald Reagan, Remarks on Lighting the National Community Christmas Tree Online by Gerhard Peters and John T. Woolley, The American Presidency Project https://www.presidency.ucsb.edu/node/246293