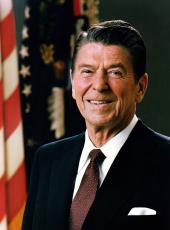 Remarks on Lighting the National Community Christmas Tree
My fellow Americans:
In just a moment we'll be lighting our National Christmas Tree, continuing a wonderful tradition that was started by President Coolidge 60 years ago.
I know there's a special feeling that we share when we push the button lighting up that tree. It's as if each one of those twinkling lights sends a new spirit of love, hope, and joy through the heart of America.' And, of course, the brightest light of all is the Star of Peace, expressing our hopes and prayers for peace for our families, our communities, our nation, and the world.
On behalf of our fellow citizens, Nancy and I would like to thank all of you on the Ellipse who have given America such a beautiful Christmas present, the 1983 Pageant for Peace.
Christmas is a time for giving, and as we reach out to family and friends, I hope we'll also open our hearts to those who are lonely and in need, citizens less fortunate than ourselves, brave soldiers working to preserve peace from the tip of Alaska to the shores of Lebanon, to the DMZ in Korea, families maintaining a constant vigil for their missing in action, and millions forbidden the freedom to worship a God who so loved the world that He gave us the birth of the Christ Child so that we might learn to love each other. I know they would welcome your expressions of love and support.
Many stories have been written about Christmas. Charles Dickens' "Carol" is probably the most famous. Well, I'd like to read some lines from a favorite of mine called, "One Solitary Life," which describes for me the meaning of Christmas. It's the story of a man born of Jewish parents who grew up in an obscure village working in a carpenter shop until he was 30 and then for 3 years as a preacher. And, as the story says, he never wrote a book, he never held an office, he never had a family, he never went to college, he never traveled 200 miles from the place where he was born. He never did one of the things that usually accompany greatness.
While still a young man, the tide of popular opinion turned against him. His friends ran away. One of them denied him. He was turned over to his enemies. He went through the mockery of a trial. He was nailed upon a cross between two thieves. While he was dying, his executioners gambled for the only piece of property that he had on Earth. When he was dead he was taken down and laid in a borrowed grave.
Nineteen wide centuries have come and gone. And today he is the centerpiece of much of the human race. All the armies that ever marched, all the navies that were ever built, and all the parliaments that ever sat, and all the kings that ever reigned, put together, have not affected the life of man upon Earth as powerfully as this one solitary life.
I have always believed that the message of Jesus is one of hope and joy. I know there are those who recognize Christmas Day as the birthday of a great and good man, a wise teacher who gave us principles to live by. And then there are others of us who believe that he was the Son of God, that he was divine. If we live our lives for truth, for love, and for God, we never need be afraid. God will be with us, and He will be part of something much larger, much more powerful and enduring than any force here on Earth.
Now, tonight I have a very special person here with me to spread our Christmas joy. Her name is Amy Benham, and she comes all the way from Westport, Washington. Amy recently wrote the leaders of a public-spirited project named "Make A Wish" and said, "The Christmas tree that lights up for our country must be seen all the way to heaven. I would wish so much to help the President turn on those Christmas lights."
Well, Amy, the nicest Christmas present I could receive is helping you make your dream come true. When you press the button over here—we're going over there-the whole world will know that Amy Benham lit up the skies, sending America's love, hope, and joy all the way to heaven and making the angels sing.
And now, you and I will walk over so you can light the tree. And then after that's done we'll all join in singing one of our favorite Christmas carols, "Joy to the World." So, let's go over here.
Note: The President spoke at 5:47 p.m. at the South Portico of the White House during the annual Christmas Pageant of Peace.
Ronald Reagan, Remarks on Lighting the National Community Christmas Tree Online by Gerhard Peters and John T. Woolley, The American Presidency Project https://www.presidency.ucsb.edu/node/262232