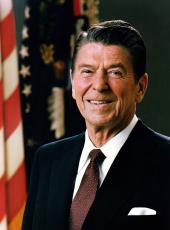 Remarks on Lighting the National Christmas Tree
Thank all of you so much for being here. In just a moment I'm going to push the button that lights the National Christmas Tree. This is an old White House tradition I'm happy to continue.
I was in the White House a few moments ago looking out at all of you down there surrounding the tree, and I thought of how God gives us moments that lift us and that bring us together. For many of us, Christmas is a deeply holy day, the birthday of the promised Messiah, the Son of God who came to redeem our sins and teach us that most needed of all lessons, "Peace on Earth, good will among men." For others of us, Christmas marks the birth of a good, great man, a prophet whose teachings provide a pattern of living pertinent to all times and to all people. Either way, his message remains the guiding star of our endeavors.
I guess we all have our own favorite Christmas memories, for this is the time of year when most of us try to be better than our everyday selves.
For the past few years in this great house, I've thought of our first real Christmas as a nation. It was the dark and freezing Christmas of 1776, when General Washington and his troops crossed the Delaware. They and Providence gave our nation its first Christmas gift—a victory that brought us closer to liberty, the condition in which God meant man to flourish.
It always seems to me that Christmas is a time of magic. Each December we celebrate a Prince, the Prince of Peace, born in utter poverty. And the fact of his birth makes hearts turn warmest at the coldest time of the year.
Many of us do good at this time; most of us all mean to, but sometimes good intentions get lost in the hurry and bustle of the holiday season. Well, this is only the 13th day of December. We still have a dozen days to answer that letter of a child who wrote Santa Claus at the post office, or to buy an extra gift for a Toys for Tot program, or whatever. So, if you've forgotten to do it—well, do it, and do it tonight or tomorrow. One of the great messages of this season is that it's never too late to touch a life and maybe change the world forever for someone.
Over the next few weeks let us all remember those who serve our country abroad—the 800,000 men and women in uniform, the members of our Foreign Service, the people who work in our information agencies throughout the world, and the men and women in the Peace Corps. Even though they can't be at the table this Christmas, they must not be far from our hearts. And let me add, there is no one we hold in our hearts more closely than those MIA's—those missing in action in Southeast Asia, some of whom may be serving our country still. They, too, are absent at the table, and the gathering will never be complete until they return or are accounted for.
Now, I know you're all waiting, and in the immortal words of the astronaut Alan Shepard, "I'm going to stop talking and light the candle." Light it in a nation at peace, a nation united, for the ties that bind still bind. So, now I light the Nation's Christmas tree. May its thousand lights illuminate our best resolves and cast a great glow on our affection for each other, and our thanks for each other, and our love.
And do you know what? I've talked myself into the Christmas spirit. I'm going to give a gift right now. I'm not going to light the tree; I'm going to let Nancy do it. Where's the button? Where do we go?
Note: The President spoke at 5:45 p.m. at the South Portico of the White House during the annual Christmas Pageant of Peace.
Following his remarks, the President and Mrs. Reagan moved to a table surrounded by Washington-area children present for the ceremony, and Mrs. Reagan pushed the button which lit the National Christmas Tree, located on the Ellipse.
Ronald Reagan, Remarks on Lighting the National Christmas Tree Online by Gerhard Peters and John T. Woolley, The American Presidency Project https://www.presidency.ucsb.edu/node/261262