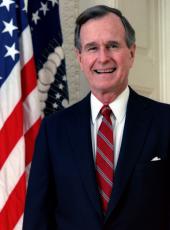 Remarks on Lighting the National Christmas Tree
Joe, thank you very much. Thank you, Joe Riley. And thank you, Jane Powell and Willard Scott and Ricky Van Shelton and Ruth Brown and the Army Band, the magnificent University of Wyoming Chorale and our members of the clergy, the California Raisins and, of course, Santa Claus. And may I give a special welcome to the American hostages, just home from Kuwait and Iraq, who are with us here tonight. And my thanks to Secretary Lujan and the Department of the Interior, and a special thanks to the National Coal Association for this year's holiday gift: the 57 beautiful State and territorial trees lining our Pathway of Peace. It's a wonderful 1990's tale of careful stewardship and rebirth, for these trees were grown on mined land that has been reclaimed.
This Christmas tree lighting is always a very special moment. People talk of the magic of the season. Well, what is more magical than the way light dispels the darkness? And I've read that white light is actually made up of all the colors of the rainbow. So, that's what we see in the glow of this tree -- red and blue and yellow bulbs mixing together to become something new -- one light that represents both unity and diversity. And that's how I like to look at America: All of us, all different, all working together, giving the best of ourselves to make this country the strong, beautiful land that it is.
You know, there are so many emotions that we share tonight. We feel joy thinking of how freedom has at last illuminated the dark corners of Eastern Europe -- and democracy coming to most of our own hemisphere. We feel pride thinking of our young men and women standing strong in the harsh, distant deserts and on the waters of the Persian Gulf -- and for their courage is the true eternal flame which will never be extinguished. And we think of their parents and their loved ones here at home who miss them very much. And we join them all in praying for their safe return of their soldier or their airman or their marine or their sailor. And let us also add a prayer for those Americans -- for many years, but still held hostage against their will in the Middle East.
And here tonight we also feel determination that the bright warmth of this holiday season will stay with us all year and that we will be guided by our inner North Star, making family unity and community service and national pride the center of our lives. We're determined that our nation will become a constellation of hope made up of thousands of separate Points of Light, people helping those in need across our land. People like the more than 100 representatives of daily Points of Light here tonight -- individuals like W.W. Johnson, and volunteers for groups like the Higher Achievement Program and the D.C. Central Kitchen and Mary's House. And following the lead of these Points of Light, let all of us echo that beautiful carol "O Little Town of Bethlehem," and like that long-ago Star, let us shine in all "dark streets" and to all people in the "deep and dreamless sleep" of loneliness and despair.
For nearly 70 years Presidents have taken part in this tradition: flipping a switch to send thousands of lights sparkling into the chill night sky. As we gather here, we're doing what generations before us have done: watching our national Christmas tree become a brilliant symbol of hope, of peace, and of compassion for all the world. And so, let us pledge together that we will keep forever bright this shining legacy we celebrate here tonight. God bless the United States of America, and happy holidays to everybody. Merry Christmas! And now I will light the tree.
Note: The President spoke at 5:50 p.m. on the Ellipse during the annual Christmas Pageant of Peace. In his remarks, he referred to Joe Riley, president of the Christmas Pageant of Peace; actress Jane Powell; and entertainers Ricky Van Shelton, Ruth Brown, and the California Raisins. Television weatherman Willard Scott was dressed as Santa Claus.
George Bush, Remarks on Lighting the National Christmas Tree Online by Gerhard Peters and John T. Woolley, The American Presidency Project https://www.presidency.ucsb.edu/node/265412