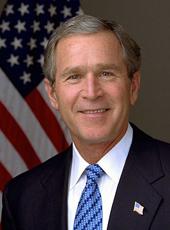 Remarks on Lighting the National Christmas Tree
Thank you all very much. Welcome to the Christmas Pageant of Peace. Laura and I are so honored to join you all. The lighting of the National Christmas Tree is one of the great traditions in our Nation's Capital. Each year, we gather here to celebrate the season of hope and joy and to remember the story of one humble life that lifted the sights of humanity.
Santa, thanks for coming. [Laughter] Glad you made it. I know you've got a lot of commitments this time of year. By the way, we have a lot of chimneys in the White House—[laughter]—if you're looking for something to do. I appreciate all our entertainers. Thanks for being here. This is a fantastic evening.
I want to thank Peter Nostrand, who is the chairman of the Christmas Pageant of Peace, and John Betchkal, all the members of the board. I appreciate Secretary of the Interior Gale Norton, other members of my Cabinet who are here. I appreciate the Members of Congress who have come.
I particularly want to give a special thanks to the National Parks Service Director Fran Mainella and all the good folks who work for the National Parks Service. Reverend Martin, thank you very much as well.
Christmas is a time to rejoice and to give thanks for the blessings of the season and for the blessings that surround us every day of the year. We also remember that we have a responsibility to help those in need. America is a compassionate and generous land, and acts of kindness toward others fulfill the spirit of the season.
As we approach Christmas in this time of war, we pray for freedom and justice and peace on Earth. In his Christmas Eve address to the Nation in 1941, Franklin Roosevelt said that "Against enemies who preach the principles of hate and practice them, we set our faith in human love, and in God's care for us and all men everywhere." We ask for God to watch over our men and women in uniform who are serving overseas. Their families miss them, hold a seat open for them, and pray for their safe return. America's military men and women stand for freedom, and they serve the cause of peace. Many of them are serving in distant lands tonight, but they are close to our hearts.
As an expression of our hope for peace and happiness in this Christmas season, we light the National Christmas Tree. Jackie, Melissa, and Jenna Kantor of Bethesda are with us here. They started "Project Backpack" to give children displaced by Hurricane Katrina new backpacks filled with books and toys and school supplies. These girls are an example of the compassion that is found in the hearts and souls of Americans everywhere, and they have shown how much good can be done when we reach out to help a neighbor in need. And so Laura and I now invite them to join us to turn on the lights.
And would you help turn on these lights, as well, by counting down. Five, four, three, two, one.
NOTE: The President spoke at 5:55 p.m. on the Ellipse at the White House. In his remarks, he referred to John J. Betchkal, president, Christmas Pageant of Peace; and Rev. Richard B. Martin, pastor, Church of the Nativity, Burke, VA.
George W. Bush, Remarks on Lighting the National Christmas Tree Online by Gerhard Peters and John T. Woolley, The American Presidency Project https://www.presidency.ucsb.edu/node/214138