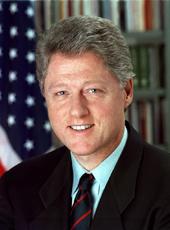 Remarks on Lighting the National Christmas Tree
Thank you very much. Chairman Betchkal, Reverend Smith, my friend Patti LaBelle—you did well with and without your singers. [Laughter] To the Richmond College Children's Concert Choir and LeAnn Rimes, welcome, to the Mannheim Steamroller band, the Washington Ballet, the Boy and Girl Scouts. Let me join Santa Claus in also saying that we miss two important members the Pageant of Peace lost in the last year, Joe Reilly and Bill Harris. The spirit of Christmas was alive in them every day, and we remember them.
Hillary and I look forward to being here every year. I told Hillary when we were sitting here that I never quite get into the spirit of Christmas until I come here to the Pageant of Peace.
America's Christmas tree is famous all over the world. Believe it or not, there's even a new movie in Japan about two people who came to Washington and fell in love under this Christmas tree. It isn't hard to see how that would happen, for this is a magic time.
We come here tonight to celebrate that magic, to rejoice in the spirit of the holiday season, no matter what our faith, a spirit of sharing and giving, of gathering with family and friends and coming together as one community. You can see it everywhere at this time of year.
And of course, at Christmas we come together especially to celebrate the birth of a child who came into the world without a home, only a stable's roof to shelter him, who grew to teach the lesson of love and peace that has truly changed the world. "Blessed are the peacemakers," he said, and those words still call us to action.
As we look around the world tonight, we know the spirit of peace is strong enough to triumph over the forces that still threaten it. Let us be grateful that our Nation is at peace and rejoice in the progress we have made to bring about peace on Earth. And let us not forget the work still to be done, from Bosnia to the Middle East to the Korean Peninsula.
Today our brave men and women in uniform are helping other people in other lands to make their peace. And across our country this holiday season people are joining in peace to feed the hungry, to bring toys to poor children who otherwise would not have them, and to reconcile our own differences. At Christmas and throughout the year the greatest gift of all we can give our own children is to make their world more safe, more peaceful, and more possible for them to make the most of their God-given potential. It is for our children that we must dedicate ourselves to making peace wherever we can, around the world, in every community, in our own homes, and perhaps most important, in our own hearts.
So as we light this wonderful tree, let us remember to let our own light shine all year long, to make the future of our children bright, to honor the spirit of peace at Christmas time.
Merry Christmas, and God bless you all.
NOTE: The President spoke at 5:55 p.m. on the Ellipse during the annual Christmas Pageant of Peace. In his remarks, he referred to John J. Betchkal, president, Christmas Pageant of Peace; Rev. Perry Smith, pastor, First Baptist Church of Brentwood, MD; entertainers Patti LaBelle and LeAnn Rimes; television weatherman Willard Scott, who played Santa Claus; and Joe Reilly and Bill Harris, former presidents, Christmas Pageant of Peace.
William J. Clinton, Remarks on Lighting the National Christmas Tree Online by Gerhard Peters and John T. Woolley, The American Presidency Project https://www.presidency.ucsb.edu/node/222436