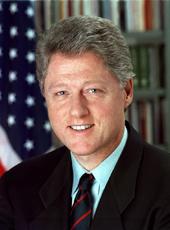 Remarks on Lighting the National Christmas Tree
Thank you. Thank you very much, Peter. Ladies and gentlemen, this is a wonderful ceremony every year, but this year it has been very special. I want to thank Wayne Newton and Renee Fleming, Marty Stuart, Al Roker—he's a good Santa Claus. [Laughter] I want to thank the cast from "Chicago" and Ricky Payton and the Urban National Youth Choir and, of course, Colonel Tim Foley and the Marine Corps Band, "The President's Own." The best perk of the Presidency is the Marine Corps Band, and I want to give them all a hand. [Applause] They've been wonderful.
For over 85 years now, our country has gathered around our National Christmas Tree to celebrate the beginning of this wonderful season of peace and hope. I am honored once again to be part of a tradition I have come to look forward to every year. For me, Christmas always starts now with the Pageant of Peace and the lighting of this beautiful Colorado spruce. And I am especially honored to be here to light the last tree of the 20th century.
In this sacred season, it is time for all of us to renew our commitment to give of ourselves, to reach out to those who are less fortunate, to reach out to those who are different from us, to build the one America of our dreams. In this Pageant of Peace, we celebrate Christmas, also the season of Hanukkah and Kwanzaa and others, all joined by a simple and universal message, that we are to love our neighbors as ourselves.
This holiday season, we Americans have an awful lot to be thankful for: Our Nation is at peace, and all around the world we are privileged to make peace, from Bosnia to Northern Ireland to the Middle East, the land where a homeless child grew up to be the Prince of Peace.
Just today, in this season, I was proud to announce that after a long, long stalemate, the Israelis and the Syrians have agreed to meet again in just a few days to make their peace.
At the dawn of a new millennium, as we enjoy these wonderful performers and the timeless songs of all of our childhoods, let us rededicate ourselves to the true spirit of Christmas. As we light the National Christmas Tree, let us spread the light of peace and good will toward our family, our friends, our neighbors, and all those across the world, especially those who need it most.
Merry Christmas, happy new year, and God bless you.
I'd like to ask, now, the young scouts to come up and join me in lighting the Christmas tree. Caitlin Fong and Chris Alvarez—they're going to come up here. And didn't they do a good job? Let's give them another hand. [Applause]
Unlike the sissies, like me, they did it without any coats on, either. I thought they were wonderful. All right, you put your hands on the switch now, and I'm going to count from three down to one and tell you to flip it, okay? Ready? Three, two, one, go!
Good job.
NOTE: The President spoke at 6 p.m. on the Ellipse during the annual Christmas Pageant of Peace. In his remarks, he referred to Peter Nostrand, chairman, Christmas Pageant of Peace; entertainers Wayne Newton, Renee Fleming, and Marty Stuart; television weatherman Al Roker; and Ricky Payton, Sr., director, BET Urban Nation Voices of Youth H.I.P. H.O.P. Choir; and Col. Timothy W. Foley, USMC, Director, "The President's Own" United States Marine Band.
William J. Clinton, Remarks on Lighting the National Christmas Tree Online by Gerhard Peters and John T. Woolley, The American Presidency Project https://www.presidency.ucsb.edu/node/229603