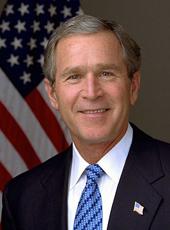 Remarks on Lighting the Hanukkah Menorah
Thank you all very much. Welcome to the White House. I'm pleased you all could join us. I appreciate members of my Cabinet who have joined us: Secretary Michael Chertoff, Ambassador Susan Schwab, and Chief of Staff Joshua Bolten.
Tonight is the fourth night of Hanukkah, a holiday which commemorates a victory for freedom and the courage and faith that made it possible. Laura and I are honored to have this Hanukkah menorah here at the White House. It's a symbol that the White House is the people's house, and it belongs to Americans of all faiths.
The story of Hanukkah celebrates a great miracle. More than 2,000 years ago, the land of ancient Israel was conquered, its most sacred temple was desecrated, and Jews were forbidden to practice their faith. A patriot named Judah Maccabee and his followers took a stand for freedom and rose up against their oppressors to take back Jerusalem.
When the Maccabees returned to reclaim their holy temple, the oil that should have lasted only one day burned for 8. That miraculous light brought hope. And today, by lighting the menorah, Jews around the world celebrate the victory of light over darkness and give thanks for the presence of a just and loving God.
We're honored to have a beautiful menorah here from Lisa and Alan Stern of Los Angeles. The ceramic plaques around the base feature biblical scenes of the Hanukkah story. And between the menorah branches are painted doves, which represent the eternal wish for peace.
I want to thank Ariel Cohen and her family for being here. Ariel, you did a wonderful job of saying the Hanukkah blessings and lighting the candles. I also thank the Indiana University's Hillel HooShir Choir for your wonderful performance. We're really glad you came. Thanks for coming.
On Hanukkah, we're especially mindful of the sacrifices that freedom requires. Our Nation is grateful to the men and women of every faith who serve our country in uniform and who are away from their families this holiday. We pray for them and their families, and we pray that those who still live in the darkness of tyranny will someday see the light of freedom.
The word "Hanukkah" means dedication, and the message of Hanukkah calls on us to dedicate ourselves to recognizing the miracles in our daily lives. This dedication has the power to lift our souls and to make us better people and to make the world a better place.
Laura and I wish all the people of the Jewish faith around the world a Happy Hanukkah, and thank you all for coming.
NOTE: The President spoke at 5:36 p.m. in the Bookseller's Area at the White House.
George W. Bush, Remarks on Lighting the Hanukkah Menorah Online by Gerhard Peters and John T. Woolley, The American Presidency Project https://www.presidency.ucsb.edu/node/272460