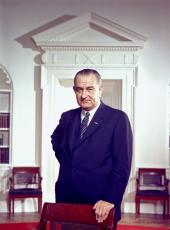 Remarks in Lexington at the Dedication of the George C. Marshall Research Library.
General Shell, Mrs. Marshall, General Eisenhower, General Bradley, Governor Harrison, Mr. Lovett, Senator Byrd, members of the Cabinet, Members of the Congress, ladies and gentlemen:
The dedication of a library in General Marshall's memory is an event of sufficient importance to require our full attention today. But just for a moment, I would like to turn to consideration of a pressing, immediate local problem.
I understand that a number of young men at VMI are, as the rule book says, undergoing punishments for transgressions against VMI rules and regulations. Although my position in the VMI chain of command may not be too clearly defined, I am asking Governor Harrison, of Virginia, to direct the Superintendent, General Shell, to grant them general amnesty to include penalty tours, confinement, and, as an additional present, forgive them for their demerits for the past couple of months.
I am very pleased that so many cadets are here today. I find it quite difficult to choose from them the man who will be the next Stonewall Jackson or George Marshall.
You probably have the same difficulty. But I remember that it was once reported of General Marshall when he first entered VMI that he landed in the awkward squad, and he stayed there on and on. He could not drill. He could not march. All he could do was swear, look uncomfortable, and be embarrassed whenever he was spoken to.
So cheer up, gentlemen, and be courteous to each of your classmates, no matter how unpromising he might look today. Remember, he may be your Chief of Staff one day.
If George Marshall could see us here today, this gathering would please him greatly, I think. Here, in tribute, are men whom his farseeing vision marked for far-reaching victories.
President Eisenhower, you were his most beloved and respected protégé. It is a measure of his stature that he selected you for that decisive command which as a soldier he must have deeply coveted. In that judgment he and his superiors were vindicated, and the world was richly rewarded.
General Bradley, you were his cutting edge, the field commander of more American fighting troops than any commander in any era. On your skill rested much of his hope for victory for our cause.
Here the captains and the companions of George Marshall are in rendezvous. And I am so proud and so honored to be at their side.
No words of mine can add to the eloquence of your presence. The name which can command your tribute gains no luster from what I might say.
It is we, and our country, that are ennobled by this ceremony. For the greatness of a people can be measured by the qualities of the men that they honor.
Great as he was, George Marshall does not stand in towering isolation. He is part of a long line of legendary captains who were more than instruments to be hurled against the enemy. To these men victory in war was important. But the fruits of that victory were even more important. They did not shrink from the blood of battle. But they knew that blood would be spent in vain unless the survivors labored for a country where liberty was safe in a Nation of peace.
Listen to the roll of some of those great names, warriors in war and apostles in peace, names which ring across the centuries of our history with that single theme: George Washington, Andrew Jackson, Robert E. Lee, Douglas MacArthur, George Marshall, Omar Bradley, Dwight David Eisenhower.
Many men have, as these men had, the qualities of greatness. But it is fortune's hazard whether character can join with circumstance to produce great deeds.
For George Marshall the tragedy of war gave scope for his soldier's art. The trials of a restless peace gave shape to his statesman's skill.
He was picked for supreme command, over many of his seniors, by a man of great vision, Franklin D. Roosevelt.
When he had helped guide us to victory, he knew that peace, like victory, would go not just to the righteous but to the skillful, not just to the free but to the brave. He followed Harry Truman's wise reminder that "Peace is not a reward that comes automatically to those who cherish it. It must be pursued, unceasingly and unswervingly, by every means at our command."
To this end, under President Truman's direction, he proposed the Marshall plan. We know how much our freedom, and the freedom of all Western Europe, owes to that single stroke.
But that vision did not stop where Soviet conquest began. To General Marshall, permanent peace depended upon rebuilding all European civilization within its historic boundaries.
The Iron Curtain rang down upon that hope. But the correctness of his conviction has not changed.
Today we work to carry on the vision of the Marshall plan. First, to strengthen the ability of every European people to select and shape its own society. Second, to bring every European nation closer to its neighbors in the relationships of peace.
This will not be achieved by sudden settlement or by dramatic deed. But the nations of Eastern Europe are beginning to reassert their own identity. There is no longer a single Iron Curtain. There are many. Each differs in strength and thickness-in the light that can pass through it and the hopes that can prosper behind it.
We do not know when all European nations will become part of a single civilization. But, as President Eisenhower said in 1953: "This we do know: a world that begins to witness the rebirth of trust among nations can find its way to peace that is neither partial nor punitive."
We will continue to build bridges across the gulf which has divided us from Eastern Europe. They will be bridges of increased trade, of ideas, of visitors, and of humanitarian aid. We do this for four reasons:
First, to open new relationships to countries seeking increased independence yet unable to risk isolation.
Second, to open the minds of a new generation to the values and the visions of the Western civilization from which they come and to which they belong.
Third, to give freer play to the powerful forces of legitimate national pride--the strongest barrier to the ambition of any country to dominate another.
Fourth, to demonstrate that identity of interest and the prospects of progress for Eastern Europe lie in a wider relationship with the West.
We go forward within the framework of our unalterable commitment to the defense of Europe and to the reunification of Germany. But under the leadership of President Truman and President Eisenhower, and our late beloved President Kennedy, America and Western Europe have achieved the strength and self confidence to follow a course based on hope rather than hostility, based on opportunity rather than fear. And it is also our belief that wise and skillful development of relationships with the nations of Eastern Europe can speed the day when Germany will be reunited.
We are pledged to use every peaceful means to work with friends and allies so that all of Europe may be joined in a shared society of freedom.
In this way I predict the years to come will see us draw closer to General Marshall's bold design than at any time since he stood at Harvard and began to reshape the world.
It is a great man who can guide the course of a great nation long after he has left the scene. The men around me today on this platform are such men. General Marshall was another.
We honor him not only for what he did but for what he was. Had he lived unknown and unsung, his character would have illuminated the lives of all who knew him. He was among the noblest Americans of them all. Not only a great soldier, not only a great statesman, he was first and foremost a great man.
This institution is here to produce such men. And so it is quite appropriate that the George C. Marshall Research Library is located here, among these cadets. Before the battle of Chancellorsville, Stonewall Jackson said.. "The men of Virginia Military Institute will be heard from today." Throughout our history, our long, glorious history, when the day was in doubt, and freedom seemed to falter, the voice of VMI has always helped lead our Nation to victory.
The qualities forged here, and by your graduates of a hundred battlegrounds, are the hard fiber of this Nation's national strength.
You and I are in the same service, the service of a Nation for which we are prepared to die, but for which we wish to live.
I welcome you to that service. I will go back to my tasks with a heart knowing, as did my predecessors, that the men of VMI are at my side in the service of our country.
Note: The President spoke at the Virginia Military Institute in Lexington, Va. His opening words referred to General George R. E. Shell, Superintendent of VMI, Mrs. George C. Marshall, General of the Army Dwight D. Eisenhower, General of the Army Omar N. Bradley, Governor Albertis S. Harrison of Virginia, Robert A. Lovett, former Secretary of Defense, and Senator Harry F. Byrd of Virginia.
Lyndon B. Johnson, Remarks in Lexington at the Dedication of the George C. Marshall Research Library. Online by Gerhard Peters and John T. Woolley, The American Presidency Project https://www.presidency.ucsb.edu/node/239659