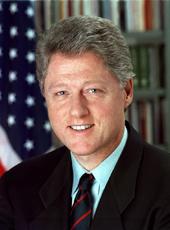 Remarks on Legislation To Ban Assault Weapons and an Exchange With Reporters
The President. In a few weeks the Congress will pass, and I will be able to sign, landmark legislation to fight crime in this country. Working together we have been able to show that crime is not a partisan issue. It's an American issue, and it requires comprehensive solutions, more punishment, more prevention, more police officers.
This afternoon, the House of Representatives will be considering a key part of that strategy, a law that bans 19 deadly assault weapons that pose a clear and present danger to our citizens and to our police officers. Just 2 years ago, a similar law was defeated by a very wide margin in the House. Now we're a few votes away from a dramatic strike against these deadly weapons and the criminals who use them.
Congressman Steve Neal, in an act of conviction and courage, has joined the ranks of House Members who support our local police and fight for safe neighborhoods, joining forces with law enforcement and standing up to a lot of the misapprehension and fear and misinformation that has been spread by the opponents of this very sensible crime control measure. I want to thank Steve Neal, and the citizens across this country who are concerned about this terrible problem are in his debt.
The vote to keep dangerous assault weapons out of the hands of criminals occurs this afternoon. Members are having to choose and make difficult choices between supporting the local police in their efforts to disarm criminals who can use these weapons to kill lots of people and those who are spreading fears about the reach of this law.
Today, the American people hope and believe that common sense and the common good should prevail. With the help of people like Steve Neal, it will. I'm very grateful to him, and I wanted to give him the chance to say a few words this morning before we have the vote this afternoon.
Congressman.
Representative Steve Neal. Thank you, sir.
The President. Thank you so much.
Representative Neal. Thank you. Well, I would say that the President is right about this. It is the first responsibility of our Government to protect our citizens. There is a war going on on the streets of America, mostly in the big cities, and the police are outgunned. Now they say they need this legislation to help them protect us and our families against violent criminals. So we ought to give them this tool that they say they need to protect us against violence.
Singapore Caning of Michael Fay
Q. Mr. President, what do you think of the caning of the American in Singapore?
The President. I think it was a mistake, as I said before, not only because of the nature of the punishment related to the crime but because of the questions that were raised about whether the young man was, in fact, guilty and had voluntarily confessed.
Q. What are you going to do about it, Mr. President?
The President. Well, we're discussing that, actually, as we speak here, what would be an appropriate statement by our Government in the aftermath of this.
Assault Weapons
Q. [Inaudible]—if the assault ban fails in Congress today, is there any administrative action you could take, say, through the Treasury Department, to ban these weapons yourself in the Executive order or prohibition?
The President. I don't believe we can do that. There may be some things that we can do that will minimize the problem. But I don't think any options that are available to us will be as effective as the ban on these assault weapons.
I do want to say, as I have talked to Members, there are basically two classes of concerns among those who wish to vote for this bill— and I am convinced a majority, if they could vote anonymously, would vote for this bill. And there are two classes of concerns among those people. One is some of the administrative requirements, which we'll circulate a letter today that Congressman Schumer and Mr. Synar and others have worked on to satisfy the people who are worried about the recordkeeping requirements that all those concerns, those practical concerns, can be fixed in the conference report.
The other is the so-called camel's-nose-insidethe-tent theory. A lot of our Members are being told by folks back home that they have been convinced by the opponents of this bill that today it's these assault weapons, which they don't own, and tomorrow it'll be some legitimate hunting weapon, which they do own. Well, that's why the bill contains the list of over 600 specific weapons that are protected. So I hope that we can, in effect, just debunk that, can overcome that argument by the time of the vote this afternoon. Those are the two things I've been hearing.
I was on the phone until about midnight last night. And I've made several calls again this morning working on this issue. And I believe we have a chance. It's very difficult, as you know; we were way, way down when we started and counted out right up until the 11th hour. But we may still have a chance to pass this because people like Steve Neal have been willing to come forward.
Supreme Court Nominee
Q. Mr. President, the Wall Street Journal says that Judge Richard Arnold is now your favorite to become the next Supreme Court Justice. Should he be penalized because he's from Arkansas? Is he your favorite?
The President. Well, first of all, I have no comment on whether I have a favorite or not. And secondly, he shouldn't be penalized because he's from Arkansas. I mean, he was first in his class at Harvard and Yale; he's the chief judge of the 8th Circuit; and he's been head of the Appellate Judges Association. So I don't think anyone would question—it would be difficult to find, just on terms of those raw qualifications, an appellate judge with equal or superior qualifications. I don't think any American would expect someone to be disqualified because they happen to come from my State.
Q. When will we learn about your selection?
The President. Well, there's one or two other things going on here, but we're working on it. We're spending a good deal of time on it. It won't be long.
NOTE: The President spoke at 9:50 a.m. in the Rose Garden at the White House.
William J. Clinton, Remarks on Legislation To Ban Assault Weapons and an Exchange With Reporters Online by Gerhard Peters and John T. Woolley, The American Presidency Project https://www.presidency.ucsb.edu/node/219437