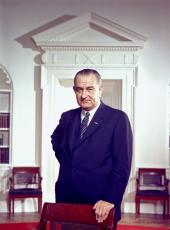 Remarks to Leaders of Organizations Concerned With the Problems of Senior Citizens.
Mr. Celebrezze, ladies and gentlemen:
I am sorry that I have been delayed a little bit in getting in here this morning, but I am happy that you are here and that you have a chance to come to this house that belongs to all of us.
There is one thing you can say about the Presidency: You nave a variety of matters and you never get bored with just handling one problem. But I don't know any problem that has ever faced all of our people that should concern us more than the one about which we meet this morning.
The 20th century, in which we live, has blessed most of us with much longer lives, but this blessing has brought with it a very great responsibility. That responsibility is one that you, as very special messengers, must see that all the people of this country live up to. Many of our citizens have reached their senior years without adequate medical means to solve their economic and their social and their medical problems. Many of them are poorly housed and poorly fed and are actually dependent on charity for the medical care that they get.
So I think that it behooves all of us to share these burdens, because their problems are not of their own choosing, but rather, due to a changing society.
One problem that I think that we have met this morning to tackle is the need for a social security health insurance plan. This great Nation, the most powerful of all nations, should no longer continue to ask our old people to trade dignity and self-respect for hospital and nursing home care. This is something that I think is good for all of us to realize, and most of us to remember.
Our older people are likely to be hospitalized three times as often as younger people, but their income is less than half that of people under 65. The end result is what? They then turn to public welfare. Now this is not the American way. The social security health insurance plan which President Kennedy worked so hard to enact is the American way; it is practical; it is sensible; it is fair; it is just. It says that the average worker and his employer would each contribute an average of only 25 cents a week during the employee's working career. In his old age a retired worker can take care of his own hospital and nursing home expenses with dignity. More than that, he can choose his own doctor. He can choose his own hospital. And he can do it all without being crushed by the intolerable burdens of extensive hospital care.
That kind of a program makes sense to two of America's most distinguished public personages, men of great vision and compassion and experience--Senator Anderson of New Mexico and Congressman King of California, who honor us with their presence and who, through the years, have led fights like these that bring better life to more people. So they have come here this morning to let you know that they have enlisted for the duration, and while we do not have many sailors in the crowd, we are going to answer all the opposition with the statement that "we have just begun to fight."
We think this program is just. We think this program is necessary. We think this program makes sense. And we think this program is going to be the law of the land. This is the prudent American way to make sure that eider citizens can retain their dignity and retain their solvency.
We have so much to be proud of in this country, so much to be thankful for, so much to preserve and so much to protect, but nothing that we want to protect more than those who have reached their later years and want the privilege of, in dignity, providing for themselves.
So I wish that somehow, some way, we could--each of us in this room who feels the need of this program--for a moment put himself in the position of some older person that we know--that could be a grandmother or a mother, to some of us a brother--and put ourselves in their position and ask ourselves how would we feel if the positions were reversed? Would we want to stoop and bend and plead for funds to be shoveled out of the State and Federal treasury by means of a means test to determine whether we could go to a hospital and, if so, how long we could stay, or would we prefer a program of our own where we could take 25 cents a week and our employer could take 25 cents a week, and then deduct it-it would really only cost him about 12 cents when it is over with--and put that in a plan that ultimately would provide these benefits?
I think that we are fortunate to be Americans, but America is particularly fortunate to have so many citizens like those in this room who are especially interested in a plan of this kind, and with the help of the good Lord, Senator Anderson and Congressman King and you people who speak for so many other folks, we are going to pass it.
You know, I have a little contest going on among my Cabinet members. One of the great legacies President Kennedy left me was the finest Cabinet that any President could assemble. They are so good that I didn't even want one of my own. I wanted all of them to stay right where they are.
We are determined that this Nation is going to be strong enough to secure the peace and to protect this country, but we are not going to throw our weight around. We hope we are going to be wise enough to prevent the necessity of ever using that strength.
This Nation is going to be prudent enough to be solvent, where we can pay our bills and where our checks will be honored.
We are going to try to take all the money that we think is unnecessarily being spent and take it from the "haves" and give it to the "have nots" that need it so much.
So we are going to have a solvent nation, but strength and solvency alone don't quicken the heartbeat. The thing that really makes a great nation is compassion. We are going to have strength and solvency and compassion, love for thy neighbor, compassion and understanding for those who are less fortunate.
Secretary McNamara will start down that long road of explaining all of our decisions of the last 50 days this week before the Congress.
Secretary Dillon is already reporting for duty every morning early and staying late in the evening to try to get that tax bill that is so essential to the economy of this country.
Not to be outdone, Secretary Celebrezze has already evolved a plan and a program where we hope that in due time we will all meet here in this same house and have a signing ceremony for the program that means so much to all of us.
Mr. Secretary, you give us some indication of the date and we will all be here.
They have arranged a tour of the White House for those of you who can spare. the time and would like to see it. I would like very much to spend more time with you myself. I am going to have a chance to walk around the room for a moment, if you will just delay the rest of your deliberations, but if any of you want to, we would be very happy to have you tour the place.
Note: The President spoke in the Fish Room at the White House at 10 a.m. His opening words referred to Anthony J. Celebrezze, Secretary of Health, Education, and Welfare. Later he referred to U.S. Senator Clinton P. Anderson of New Mexico and U.S. Representative Cecil R. King of California, co-sponsors of the medical care for the aged bill, Secretary of Defense Robert S. McNamara, and Secretary of the Treasury Douglas Dillon.
Earlier on January 11 the White House announced that the President had invited a group of 47 national leaders of organizations of senior citizens and specialists in the field of aging to meet with him and to hear his views on the need for establishing a health insurance plan for the aged under the social security system and on other matters relating to the problems of the aged. The release listed many of the representatives of senior citizen groups expected to attend.
Lyndon B. Johnson, Remarks to Leaders of Organizations Concerned With the Problems of Senior Citizens. Online by Gerhard Peters and John T. Woolley, The American Presidency Project https://www.presidency.ucsb.edu/node/238759