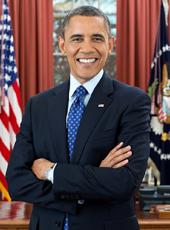 Remarks at a Joining Forces Initiative Veterans Employment Event
Thank you. Please, everybody, have a seat. David, thank you so much for your introduction and sharing your story, but most importantly, thanks for your extraordinary service to our Nation. We are very, very proud of you.
Thank you to our partners in crime—[laughter]—the outstanding Joe Biden and the even more outstanding Jill Biden. [Laughter] We are grateful for their leadership, their commitment on a whole range of issues. But I'm particularly grateful for the passion that Jill, you've shown when it comes to our military families, because you know what it's like when a loved one is deployed. And that passion comes through with everything you do. So we're very, very proud of you.
I also want to recognize the members of my Cabinet and Joint Chiefs and some of our top brass who are here. We appreciate all the great work that they're doing. And your presence reflects our commitment to this cause across the entire Government.
And now I've got a simple task this morning, and that is to introduce the graceful, brilliant, inspiring love of my life—[laughter]—First Lady Michelle Obama. Joe and I are just warmup acts today, which in our families means, it's just another Tuesday. [Laughter] That's how it generally goes.
But of all the honors and privileges of serving as President, the opportunity to meet incredible people like David is among the things that I cherish the most. David, being here today is representative of a 9/11 generation: men and women who volunteered to put the uniform on even though they understood it was wartime, knowing full well they could be sent into harm's way.
And for more than a decade, they have answered every call, executing some of the most dangerous missions on the planet, operating some of the most cutting edge, complex technologies known to man, leading their peers in moments where their decisions can determine life or death. And, as we saw during the attacks in Boston, as guardsmen and as veterans were racing towards danger, they put that courage and experience and skills that they've earned serving in our military to use every single day. George Washington once said, "When we assumed the soldier, we did not lay aside the citizen."
Our troops and our military families who serve right alongside them keep us strong and they keep us safe. And as Commander in Chief, I've pledged that just as they've left their homes and families to take care of us, we've got to make sure we're taking care of them when they come home. That's our sacred obligation: to make sure that they get the care and the benefits and opportunities that they deserve. And that includes economic opportunity: good jobs worthy of their incredible talents.
And as David indicated, unfortunately, when they hit the job market, employers don't always recognize the high-quality, high-tech skills our newest veterans have gained in their military. They don't understand the leadership that they've shown under extraordinary circumstances. So, too often, just when these men and women are looking to move forward in the next chapter of their lives, they're stuck in neutral, scraping together odd jobs just to pay the bills.
Now, our economy is growing. It's creating jobs on a consistent basis. Although I just had a press conference, we could be doing even better if we'd get a little more cooperation down the street. But for post-9/11 veterans, employment continues to lag behind the national average, and that's especially true for our youngest veterans. And this does not make any sense.
If you can save a life on the battlefield, then you sure as heck can save one in an ambulance in a state-of-the-art hospital. If you can oversee a convoy of equipment and track millions of dollars of assets, then you can run a company's supply chain or you can balance its books. If you can lead a platoon in a war zone, then I think you can lead a team in a conference center.
There are lots of extremely talented young people who are more than qualified for the jobs that businesses are looking to fill. We've got the end of the Iraq war. The war in Afghanistan is drawing to a close. More than 1 million servicemembers are going to be transitioning back to civilian life in the coming years. So we've got to do everything we can to make sure they have every opportunity to succeed.
That's why, a year and a half ago, I signed new tax credits for companies that hire unemployed veterans and wounded warriors. And since then, the number of veterans hired through tax credits like these has more than doubled. And my budget's proposed extending these tax credits permanently. Congress needs to get that done.
We're working to help our troops earn the credentials they need for jobs in manufacturing and medicine and transportation. We strengthened the post-9/11 GI bill, helping nearly 1 million veterans and military family members get a college education. And for the first time in 20 years, we've overhauled the military's Transition Assistance Program to help our newest veterans compete for those private sector jobs. Our online Veterans Jobs Bank now has more than 2.5 million searchable job postings. With our Veterans Gold Card, our veterans receive 6 months of personalized career counseling. At my direction, the Federal Government has hired nearly 250,000 veterans.
So we've made progress, but we know the Government alone can't put every veteran and military spouse to work. So about a year and a half ago, I went down to the Navy Yard and issued a challenge to America's businesses: Hire or train 100,000 veterans and military spouses by the end of 2013. And I am proud to say that these companies stepped up. And some of those companies are represented here today.
In just a year, businesses had already hired 125,000 veterans or military spouses. They committed to hiring 250,000 more. Today we're announcing a major milestone in this effort, thanks in large part to the leadership of so many companies that are represented here today. And we could not be more grateful for the commitments of these companies.
Now, they're doing it partly because it's good business sense, because they're getting great employees. But they're also doing it because they're patriots. They're also doing it because they really care about this country and they understand that they don't succeed unless they've got an incredible military that's doing this.
Hiring our veterans and military spouses is not just the patriotic thing to do, it's the smart thing to do. They're looking for highly skilled workers. Highly skilled veterans and military spouses are looking for jobs, let's connect them up. It's good for families, it's good for businesses, it's good for our country.
And that's why Joining Forces is so important. It's a way for us to both honor and serve the men and women who have served us so well, but also to move the country forward. That's why we've all got to step up and do our parts: government, business, schools, hospitals, community groups, houses of worship, neighbors, and obviously, our military and our VA. We've had to up our game, and we're not there yet, but we continually try to strive to improve to make sure we're doing the right thing. And just as service and sacrifice defines our military families, serving our military families has to define who we are as Americans.
Now, none of this could have happened had it not been for the extraordinary work that Michelle and Jill have engaged in over the last 2 years. And that's a call that we're renewing here today. I've got to tell you, I'm proud of my wife all the time. I could not be prouder of the work that she and Jill have done in this effort. They have put their heart and their soul into it, they care about it deeply. They identify so deeply with these military families because they understand the sacrifices that they're making.
So with that, let me introduce a woman who I've seen live out that message every day as a wife and a mother, a tireless champion of military families, love her dearly, my wife, First Lady Michelle Obama.
[At this point, First Lady Michelle Obama made remarks.]
NOTE: The President spoke at 11:46 a.m. in the East Room at the White House. In his remarks, he referred to PO David Padilla, USN, who found employment through the Paralyzed Veterans of America's Operation PAVE program; Jill T. Biden, wife, and Joseph R. "Beau" Biden, III, son, of Vice President Joe Biden. The transcript released by the Office of the Press Secretary also included the remarks of Vice President Biden, Mrs. Biden, PO Padilla, and First Lady Michelle Obama.
Barack Obama, Remarks at a Joining Forces Initiative Veterans Employment Event Online by Gerhard Peters and John T. Woolley, The American Presidency Project https://www.presidency.ucsb.edu/node/304111