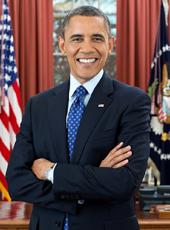 Remarks at an Investiture Ceremony for Attorney General Loretta E. Lynch
Thank you, everybody. Thank you so much. Everybody, please have a seat. I was telling Loretta backstage, a little pomp and circumstance never hurts. [Laughter]
Justice Sonia Sotomayor is here. I want to congratulate Deputy Attorney General Sally Yates on her confirmation. She is here somewhere. There she is. And I want to thank the elected officials who are here today, the family and the friends, colleagues.
At long last, I'm so proud to be here for the installation of our 83d Attorney General of the United States, Loretta Lynch.
We want to welcome Loretta's family—her husband, Stephen Hargrove; her father, Reverend Lorenzo Lynch. We want to say to Mrs. Lynch as well, thank you so much for your appearance.
As I said when I nominated Loretta, in a country built on the rule of law, there are few, perhaps no, offices more important than that of Attorney General. The person in this position is the American people's lawyer, tasked with enforcing our Federal laws and making sure they're applied evenly and equally.
And that's the legacy of Eric Holder. We are grateful for his outstanding service as one of the longest serving Attorney Generals in our history. And I want to thank his wonderful wife, Dr. Sharon Malone, who's here today. Where's Sharon at? There she is.
As of Attorney General, Eric was driven by his fundamental belief that justice is not an abstraction, it's a very real and tangible way that our laws interact with people in their daily lives. And the good news is, Loretta shares that belief.
She brings her own unique style of leadership. She brings a wealth of experience to the Justice Department at a time when there is so much work to be done, from keeping us safe from terrorist attacks to protecting our financial system to safeguarding our environment to upholding civil rights. And all of you at the Justice Department, public servants who do incredible work day in and day out, could not ask for a better leader.
Many of you know Loretta's story. Born in segregated Greensboro, North Carolina, Loretta was raised by a fourth-generation Baptist minister and a school librarian, both of whom don't seem to mind speaking their minds. [Laughter] That's just my quick impression. [Laughter] And more importantly, taught Loretta the value of speaking up for what's right.
As a young girl, she'd go to the Durham courthouse with her father and watch court proceedings, and he'd tell her stories about her grandfather, who risked everything to protect Black people who found themselves caught up with the law, but had almost no recourse under Jim Crow. And he did this with only a third grade education, proving to Loretta that, no matter what our circumstances, we all have the power to make a difference in the lives of others.
So it's clear that both her parents had a huge influence on Loretta. They are her biggest cheerleaders. Apparently, when she applied to work at the U.S. Attorney's Office and a FBI agent went to their house to conduct a routine background check, her parents pulled out a bunch of scrapbooks of Loretta's accomplishments—[laughter]—made the agents look through them. [Laughter] I'm sure Loretta was mortified. [Laughter] "And here in third grade, she got the prize." [Laughter] "And here's one of her old poems." [Laughter] I can just picture the FBI agent sitting there, "Yes, ma'am." [Laughter]
So the agent later told Loretta that she probably wasn't a threat to America because if she were, "her parents would have documented it in some way." [Laughter] That's something I can appreciate as a father. [Laughter]
So Loretta seized the opportunities that her family gave her to build a distinguished life in public service. After Harvard College and Harvard Law School, she rose to become a strong, independent prosecutor. Loretta spent years in the trenches battling terrorism and financial fraud and cybercrime. She went from the Assistant U.S. Attorney's Office in the Eastern District of New York to Chief of the Long Island Office—[applause]—Chief Assistant U.S. Attorney—Long Island in the House! And then U.S. Attorney.
She chased public corruption. She helped secure billions in settlements from some of the world's biggest banks accused of fraud. She jailed some of New York's most notorious and violent mobsters and gang members. She pursued some of the world's most dangerous terrorists and cyber criminals.
The law is her map; justice, her compass. She is tough, but she is fair. She is firm, but kind. Her intelligence and her judgment, her grace under fire have earned the trust and admiration of those she works with and those she serves and even those she goes up against.
In fact, it's funny that we are "installing" Loretta today—it's not like she's been waiting around for the embossed invitation. She hit the ground running from day one. She's already made her mark here at home and abroad because of her laser focus on the core mission of the Justice Department: the protection of the American people.
And she understands the importance of policing and improving relationships between law enforcement and communities. She went on a six-city tour to spotlight the challenges in community policing and the progress that's being made. She understands the importance of criminal justice reform: that we have to be smart on crime, not just tough. That's why she's committed to working as a partner to leaders with both parties who want to pursue reform that continues the trend of a falling crime rate and a falling incarceration rate.
She understands the importance of protecting our national security while also securing our civil liberties. That's why she will safeguard the programs that are critical to protecting American lives and Americans' privacy. I see our FBI Director, Jim Comey, who's here, and I know he's committed to doing the same thing.
She lives out the words of one of our greatest Attorney Generals, Robert F. Kennedy: "The glory of justice and the majesty of the law are created not just by the Constitution, nor by the courts, nor by the officers of the law, nor by the lawyers, but by the men and women who constitute our society—who are protectors of the law as they are themselves protected by the law."
That's always been the story of our Nation. Our strength does not come from the words we've written on the page or the laws we've put down on the books. It comes from ordinary citizens, generation after generation, who do their part to uphold our founding ideals. It comes from an unshakable faith in our ability to stand up for what is right and to admit where we've fallen short and then choose a better way forward. That was the cause to which Loretta dedicated her life long before she became America's top law enforcement officer. Today, the American people can have no greater advocate for their right to equality under the law, no greater partner in securing justice for all than our Attorney General, Loretta Lynch.
[At this point, Supreme Court Associate Justice Sonia M. Sotomayor administered the oath of office. Attorney General Lynch then made brief remarks.]
NOTE: The President spoke at 11:24 a.m. at the Warner Theatre. In his remarks, he referred to Lorine Lynch, mother of Attorney General Lynch. The transcript released by the Office of the Press Secretary also included the remarks of Attorney General Lynch.
Barack Obama, Remarks at an Investiture Ceremony for Attorney General Loretta E. Lynch Online by Gerhard Peters and John T. Woolley, The American Presidency Project https://www.presidency.ucsb.edu/node/310680