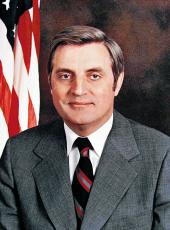 Remarks Introducing Representative Geraldine A. Ferraro as the 1984 Democratic Vice-Presidential Nominee in St. Paul, Minnesota
A year and a half ago, in this chamber, I announced my candidacy for President of the United States. One week from today, I expect to be nominated for President of the United States. And today, I'm delighted to announce that I will ask the Democratic convention to nominate Geraldine Ferraro of New York to run with me for the White House.
I know what it takes to be a good Vice President; I was once one myself. I looked for the best Vice President and I found her in Gerry Ferraro. It was a difficult choice at first, but over the last week or so, as I've worked on my acceptance speech, as I prepared our message to the country, the choice became clear. My campaign, my Presidency, will honor basic American values and those who embody them. We must go into the future together as one indivisible community.
America is not just for some of us. History speaks to us today. Our Founders said in the Constitution, "We the people" - not just the rich, or men, or white, but all of us. Our message is that America is for everyone who works hard and contributes to our blessed country. That's what my choice is about and that's what Gerry's about. The story Of her road from the Ferraro home to this moment is really the story of a classic American dream. She's earned her way here today. Like most Americans, she's worked hard for everything that she's achieved. She has a strong family life, deep religious conviction and working Americans of average income will find in her a Vice President who knows them and who will fight for them.
'Excelled in Everything'
She believes in a strong America that sees our adversaries through clear eyes, and an America that uses its strength and its values to keep the peace. Gerry has excelled in everything she's tried, from law school at night to being a tough prosecutor, to winning a difficult election, to winning positions of leadership and respect in the Congress, and to her role as chair of the Democratic platform committee.
As I've worked on my acceptance speech, I've been thinking about our platform because it says something about our party, our country's future and about Gerry. That platform breaks with the past but abandons nothing that matters. It strikes the right balance between compassion and practicality. It took a gifted negotiator with an eye on the American people to accomplish that, and Gerry made it look easy.
One last point. This is an exciting choice. I want to build a future -- let me say that again: This is an exciting choice! Geraldine Ferraro and I have one vision, one message and two voices to tell it. Tomorrow we begin our campaign together in Elmore Minnesota. From there to the convention, then to the nation, and then to the White House.
Thank you very much.
Rep. Ferraro's Remarks:
Thank you, Vice President Mondale. Vice President - it has such a nice ring to it. I want to thank Fritz Mondale for asking the convention to nominate me as his running mate. This choice says a lot about him, about where the country has come, and about where we want to lead it.
Fritz called my road here the classic American dream. He's right. My father came to America from a little town in Italy called Marcianise. Like millions of other immigrants, he loved our country passionately. But what he loved most about it was that in America, anyting is possible if you work for it. I grew up among working people, straightforward solid Americans trying to make ends meet, trying to bring up their families and leave their country a little bit better off than when they moved here and found it. Those are my values, too.
I have a strong, loving family, my husband, John, and Laura, who are here with me today, and Don and John Jr., who will be joining us soon, and our neighborhood and our faith are important parts of our lives. So is our work, in school and business and in the Congress.
'Big Stake' for New York
The people of New York, whom I represent, have a big stake in this election; I believe it today just as I have since 1980. As recently as Monday, I visited two senior centers in my district before I ran out to San Francisco. My people told me they were worried about Social Security and they're terrified about what might happen to the Medicare system. I've talked to parents who can't get student loans for their kids, and I know how unemployment has ripped through some of the families in my district. And I know their fears about the future.
They love America and support a strong, sensible defense. But they want nothing to do with reckless adventures in Latin America, and they want to get some talks going and stop this nuclear arms race before it destroys us all. My constituents in Queens are not alone; you know people just like them in Minnesota and throughout our country. They're your neighbors, they're your friends. In fact, I think they're you. And they're the people the Democratic Party has always fought for.
In this campaign, I'm going to take our case for a better future to those Americans. I've won their support in Queens because they know I'll fight for them, and I'm eager now to win their support throughout the nation.
When Fritz Mondale asked me to be his running mate, he sent a powerful signal about the direction he wants to lead our country. American history is about doors being opened, doors of opportunity for everyone no matter who you are, as long as you're willing to earn it. These last few hours, I've got to tell you, I've been on the phone talking with friends and supporters around the country. There's an electricity in the air, an excitement, a sense of new possibilities and of pride.
My good friend, Charlie Rangel, the Congressman from Harlem, said to me, "Gerry, my heart is full." So is mine. Fritz Mondale knows what America is really about, and I'm honored to join him in this campaign for the future.
Thank you.
Walter F. Mondale, Remarks Introducing Representative Geraldine A. Ferraro as the 1984 Democratic Vice-Presidential Nominee in St. Paul, Minnesota Online by Gerhard Peters and John T. Woolley, The American Presidency Project https://www.presidency.ucsb.edu/node/285599