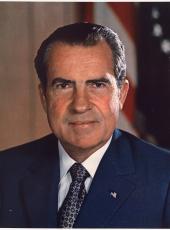 Remarks in an Informal Exchange With German Correspondents Who Accompanied Chancellor Brandt on His Visit to the United States
THE PRESIDENT. The Chancellor invited me to the Olympic Games.
Q. We would like to have you there.
THE PRESIDENT. I remember my visit to Munich in '56. I was there then, after being in Austria, to meet with the Hungarian refugees. It is one of the most, I think, exciting cities in the world.
It was Christmastime, just before Christmas. There was snow. I remember the decorations, the music, and I remember I said, "Look, I want to visit"--they wanted to give this big, fancy party. I said, "No, I want to go to one of those famous Munich beer halls, the Hofbrau," and I have a mug from there, from that. That was when I was Vice President. So I want to go back to Munich sometime.
Q. Are you going to the Olympics?
THE PRESIDENT. Well, I am going to be a little busy at that time of the year.
Q. Why? [Laughter]
THE PRESIDENT. I will probably be watching some of it on television here, of course, being somewhat of a sports fan. Let me say, if I am not there, I will be watching some of it on television, I am sure. I think it will be a very, very exciting Olympics, though, because Munich is an ideal city. It is a big enough city to take it, and yet it has a feeling of hospitality. Have I met all of the Germans here?
[At this point, the President spoke with various members of the German press corps. He then resumed speaking.]
Well, we certainly wish you all the best, and at least I will keep the Munich invitation on the list. Whether I get away depends on other things.
Q. Mr. President, how many German correspondents do you intend to take with you to Peking, do you know?
MR. ZIEGLER. We will let you know on that.
THE PRESIDENT. Do we have anybody who wants to go?
Q. Oh, yes.
THE PRESIDENT. Well, you know, it is interesting. The Federal Republic has a considerable amount of trade with Mainland China; in fact, next to Japan, among the non-Communist countries, it has the most. It is a subject which we discussed, so I was interested in knowing that.
Let me say, that as far as I am concerned, I would take you all, but Ziegler is very hard. [Laughter] He is going to work it out. I don't know whether he will get out or not, but we will see.
Thank you very much. The Chancellor will be out fishing today. That will make him happy.
Note: The President spoke at 12:12 p.m. at his home in Key Biscayne, Fla.
Richard Nixon, Remarks in an Informal Exchange With German Correspondents Who Accompanied Chancellor Brandt on His Visit to the United States Online by Gerhard Peters and John T. Woolley, The American Presidency Project https://www.presidency.ucsb.edu/node/240549