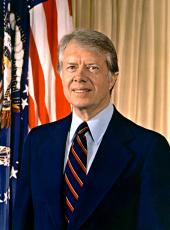 Remarks on Human Rights at Notre Dame University in South Bend, Indiana
First of all, I want to say how proud I am to be at Notre Dame, and particularly for what this university has always been, what its meant to the consciousness of our country, its constant probing for a better means to tap the innate goodness of America, and especially as it's been personified in the last 25 years by the great leadership of Father Ted Hesburgh. He's a man who has been an inspiration to many of us. Those of us who lived in the South during the civil rights struggle days—the early part of the civil rights struggle days, it's still going on—have a great admiration for him. I know about his concern for the less fortunate, the weaker, those who are the underdogs, and I hope that you'll carry this same concern into the Notre Dame-Georgia Tech football game which is going to take place next week.
Our country has come a long way in the last 200 years. We're still a young country. And a lot of us look back on the history of our nation with a great deal of appreciation for the wisdom and the deep commitment of our founding fathers. We tend to think that George Washington, Thomas Jefferson, Benjamin Franklin, John Adams were all perfect; that the concept we had of our country then was one that was without blemish, a deep commitment and perhaps for the first time a real concern about human rights, liberty, freedom on the one hand, and equality of opportunity on the other. Down through the ages those two have quite often been incompatible. When you had complete liberty, the strong overpowered the weak. When you had complete equality, the government had to take away the freedom that accrues to a competitive society.
We laid the groundwork for that, but our country was not perfect It was founded on the concept of slavery for black people. And it was one hundred years before we cast off that millstone around our neck. Women didn't have a right to vote; young people didn't have a right to vote. The people didn't have a chance to choose their own United States Senators directly, and down through the years we've tried to change to make this a better society for ourselves. We've had times erf success, times of failure, times of legitimate pride, and times of legitimate embarrassment and shame. In the last few years, we've suffered as a country. And I think all of us realize that the question of supporting human rights throughout the world is a very difficult one. It requires a balancing of tough realism on the one hand, and idealism on the other. Of our understanding of the world as it is, and the world as it ought to be. The question I think is whether in recent years we haven't been too pragmatic, too cynical. And as a consequence have ignored those moral values that have always distinguished the United States of America from other countries.
Over the years, our greatest source of strength has come from our basic priceless values which are embodied in our Declaration of Independence, the Constitution of the United States, our Bill of Rights, involving our belief in freedom of religion, freedom of speech, freedom of expression, movement, and an unchanging commitment to basic human dignity. Although we've recently not lived up to ideals, I know of no great nation in history that has more often conducted itself in a moral, unselfish generous manner abroad, and provided more freedom and opportunity to its own citizens at home. Still, in recent years, we've had reason to be troubled. We've stumbled into the quagmires of Vietnam, and Cambodia, and Chile, and Cyprus, and we've responded inadequately to human suffering that we've recognized in places like Bangladesh, Burundi, and the Sahel area of Northern Africa. In other undeveloped and struggling and sometimes starving nations we've allowed virtually unlimited sales of American weapons overseas. As I said in the debate the other night, we've become the arms merchant of the world. This is a policy that's both cynical and dangerous. That we've in effect condoned the efforts of some Arab countries to circumvent the commitment of our Bill of Rights and boycott American businesses who trade with Israel or who have Jewish owners or managers within the businesses themselves. This is an unprecedented thing that we've accepted. We've failed to oppose the denial of human freedom in Eastern Europe and in the Soviet Union.
Now I don't say these things are simple issues. But there are practical and effective ways in which our own power can be used to alleviate human suffering around the world. We should begin by letting it be known that any nation, whatever its political system, if it deprives its people of basic human rights, that that fact will help to shape our own people's attitudes toward that country. If other nations want our friendship and support, they must understand that we want to see basic human rights respected. We must at the same time be realistic. As John Kennedy said, and I quote, we must keep the world safe for diversity, we should not insist on identical governments or all nations of the world to accept our standards exactly. But we cannot look away when a government tortures its own people, or jails them for their beliefs, or denies minorities fair treatment, or the right to immigrate. Or the right to worship.
Father Hesburgh served, as you know, on the Commission on Civil Rights at a time when the South was struggling to grant equality of opportunity, the right to hold jobs, the right to buy homes, to black people. As I said recently in Salt Lake City, as I said many times in Alabama, and Mississippi, and Louisiana, and the Carolinas and Tennessee and Georgia and Florida, the best thing that ever happened to the South in my lifetime was the passage of the civil rights acts, and the granting to black people the chance for equality. We still have a long way to go in our own country. But we're making progress. But now I think it is time for us to reassert those basic commitments at home, and also let them be an undeviating guiding light for us abroad. The world looks for leadership. And when there is a vacuum of leadership, it is going to be filled somehow. I'm a nuclear engineer and a physicist and also a politician, and I know that when a vacuum is there, it's an abhorrent thing in politics and the vacuum is going to be filled. It's going to be filled either with freedom or slavery, with hopes or with despair, with democracy and liberty, or with dictatorships. And I would like to see the world leadership vacuum filled without domination but with inspiration from our own country. We must reassess our own foreign aid program. To make sure that when money does leave our nation it goes to those who need it most. As Richard Gardner, one of the great analysts of the United Nations said, "I'm not in favor of taxing the poor people in our rich country and continuing to send the money to the rich people in the poor country." But there are many needs that can be met with sound management and with an undeviating commitment to alleviating suffering. Not only food, but the quality of our environment, and the health of people around the world, can be aided to a substantial degree by leadership and the direct aid from our own country. We now spend .3 percent of our gross national product on foreign aid. Other countries spend much more: .5 or .7 percent The Soviet Union, only .1 percent. So all the nations in a multinational commitment, if provided proper leadership, could be successful in alleviating a great deal of the suffering and deprivation that exists. We ought to speak out forcefully whenever there's human torture in the world.
And I believe that if we restore not only the faith of our own people in our own government, but also help to alleviate that torture, even in the most totalitarian of all, we should insist on the concept of majority rule. In Africa we've come in late. For a long time we were committed, under National Security Memorandum No. 39 to supporting minority white governments. Only [in] this election year has our nation moved any degree to support the long standing effort to guarantee majority rule in Africa. And there are many other places of deprivation in the world which haven't yet experienced the concept of majority rule. Cyprus is one that we need to address in a humanitarian way, and with a well balanced commitment to the preservation of peace. We should help to stamp out religious prosecution. Many people understand this, [for example] the Jews who want to leave the Soviet Union. There are 5 million Baptists in the Soviet Union who felt the pressure because of their religious commitments. We ought to stand staunchly against the deliberate violation of law. In the last few years we've seen the disgraceful spectacle of our own government condoning, sometimes even encouraging, multinational corporations engaging in bribery of foreign officials. This is a disgrace to our country. It ought not to be permitted to continue. The United Nations put out the Genocide Convention 25 years ago. We've still not ratified it. And also a basic convention on the protection of human rights, civil rights. We've still not ratified that convention. And we ought to move as best we can to stamp out international terrorism as well. There are many things that we can do. And I believe that this center here that shifts its goals from strictly domestic civil rights, which is still very important, to a broader concept erf all human rights, and I hope this will be done expeditiously, and I'll help if I'm elected President, can be a beacon to our own country and to the world for a constant reassessment of what can be done in a world that we acknowledge to be imperfect.
There is one other area that I would like to mention this morning, wherein we can tap the great resources of our country. In the defense of human rights, yes, but that's only one aspect of an area where volunteerism can come in. I'd just like to take a few minutes to talk to you about that subject It's a subject that I think has always been of particular interest to young people whose idealism has not been dampened by the long years of frustration. If Pm elected President, I hope to bring a new spirit of optimism, patriotism and self-sacrifice to America. That happened in 1933 when Franklin Roosevelt became President. It happened again in 1961 under John Kennedy. And I believe it can happen again under a Carter Administration if we can succeed in restoring public trust in our own government. I hope that one manifestation of this renewed national spirit will be a new era of volunteerism, with Americans working to help others on an unprecedented scale. We saw an example of this when John Kennedy began the Peace Corps. We all remember the excitement of that era. My mother, at the age of 68, joined the Peace Corps and went to India to serve for two years, coming back after she was 70 years old. I know what it meant to our community and our family, to her life, just to know that she was doing something worthwhile, even at that advanced age.
I'd like to see this concept revitalized along whatever grounds are most pertinent and appropriate in today's international realities. But even more importantly, I would like to see an outpouring of volunteer effort in our own country. We know there are needs, very deep needs. I worshipped this morning at the retardation center at the edge of your campus. I know that many students from Notre Dame participate in that volunteer effort to take care of retarded children who are severely afflicted. And that's an outpouring that needs to be made too in schools, particularly our poorer schools, in hospitals of all kinds, in day care centers, in mental institutions and prisons and law enforcement agencies, in probation efforts, on Indian reservations, in local, state and federal government agencies. In many other places, the potential volunteers are there too. People of all ages—students, housewives, business people, retired people and many others. What's been lacking in the past is motivation. It's not enough for a President to call for volunteerism, he must create a climate in which our people want to help others, and are proud to help their country in the process. We don't need a new federal bureaucracy to do this. We must use the structure of existing agencies. And we will also stress the support of existing private volunteer programs. What's needed is Presidential leadership that will encourage and honor volunteer service. I think that retired people and young people in particular are a vast untapped resource. We now spend countless hours in idleness, and on personal diversions of many kinds. I'd like to see us divert some of our time and some of our energy to helping others. And I believe that Americans will do this gladly if volunteer work is given proper respect and proper recognition. There is much that needs to be done in our society. More than government itself can ever hope to accomplish. But there is little that cannot be done if the American people roll up our sleeves and set out to do these things. If I become President, I will make every effort to channel the idealism, the compassion and the energies of our people, and the good works of which we can all be proud.
Americans pride ourselves on self-reliance. We pride ourselves on adherence to unchanging principles. We pride ourselves on the ability to achieve unity within the concept of diversity. America is not a melting pot. We don't come here and lose our identity as we live among one another. It's more like a beautiful mosaic, where every person is an individual and where we can harness our common effort when we have the inspiration and the mechanism by which our lives can be more meaningful. We've got to tap this tremendous strength, in the two areas that I've covered briefly with you today: One, a renewed commitment to civil rights, human rights, domestic and around the world, to let our country once again, as Father Hesburgh said at lunchtime, be a beacon light of hope for all human kind.
And secondly, we must tap the tremendous resources of the 215 million Americans who don't serve in government, who may not even get paid, but who want to make our own lives more meaningful in the service of others. That's a tremendous resource of strength that's waiting to be used.
Again, I want to thank you for letting me come to Notre Dame. This campaign has been a very good educational process for me. It's been going on now for 21 months. And I've gotten an excellent education. I've made mistakes and I've learned how to correct them. But the constant inspiration to me has been the quiet strength of American people who don't want anything selfish out of government, who just want to be treated fairly, who want to be legitimately proud once again of the greatest nation on earth, and who want to be a part of the process of making the world a better place in which we live. Particularly for those who have been deprived, who've been cheated, who've been forgotten, and who've been deeply hurt. A sense of brotherhood, a sense of sisterhood is there in the hearts and minds of the American people. I want to make sure that our government itself, and our nation as a whole, taps that sense that exists in the minds and hearts of so many American people.
Thank you very much.
Jimmy Carter, Remarks on Human Rights at Notre Dame University in South Bend, Indiana Online by Gerhard Peters and John T. Woolley, The American Presidency Project https://www.presidency.ucsb.edu/node/347568