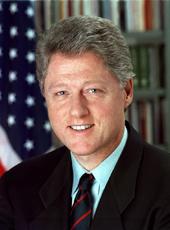 Remarks Honoring the National Volunteer Action Award Recipients
Good afternoon, ladies and gentlemen. I'm sorry we're starting a little bit late, but there are worse places to spend an extra half an hour on a beautiful spring day than here in the Rose Garden. We're delighted to see all of you here.
I'm proud to celebrate the close of National Volunteer Week, 1994, with you and with the individuals and organizations we honor today for their extraordinary service, from among the more than 95 million Americans who give of themselves to help other people every year.
This afternoon we'll hear stories of ordinary Americans doing extraordinary things all over our country, ranging from little children to noted doctors, from small neighborhood organizations to one of our Nation's largest corporations, from a refugee who barely escaped the fall of Saigon to men and women whose families have belonged to the American middle class for generations. Our honorees have confronted gangs and comforted the sick. They've tutored children, fed families, planted trees, and built homes. As they have helped to rebuild their communities, they've shown each of us what can be done when all of us join together.
We know that communities have never been built with brick and mortar alone. Our communities are a product of common effort and common connections to neighbors with whom we share a city block or country road.
Community service is neither a program nor a panacea; it really is a way we live our lives. It stems from a refusal to accept things as they are, a personal commitment to make them better and to help our fellow men and women, boys and girls live up to their God-given potential.
Service, like life, is a series of challenges. Thirty-three years ago, almost exactly on this day, President Kennedy spoke of this challenge when he announced the first Peace Corps project. His challenge in that example inspired many, many members of my generation. In just a few months our Nation's and our generation's answer to history's challenge will begin working in communities all across America. They'll be members of AmeriCorps, our new national service initiative. They won't replace the efforts we honor today, but they will expand them. Working mainly through local nonprofit groups, AmeriCorps will provide the kind of commitment and energy and daring that makes heroes and communities and that makes a difference.
Robert Kennedy perhaps said it best 28 years ago in Cape Town, South Africa. He said, "Each time someone," and I quote, "stands up for an ideal or acts to improve the lot of others or strikes out against injustice, he sends forth a tiny ripple of hope, and crossing each other from a million different centers of energy and daring, those ripples build a current which can sweep down the mightiest walls."
To those we honor today, thank you for your courage and your daring. To paraphrase Robert Frost, you took the road less traveled. And it has made all the difference. I ask that each of you stay on the road to public service and voluntarism, because you can continue to make a difference.
Here in Washington we are working as hard as we know how to move this country in the right direction and to pull the American people together, to reach across the many divides that separate us from one another so that once again we can become one people and one community burning with a common desire to move into the next century still the greatest nation on Earth, still the greatest hope for children here at home and around the world.
Eli Segal, the Director of our national service program, and my good friend Edward James Olmos in their different ways exemplify that ideal. I thank them for being here today and for leading this endeavor. I thank all of you for what you have done. And I ask that today we rededicate ourselves to the principle that the Government cannot solve all the problems in America and that in the end, the Government is just another organization of the rest of us. And we have to do it in whatever way we can wherever we live.
Thank you very much.
NOTE: The President spoke at 4:35 p.m. in the Rose Garden at the White House. The National Volunteer Week proclamation of April 15 is listed in Appendix D at the end of this volume.
William J. Clinton, Remarks Honoring the National Volunteer Action Award Recipients Online by Gerhard Peters and John T. Woolley, The American Presidency Project https://www.presidency.ucsb.edu/node/219089