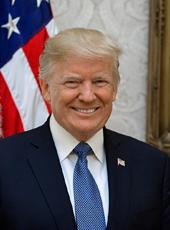 Remarks at a Hanukkah Celebration
The President. Thank you very much. Well, thank you very much and this is a wonderful evening in a beautiful house called the White House. [Laughter] And thank you for being here. Melania and I are honored to welcome you to the White House and to wish all of you a very, very happy Hanukkah.
We're joined tonight by our fantastic Vice President Mike Pence and our Second Lady Karen. Thank you, Karen, Mike. Thank you very much.
I also want to thank my daughter Ivanka and my son-in-law Jared for joining us. Strong supporters of Israel. I'm also proud that the Jewish faith is so deeply woven into the fabric of my family. It's a great honor, I will tell you.
I want to take a moment to recognize Melania for everything that she has done to make the White House such a beautiful and special place for this sacred season. Thank you, honey. Boy, I thought I lost her for a second. [Laughter]
Also joining us tonight are several of our great Cabinet members. Secretary Steve Mnuchin—where's Steve? Steve, thank you. Attorney General Rod Rosenstein, where's Rod? Where's Rod? Rod, where are you?
Audience member. Right back here!
The President. Boy! He's entitled to a much better location than that. [Laughter] Thank you, Rod, very much. And FDA Administrator Scott Gottlieb. Scott, thank you. Thank you. Thank you, Scott.
Thanks as well to Israel's Ambassador—a friend of mine and a great gentleman—Ron Dermer, for being here. Ron. Thank you, Ron very much.
Tonight we are especially grateful to be joined by the Pollack family, who lost their beloved daughter Meadow in a horrific Parkland shooting earlier this year. I've gotten to know him, and he's a great, great gentleman, I will tell you. A great father. A great man. And thank you so much for being here, the whole family. We cannot imagine your sorrow or your pain. Your pain. I was there with you. You went through so much, and you're going through so much. But we promise to hold the memory of beautiful Meadow and every Parkland victim in our hearts forever.
We are gathered together this evening to commemorate the triumph of the Jewish people in the face of terrible oppression. Hanukkah is the story of Jewish patriots who fought to reclaim their freedom. More than 2,000 years ago, the Maccabees defeated a tyrant and a massive army and restored the Holy Temple.
After their victory, they found only enough oil to light the lamp in the temple for a single night. Yet the light burned brightly for 8 nights, the miracle of Hanukkah. This year, we light the menorah; we reflect upon the extraordinary resilience of the Jewish people in the face of centuries of oppression.
Our thoughts also turn to the victims and survivors of the anti-Semitic attack on the Tree of Life synagogue in Pittsburgh. I was there, and it was horrible. And the rabbi was great. He was a tremendous gentleman. In the wake of these evil murders, Americans of all backgrounds have come together to express our unwavering determination to extract the vile poison of anti-Semitism from our world.
Throughout history, we have seen that no darkness can overcome the light of the Jewish faith and that no evil can overcome the unbreakable spirit of the Jewish people. So true. My administration will always stand in solidarity with our Jewish brothers and sisters, and we will always stand strong with our cherished friend and partner, the State of Israel.
We are confronting the Iranian menace that threatens the United States and Israel and the civilized world. We must never allow Iran to obtain a nuclear weapon. We will not. They are constantly screaming as loud as they can, "Death to America," "Death to Israel." It will not be our death, I promise you that.
Last year, I withdrew from the horrible Iran nuclear deal and imposed the toughest ever sanctions on the Iranian regime. And it's a very much different country today than it was when I took office. That I can tell you.
And exactly 1 year ago today—I know most of you don't care about this—at my direction, the United States recognized the true capital of Israel and quickly moved the American Embassy to Jerusalem.
Audience members. Trump! Trump! Trump!
The President. And I'll tell you what, we also got it built. [Laughter] They came to me with a price of more than $1 billion to build the Embassy. And I said, "That sounds like a lot for a 1-story building." [Laughter] But it was truly $1 billion; it was in excess of $1 billion. I was supposed to sign it. They were going to start looking for land and everything.
And I called David Friedman, the great Ambassador. And I said, "David, they want me to spend $1 billion on an Embassy, and it's going to take forever." It would have taken forever. And he said: "You know what? We have a building that we already own that's the best location in Jerusalem, that's set back in terms of safety, and I think we could renovate it. Could I call you back?" I said, "Call me back." [Laughter]
And he called me back about a week later, and he said, "Sir, I think we can do it for $180,000." I said, "David,"—first time I've ever said this in my entire life—I said: "David, that's too cheap. It doesn't sound right." [Laughter] "You've got to spend more. How about four- or five-hundred thousand?"
And we ended up spending about $400,000. We used Jerusalem stone, which, if you're in the real estate business, you know that's one of the most expensive stones you can get. And I'll tell you what, we have got—and we opened 4 months later—the most beautiful Embassy you've seen. Now, someday, they'll probably spend $1 billion and build it, but it won't be as nice as what we have. We have a great Embassy in the best location in Jerusalem. And we got it open. Brad, we got it open quickly, right?
So, I'm very honored by that. I also am honored that Charlie Kushner and Seryl are here, my friends, my great friends. They have been incredible. Great, truly incredible people.
In a few moments, we will light the menorah. As we do, we will remember Meadow Pollack and all of the precious lives stolen from us this year, and we will pledge our resolve to confront hatred and violence in all of its evil forms. In 1970—and I should say, in 1790—[laughter]—we'd like to have him around today, wouldn't we? George Washington. We could use George Washington, but hopefully, we won't need him. We'll let him be a very blessed memory. But George Washington wrote to one of America's earliest Jewish communities, the Hebrew Congregation of Newport, Rhode Island. He said: America is a "Government, erected by the majesty of the People, which to bigotry gives no sanction." And that was a great statement from a man from a long time ago.
Today we renew our resolve to defend religious liberty, to cherish the dignity of every child of God, and to always celebrate the extraordinary gifts that the Jewish people have given to America and to the world.
And I just want to say thank you very much. You're a very special, very special, great people. I am so proud, as I said, to have you, Jared, Ivanka—to have Jared in our family with all of his relatives and all of our friends is a great thing. Very proud of it. And I'm very proud of Jared.
So let me just say, once again, it's an honor to have you in the White House, and happy Hanukkah.
Before we light the menorah, I would like to ask another great friend of mine—somebody I got to know very well, tough and strong and what a heart—to please come up and say a few words: Andrew Pollack. Andrew? Please. Thank you.
Coral Springs, FL, resident Andrew Pollack. President Trump and First Lady Ivan—Melania Trump—[laughter]—thank you so much for inviting my family and myself here tonight.
I think it's fitting to celebrate Hanukkah here in the Trump White House. I see a lot of parallels between what happened in ancient Israel and what is happening now. Ancient Judea's ruling class had turned their back on what made our people great. They thought the Greeks were on the side of progress, and they no longer believed that their nation was founded on revealed truth.
They saw the Torah as irrational and Judaism as backwards. The Maccabees were kohens, Levitical priests descended from Aaron. They fought on the side of the righteousness. Nobody thought they could retake Jerusalem, but they had God and truth on their side. They reconquered Jerusalem and drove out the corrupt ruling class. And then, they cleansed and rededicated the Temple. And they got it done under budget and ahead of schedule. [Laughter]
The President. That's always good.
Mr. Pollack. The Jewish people would not have survived if the Maccabees had lost. They have a special place among the Jewish people because they never stopped fighting for God and our future.
Mr. President, despite the pundits and so-called experts who said you couldn't, you have retaken Washington for the American people. You are the greatest friend that the Jewish people have ever had in the White House.
Audience members. Trump! Trump! Trump!
Mr. Pollack. Not only because you recognized Jerusalem as the capital of Israel and followed through on your promise to move the Embassy to Jerusalem, but because you understand the spirit of Hanukkah within your heart. You're a fighter, and you understand that in order for America to survive, we have to keep on winning. Ever since I lost my daughter from the shooting at Stoneman Douglas High School in Parkland, Florida, I've been fighting for my daughter and for our students. And I won't stop. Sometimes I think it has something to do with the fact that I am a kohen.
We have to keep fighting, because the safety of our children and the future of our country depend on whether we honor the true spirit of Hanukkah by staying true to our traditions and to keep on winning. Thank you.
The President. Very special family, and he's a special man, and I witnessed firsthand what he went through. And incredible the way he handled it. And what he's done since is—just to make everybody aware of what went on and how we can solve problems—is incredible. I just want to thank Andrew for being here and your family. Thank you, Andrew. Thank you very much. Thank you.
Miriam, thank you for being here. Sheldon Adelson, thank you very much for being here. Sheldon. Thank you both very much. And, Brad, thank you very much for being here. I really appreciate it. That's really nice. I see you in the audience; have to call you out. Thank you very much for everything you've done and said. I appreciate it very much.
And now, I'd like to ask Rabbi Friedman to come up and say a blessing while we light the menorah. Thank you. Thank you, everybody.
NOTE: The President spoke at 8:27 p.m. in the East Room at the White House. In his remarks, he referred to White House Senior Adviser Jared C. Kushner and his parents Charles and Seryl; Deputy Attorney General Rod J. Rosenstein; Hazzan Jeffrey Myers, rabbi, Tree of Life-Or L'Simcha Congregation synagogue in Pittsburgh, PA; Rep. Bradley J. Sherman; Presidential Medal of Freedom Recipient Miriam Adelson; Sheldon G. Adelson, chairman and chief executive officer, Las Vegas Sands Corp.; and Avraham Friedman, executive director, Chabad-Lubavitch in Coral Springs, FL. The transcript was released by the Office of the Press Secretary on December 7.
Donald J. Trump, Remarks at a Hanukkah Celebration Online by Gerhard Peters and John T. Woolley, The American Presidency Project https://www.presidency.ucsb.edu/node/332782