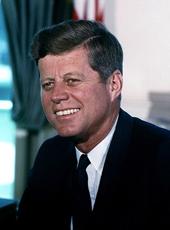 Remarks to a Group of Newly Promoted Foreign Service Officers.
Mr. Secretary, distinguished Members of Congress, ladies and gentlemen:
I want to express my appreciation to all of you for your service to the United States. I recognize that there is frequently a feeling in the State Department that the White House interferes in foreign policy and we are attempting to control that!
But I want you to realize, as I am sure you do, that the intimate relationship between the office of the Presidency and the State Department is really second to none, under the Constitution, given the responsibilities which both of us carry. I feel that this is really the Golden Age of the State Department.
When you compare the responsibilities which you will bear to those of your predecessors back before World War I, in the days between World War I and World War II when American ambassadors were accredited mostly to Europe, most of the rest of the world was controlled by great empires centered in Europe. Now, however, ambassadors, consuls, scattered all around the globe where the United States has intimate relations and interests, bear tremendous responsibilities.
Upon their judgment, in many cases of crisis, will the future independence of that country rest and the security of the United States. I can think of a good' many cases in the 2 years that I have been here; the work of our embassy in Laos during some very crucial negotiations some months ago, the work of our consul in Elizabethville during the last year, the work of our consul in the Dominican Republic during the crucial days that occupied their attention a year ago.
I could really go through country after country where a member of the Foreign Service played a very vital role, where we were wholly dependent in Washington upon their good judgment, in fact, your good judgment. So I do think that you should take the greatest satisfaction in your work. We are involved in the most extraordinary enterprise attempting to assist countries to maintain their independence scattered all around the globe.
For a country with a long isolationist tradition to move out and be as heavily committed as we are puts extraordinary responsibilities upon the point of the sphere which is the Foreign Service. So we want to express our thanks to you. In spite of what you read, we love the State Department.
Note: The President spoke at 9:30 a.m. in the Flower Garden at the White House following introductory remarks by Secretary of State Dean Rusk. Later Senator J. W. Fulbright of Arkansas, Chairman of the Senate Foreign Relations Committee, spoke briefly. The remarks of Secretary Rusk and Senator Fulbright were also released.
John F. Kennedy, Remarks to a Group of Newly Promoted Foreign Service Officers. Online by Gerhard Peters and John T. Woolley, The American Presidency Project https://www.presidency.ucsb.edu/node/237073