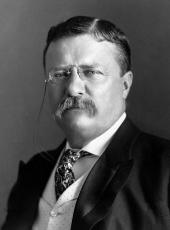 Remarks in Greensboro, North Carolina
My fellow citizens:
It is indeed a great pleasure to be greeted by you today. In saying how glad I am to see the men and women I do not want to forget the children. I am glad to say that going through your State the children seem to be all right in quality and quantity, and I congratulate you on them. No man could fail to be made a better American by traveling through this great historic State of yours, and where, throughout his journey, he sees place after place associated with the historic past, such as this city of yours here, right near the Guilford battle ground, commemorating by its name one of Washington's great generals.
North Carolina's history has ever been high and honorable; and surely, my friends, it is right that we should remember that the mighty deeds of our forefathers are not to serve to us as excuses for inaction on our part, but as spurs to drive us forward to doing our duty in our turn. We respect the son of a worthy father if he feels that the fact that his father did well makes it incumbent upon him to strive to do better. We despise the boy who treats the fact that his father counted for something as being an excuse for his counting for nothing.
So I am glad to note the care that you in this State are giving to education. The greatness of the country in the time immediately to come will depend upon the way in which the young generation of today is trained to citizenship in the future.
I am sorry to say that there is probably no one here who is not acquainted with some kindly, well-meaning, and most foolish father or mother who, because life has been hard with him or her in the past, takes the view that the children are not to have to face any difficulties. The worst thing that you can do for a child is to bring him or her up so as to dodge difficulties. The children that will rise up to call their parents blessed are those to whom the parents have given the inestimable privilege of training them to meet difficulties, not to shirk them; to overcome obstacles, not to get out of the way for them. Neither the individual nor the community is worth anything if it seeks after that which is easy. The thing to do is to find out what is worth doing, and do it. Show the manly quality that allows of this being done.
In every audience here in the South I see men who fought in the Confederate Army in the Civil War and men who fought in the Union Army also. These men as they look back feel that the part of their career of which they are most proud, the memory of which they wish to hand on to their children, is not any part that was easy, but the part when they did the hardest work and the work that was worth doing, when they proved their fealty to an ideal by the way in which they did the work allotted them to do.
Theodore Roosevelt, Remarks in Greensboro, North Carolina Online by Gerhard Peters and John T. Woolley, The American Presidency Project https://www.presidency.ucsb.edu/node/343630