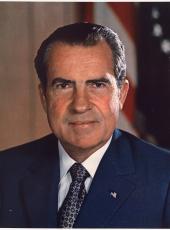 Remarks at Graduation Exercises of the FBI National Academy
Mr. Attorney General, Director Hoover, members of the graduating class, and all of our guests here today:
I am very honored to be here. And responding to the personal note which Mr. Hoover introduced me on, may I say that I am very honored to have these cuff links and will be honored to wear them.
As some of you may know, when I travel through the country, like all Presidents who travel through the country, there are times when over-enthusiastic people will grab your arm and take a cuff link. When I wear these I will simply say, "Watch out, the FBI will get them back."
I know that you will be hearing from the Attorney General for the address to the graduating class, and I will try not to impose on his time or yours in my remarks on this occasion. But I did not want to miss the opportunity on this day, a very special day for the 100 who are in this class and for their families who are here, to speak to some subjects that it seems to me are quite relevant on this occasion.
First, I congratulate all those who are graduates of the class, and I want to, in speaking to you, to speak to all of the men and the women in law enforcement throughout this country. I want to tell you, first, that today, significantly enough, is a good day in terms of news, as far as law enforcement is concerned. At 9 o'clock this morning at the White House, I announced the most significant breakthrough in stopping the source of supply of heroin into this country that we have made, perhaps, in recent history.
What has happened is that the Turkish Government--and in Turkey between 60 to 80 percent of all the opium poppies from which heroin is made that comes to the United States is grown--that the Turkish Government, in cooperation with the Government of the United States, has announced a new policy. All opium poppies which produce heroin will cease to be grown in Turkey starting in June of 1972. This does not mean that the fight against dangerous drugs is over. It does mean that we have made a big step forward.
But we would hope that as far as the demand is concerned, enforcing those who are the pushers, giving treatment for those who are the addicts, that all of these programs will go forward.
I can assure you that your Government is engaged in a worldwide offensive to stop the source of supply of dangerous drugs into the United States. You in law enforcement know how important it is to see that those who are addicted to drugs-that those numbers can be reduced, because in our major cities, and many places where I have seen the statistics, over 50 percent of the more aggravated crimes are committed by those who are engaged in the drug traffic or who are addicts.
The second point that I think is good news, and I trust that the Attorney General will expand on this, are the crime statistics that Mr. Hoover's department has released today.
For the first quarter of this year we have seen a downturn in the rate of increase of crime. What is, however, even more significant in terms of our cities-we find that in 61 cities of over 100,000 population, crime was actually reduced in the first quarter of this year. And that includes the city of Washington, D.C.
This means we are making progress in the battle against crime. That progress could not be made, of course, without the laws which the Congress has enacted-enacted in cooperation with and at the urging of this Administration. It could not be done without the national support that you receive from the Federal Bureau of Investigation and other law enforcement agencies and the Attorney General of the United States.
But more important, this progress in the battle against crime couldn't be made unless it was for the frontline soldiers, those who are the law enforcement officials in the cities, in the counties, all across this great country of ours.
And, therefore, I want to give a personal message to the 100 graduates of this class. It is one that I am really trying to give to all law enforcement officials wherever they may be, any place in the United States. When you go home, tell your colleagues that the era of permissiveness with regard to law enforcement is at an end in the United States of America. Tell your colleagues that not only in terms of the laws of the land at the national level, in terms of our LEAA programs, in terms of the support of the FBI, but more particularly in terms of support of the President of the United States and the Attorney General, that we back law enforcement officials in their attempts to reestablish respect for law, in their attempts to enforce the law with justice, in their attempts to [bring] freedom from fear and [end] terrorizing of our citizens throughout this country by criminal elements. They have the backing of the President, of the Attorney General, of their Federal Government and their Federal officials, and will continue to.
May I also say in that connection that we not only speak in terms of backing from a moral standpoint, but I want to assure you that as I travel throughout the country-don't get discouraged by some of the talk to the effect that the man who wears the badge or the man who is in law enforcement is one who isn't backed in his community. There are some who do not back you. It has become somewhat fashionable, or had become somewhat fashionable in recent years, to make attacks on law enforcement officials. But let me say that the great majority of the American people in this country do provide backing for the men who are willing to sacrifice their lives or to risk their lives in order to save the lives of others.
You have our backing. You have the backing of the American people. And this particular ceremony provides an opportunity for us to state it again, and state it for all of the American people on this occasion.
Also on this occasion I am provided an opportunity to say a personal word with regard to my longtime friend and the man who is responsible for this Academy--Mr. Hoover.
I have known him for 24 years. As a young Congressman I worked with him and with others in the Federal Bureau of Investigation in major investigations of various subversive elements in this country.
Mr. Hoover--during my period of knowing him, over 24 years--has served under five Presidents. Three of them were Democrats; two were Republicans. In that period of 24 years that I have known him, I can say from personal knowledge that he is a man who has never served a party, he has always served his country, and he deserves credit for that.
Now incidentally, they say sometimes that Mr. Hoover is controversial. Let me tell you something. Anybody who is strong, anybody who fights for what he believes in, anybody who stands up when it is tough is bound to be controversial. And I say that insofar as he is concerned, there may be controversy, but the great majority of the American people back Mr. Hoover and they back our law enforcement officials like yourself throughout this country.
So with that, I am honored to be here, to break into your graduation ceremony to reassure you and all of the men in law enforcement throughout the country of the support you have at the very highest levels in government for your work-your work which is sometimes dangerous, sometimes underpaid but, believe me, deeply appreciated.
The Nation is in your debt for what you are willing to do, and I am honored to speak for the entire Nation in saying to you congratulations, wishing you well, and seeing that this Nation is one in which we will have respect for law, in which the American people can have freedom from fear.
Thank you very much.
Note: The President spoke at 10:42 a.m. in the Departmental Auditorium at the Department of Labor to graduates of the 87th session of the Academy.
Richard Nixon, Remarks at Graduation Exercises of the FBI National Academy Online by Gerhard Peters and John T. Woolley, The American Presidency Project https://www.presidency.ucsb.edu/node/240335