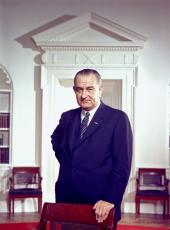 Remarks at Georgetown University at the Signing of a Bill Extending the Peace Corps Act
Chairman Morgan, Senator Aiken, Mr. Ambassador, Father Dunne, Jack Vaughn, distinguished guests, ladies and gentlemen:
I didn't realize, when I was asked to come here to one of my favorite institutions, that those who we came to recognize would have to stand during my remarks. They usually find it difficult enough to sit and listen to them. Had I realized that Senator Aiken would be here, Chairman Morgan, I know I would have eliminated a good deal that is in my prepared text. But now I don't know what to do. The speech is released, the wires are carrying what I am supposed to have said, and if I eliminated one word, why, Miss Thomas over here would say it was very significant that the President dropped from his prepared text the following sentence, so all the leaders of the world beware!
I would like to observe that today--for the sixth time--a President of the United States is signing a Peace Corps Act.
Some of you may remember the first year this was done. At that time the Peace Corps was only an idea.
There were doubters in those days who called the Peace Corps a "juvenile idea." I remember the advice we received, from many sources, that we should not send boys out into the diplomatic world, or to visit other countries, to do a man's job. I recall someone claiming that little good could be done in the world by just a "regiment of cheerleaders."
Even some supporters of the Peace Corps thought it would be little more than a gesture, that actually it was no more than just a token of good will.
Well, the doubters today are much quieter. Twenty thousand Peace Corps volunteers in 50 countries have already proven them wrong.
Twenty thousand Peace Corps volunteers in 50 countries have given the world a formula for action: conviction, courage, youthful competence, and character--in equal parts.
I understand that another Texan named Johnson is in your group of volunteers. When I decided to come over here, someone showed me what Charles Richard Johnson of Houston, Texas--where I once taught school--said in his Peace Corps application: "I do not expect," he wrote, "to create any great forces of good that will change or reshape the world. However, I would like to feel that I have tried to do my bit for the benefit of mankind and for the benefit of my country. Sometime in the future I would like to be able to say that I at least attempted, in some small way, to help."
Charles Richard Johnson, as far as I know, is no relative of mine. I doubt that he would claim it. But here and now I would like to observe that I claim kin with any man who really has that kind of spirit, that kind of vision, and that kind of feeling for his fellow man.
To hunger for use, and to go unused, is the worst hunger of all. Recently a father told me of the regret of his teenage son who said to him, "No matter what I do or how hard I try, there is not much chance that I can shape things for better or for worse."
A lot of people feel that way very often. They think of life as a cul-de-sac without meaning and without release.
It is true that few men have the power by a single act of theirs or in a single lifetime to shape history for themselves. Presidents, for example, quickly realize that while a single act might destroy the world they live in, no one single decision can make life suddenly better or can turn history around all for the good.
But Presidents do know that a nation is the sum total of what we all do together; that the deeds and desires of each citizen fashion our character and shape our world--just as one tiny drop of water after another will ultimately make a mighty river.
That is what the Peace Corps is really all about. Most of you are here this morning not for one reason but for several. All of you decided to become a part of "the needs and temper of our times." You have decided to participate--and that is a great word, "participate"--in the struggle of the day, of the time, of the hour: in the fight against sickness and want and despair that imprison millions of people who live on this globe with us.
So this involvement, more than anything else, unites the volunteers of the Peace Corps. It lies at the very heart of the way that you look at things.
Much of this world stands poised at the foot of a ladder, ready and eager to start the climb. To these people your message is vital--the message that men can improve their lives by their own efforts. Peace Corps volunteers have been passing this message along--softly, so as not to disrupt the pride of their listeners, but they have been passing it along very effectively.
The voltage generated by this simple friendliness has created new energy in one community after another, in one country of the world after another. So without sham and pretense, volunteers have appeared in overseas neighborhoods as persons who genuinely wanted to help their fellow man-help them as human beings, one to another.
Earlier this year I submitted to Congress a plan that promised a new dimension for the Peace Corps. It would establish:
--an expanded school-to-school program, to enable American schools to help their sister schools in other lands through the Peace Corps;
--a new Exchange Peace Corps, to bring volunteers from other countries to teach and to learn about our own land.
We won only a partial victory in the Congress. But we will operate the school-to-school program. Furthermore, although this act does not include what we requested to launch the Exchange Peace Corps, we intend to carry out Congress' suggestion to test the idea under existing authority.
We cannot afford to lose any time in our quest for understanding.
Very soon you will be going to an unfamiliar place. You will go there to teach and to learn. Few of the young people you serve will speak English. Most of them will be children of poverty. You may find that your work is difficult and discouraging; most of the works of peace are just that.
But this experience which stretches your patience will also enlarge your understanding.
I know. I learned it first when I taught the children from the slums of Houston. I learned it among the Mexican-American children in a place in deep south Texas on the Mexican border called Cotulla. And it has affected me and my work all my life.
In a years you will return, and I think you may find a surprise. You may find that helping the good people of Brazil has qualified you uniquely to help the good people of America--to help us solve the problems of our cities, of education, of economic progress, how to live longer and how to keep from dying. America is very much on the move, and you are in the vanguard of the march. For it was the Peace Corps which helped begin one of the most dynamic movements of our time: the mass movement of young people into fields of service.
Today, the spirit of the Peace Corps shines in dozens of ways, in dozens of places: in VISTA, in the Job Corps, in the Teacher Corps, in the Neighborhood Youth Corps, in State and local programs of youth service throughout the Nation.
It was just 8 days ago in Dayton, Ohio, that I announced my hope to develop a manpower service program for young people which could work at every level to transform our society.
Already we are beginning to formulate such a program.
Already we are making plans to ask our leading Governors and our mayors across the country to counsel with us and to help us in the formation of this program.
At the heart of this movement will be the spirit expressed in these words: "Not to change the world--but not to leave it the same.
The Peace Corps gave us those words.
So I take double pleasure this morning in signing this bill: pleasure in what the Peace Corps has done; pleasure in the accomplishments that I can see ahead.
This act could help us lead to a better day and I hope it will:
--a day when some form of voluntary service to the community and the Nation and the world is as common in America as going to school; when no man has truly lived who only served himself.
--a day when every nation has a Peace Corps, and when those who now call themselves adversaries are busy in the labor of reconciliation, and Peace Corps volunteers from each are working across borders that are now closed by hostility, or suspicion, or conflict.
--a day when more and more people will share Charles Richard Johnson's hope to be able to say someday, "... I at least attempted in some small way to help."
I saw again on television this morning, before I came out here, a reminder of what our late beloved President John Fitzgerald Kennedy said to the American people in his Inaugural Address some 6 years ago: "Ask not what your country can do for you--ask what you can do for your country."
You took him seriously. Every person who joined the Peace Corps took him seriously and answered the call to service. For John F. Kennedy touched the most vital nerve in American life, and inspired the highest instinct of mankind--the instinct to do something for someone else, to serve others, not just serve self.
I am convinced that what does endure in this life is really what do we do for others. And this is why Government service is so satisfying. It seeks reward only in the well-being of others. It gives people like you a chance to think of someone other than yourself and to make him feel important.
In that, I think, you increase the meaning of life and the chance for peace.
It would be good for the 3 billion people of this world if every human being, with understanding, could engage in a little introspection. And some day in the week, some week in the month, and some month in the year, every year, every month, every week, ask himself the question: Ask not what your country can do for you, but what you can do for your country.
And if we did ask ourselves the teacher or the preacher, the doctor or the nurse, the Government servant or the leader, the worker or, finally, the businessman himself--not what is there in this for me, but what can I do to help my fellow man--and if we could get up in the morning and chart a course that would permit us to do something to help others all day long until we got weary and had to go to sleep, oh, my, what a much better world this would be!
So I would hope in these critical days when things are going rough and some people are inclined to give up, and some get frustrated, and some get impatient, and some get critical, and some even complain about themselves, their associations, their families, their churches, their communities, their government, I would hope that they could each engage in introspection and say to themselves: What else can I do to help other people? Not: What is there in this for me? How much can I get out of this? What kind of a profit can I make?
If we can just put those little things in the background, then prosperity, peace, happiness, satisfaction--all those things that are so important to our enduring-could come to pass.
The road to peace, I have discovered in 35 years of public life, is fiddled with mistrust and sometimes it is raked with criticism and cynicism. Potholes of poverty and ignorance are deep enough to ensnare the bravest apostles of peace. If humanity ever hopes to pave this road, it must accomplish an understanding that is deeper and more durable than the world has ever known.
We are fortunate enough to have most of the blessings that most of the world seeks and hopes for so earnestly. Since we do have most of them, we ought to be thankful and we ought to reciprocate.
I always think of a little class motto I had in my high school graduating class, when six of us finished the Johnson City High School. It said, "Give to the world the best you have and the best will come back to you."
So this morning to you young people and to the young people of this Nation and all the world, I would say, ask not what your country can do for you, ask what can you do for your country and for all your fellow human beings--some of whom, a good many of whom, most of whom, do not enjoy the blessings of freedom, liberty, and comfort that are yours.
I would like to observe, without being partisan in the least, that two men are here this morning whom the people have selected to lead us, both of whom measure up to that statement I made: They do not ask what their country does for them, but what they can do for their country. They have done much to help us live in peace in this troubled world--Dr. Morgan and George Aiken.
Thank you.
Note: The President spoke at 10:15 a.m. in Walsh Hall at Georgetown University in Washington. His opening words referred to Representative Thomas E. Morgan of Pennsylvania, Chairman of the House Foreign Affairs Committee, Senator George D. Aiken of Vermont, a member of the Senate Foreign Relations Committee, Vasco Leitao da Cunha, Ambassador to the United States from Brazil, Rev. George H. Dunne, director of the Peace Corps training program at Georgetown University, and Jack Hood Vaughn, Director of the Peace Corps. Later the President referred to Helen Thomas of United Press International, and Charles Richard Johnson of Houston, Texas, a Peace Corps trainee at Georgetown University.
As enacted, the Peace Corps Act amendments (S. 3418) is Public Law 89-572 (80 Stat. 764).
Lyndon B. Johnson, Remarks at Georgetown University at the Signing of a Bill Extending the Peace Corps Act Online by Gerhard Peters and John T. Woolley, The American Presidency Project https://www.presidency.ucsb.edu/node/238636