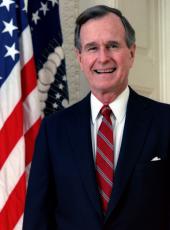 Remarks at a Fundraising Dinner for Senator Jesse Helms in Charlotte, North Carolina
Thank you, Senator. Thank you all very, very much. Thank you, Jesse. Thank you very, very much, Jesse, for that very warm introduction. And I am so pleased to be here. And to Dot Helms, my respects. Barbara sends her love. To our outstanding Governor, Jim Martin, a friend of longstanding, my respects, and to his cohort from across the way, Carroll Campbell, another close friend. The Carolinians are lucky -- they've got it made with these two Governors. I want to salute another friend, the Congressman from this district who's making such a superb record for himself and for North Carolina values in the United States Congress, Alex McMillan, going strong. And I'm very proud of him. Another old friend -- I don't want to date Jim Gardner in a sense, but he and I were elected to the Congress on exactly the same day several years ago. And I am proud of him as he serves this State as Lieutenant Governor.
I want to salute the Mayor, Sue Myrick; our chairman, Jack Hawk; old friends of mine, Jack and Helen Laughery, who do so much for the cause and with whom I spent a nervous primary night in this State 2 years ago. Roger Milliken, from Spartanburg down here, right across the way; strong supporter of the Republican Party and the conservative cause. And, of course, the real star of tonight's show -- a truly great North Carolinian with an unparalleled record of success, loved by his fans, feared by his opponents. You all know him -- professional wrestler Ric "Nature Boy" Flair, down here. Ric, I was thinking you ought to team up with my friend, the Chairman of the national Fitness Council, Arnold Schwarzenegger. You know, Conan the Republican. [Laughter] And maybe the two of you could bench-press the Federal budget. I'm glad you're here.
And I don't have what they call in baseball "rabbit ears" -- you know, the guy that always hears the heckling from the sidelines -- but I did notice some protest going on outside as we were coming in tonight. And they're upset because they think that the only reason I was invited to speak this evening is because I'm Barbara Bush's husband. [Laughter] I thought it came out pretty well -- Bar Bush, seven; Wellesley, you know what. [Laughter]
Anyway, it's a pleasure to be with you in the birthplace of one of America's greatest religious leaders, too, a friend of all of ours, the Reverend Billy Graham. And what's more, I am privileged this evening to salute one of America's most dynamic political leaders, a steadfast champion of what he believes -- what he believes. And, of course, I'm talking about Senator Jesse Helms, my friend.
You know, it's been said that Jesse Helms is a political partisan. He still maintains that "One Flew Over the Cuckoo's Nest" was really the title of a film on the 1972 Democratic Convention. [Laughter] Yet partisanship really is only a small part of the Jesse Helms story. The son of a police chief, Jesse worked his way through school. Later, telling the plain truth as a columnist and commentator. And as a Senator with seniority and prestige, he's been a clear, strong voice for North Carolina, reflecting this State's motto: To be rather than to seem.
The theme of this campaign is "you know where Jesse stands." Yet I'd like to talk about the Jesse Helms you may not know about. Not just professionally -- I'm talking personally. And why his reelection isn't a partisan crusade but a national necessity. The Jesse Helms that I know and that all of us that orbit around that Senate from time to time know is a man of courtesy, unfailing courtesy, and conviction. He isn't a trendy follower who flows with the current. He's a visionary who alters the tide. Sam Ervin put it best: "Jesse is one of the few men with the courage to stand up for what he believes." And the Jesse Helms I know also embodies the values of North Carolina's good, quiet, and decent people -- people who pay their taxes and believe in hard work and have a love of country and of God. And like them, Jesse's a man of integrity, a great family man -- lovely wife, Dot, and three great kids, six grandchildren. And a man of kindness and humanity.
Let me tell you a revealing story. Barbara and I have two adopted grandchildren, the younger christened in the Rose Garden 2 weeks ago. And they are a constant source of happiness in our lives. Well, 28 years ago, at Christmas, Jesse and Dot were reading a story about a boy with cerebral palsy living in a Greensboro orphanage. And asked what he would most like from Santa Claus, the boy had said, a mother and a father. And soon after, Jesse and Dot visited that boy and they adopted him -- became his mother and father. Brought him through several operations. And today, he's a successful businessman with a family of his own. Like Barbara and I, Dot and Jesse know the joy of adoption. And I know we all salute them for bringing the caring light of love to another.
And that is the Jesse Helms I know -- a parable of character. The character which led Jesse to go out and buy glasses for the son of a woman in Johnson County whom he heard couldn't see the blackboard, or caused him to help Durham's Thuy Doan. Having escaped from Vietnam, she tried for 7 years to get her mother out. And Jesse reunited her family.
Let's face it: people don't always agree with him, but they always respect him. And where does Jesse stand? You know where. He places principle and people above partisan politics -- strengthening the United States of America. By way of example, look first at foreign policy, where naturally, the liberal Democrats want us to make reckless defense cuts. And as long as I'm President, there's as much chance of that happening as there is of Mike Krzyzewski going to the Boston Celtics. It isn't going to happen.
And the truth is, a strong national defense has and is helping to build a more democratic world. Consider: Earlier this month, President Gorbachev and I held our Washington summit, and we signed an agreement to update and expand our 1973 pact on the peaceful uses of atomic energy. Another agreement on nuclear testing will create unprecedented improvements for on-site verification -- a course that Jesse has urged since the 1970's. And President Gorbachev and I also issued a joint statement on conventional armed forces in Europe in which both sides committed themselves to intensify the pace of the negotiations in Vienna and agreed that such a treaty is essential to the future security of Europe. And furthermore, we also agreed to hold future negotiations on nuclear and space arms once the START treaty is concluded.
The great humorist Will Rogers once said, "A man in the country does his own thinking -- but you get him into town and he soon will be thinking second-handed." In North Carolina, even city folks are commonsense country thinkers. And you understand that giving peace a chance does not mean taking a chance on peace. As we build upon our new relationship with the Soviet Union -- and I'm going to keep on trying there -- America must heed the desire for self-determination for the Baltic Republics. And we will. And I was pleased to see last week's meeting between President Gorbachev and the Presidents of these three Republics. And those talks began a dialog that we hope can lead to a peaceful resolution of this situation, an end to the Soviet economic blockade of Lithuania, and freedom for millions more.
And as we work to consolidate the positive change of the past year, we must also maintain the policies and institutions that made that change possible: a strong NATO, with Germany remaining a full member, and a strong American military presence in Europe as guarantors of stability, security, and freedom. Carolinians know these challenges can only be met through an America unafraid to adjust but committed to remain strong. You see, weakness will not preserve the peace that our national defense policies have helped us win. And I need Senators who will help our defense maintain that peace.
And where does Jesse stand? You know where Jesse stands: for a safer, more secure, and stable world. And turning to America, a lot of challenges also remain. And so, quoting Asheville's own Thomas Wolfe, let's "look homeward." And here, too, I need Jesse Helms to keep standing up for what's right.
A noted preacher once said, "A thoughtful mind, when it sees a nation's flag, sees not the flag only but the nation itself." And yet, what would we say to the brave men and women who fought and died for the Stars and Stripes if they were alive today? Forty-eight States had laws protecting the flag against desecration. Forty-eight States. And those laws were effectively struck down when the Supreme Court ruled that flag-burning is protected by the Constitution. Now, I know this is an emotional issue on which Americans of good faith can and do disagree. As I look at it, it's not a Republican issue or Democrat, or even a liberal or conservative issue. To me, it is an American issue.
And our forefathers, with remarkable insight, knew that the Constitution must evolve in order to be contemporary. And so, they provided a mechanism for amending this sacred and marvelous document. And like us, they knew that the flag is the unique symbol of America. And I emphasize that word "unique." I honestly can't believe that they would condone burning it under the cover of free speech. The constitutional amendment we have proposed is carefully drawn. And here's what it says: "The Congress and the States shall have power to prohibit the physical desecration of the flag of the United States." I will fight for that amendment, and I am proud to have Jesse Helms at my side.
And Jesse and I, of course, agree on many other issues -- things that I think we all agree could be called value issues. An example: Jesse believed that kids should have the right to have voluntary prayer in the classroom -- and so do I. As an old-fashioned guy, he believes in fiscal sanity. And when it comes to solving problems, liberals measure progress made by dollars spent. And Jesse and I, on the other hand, want to clean up the deficit through proposals requiring a balanced budget and a line-item veto. If the Congress can't make these cuts, give the President what 43 Governors have, and let him have a shot at it.
And finally, there's the issue of fighting crime. And last May I outlined our Violent Crime Act. And at its heart is the belief that for anyone killing a law enforcement officer, no legal penalty is too tough. Liberals oppose the death penalty. And where does Jesse stand? Where I do: We want to eliminate loopholes that allow these, the worst criminals, to escape just punishment. And what's more, we want to expand its coverage to include major drug traffickers. Not sometime, not someplace but right now all across America.
I'm told that Jesse's favorite movie is "Patton." And in closing, let me recite the words of Patton telling his troops that in coming months they would often wonder whether they'd retreat under fire. "Don't worry about it," he advised them. "I can assure you, you will all do your duty." For 18 years Jesse Helms has done his duty, acting as a United States Senator to protect what Mayberry's own Aunt Bee, of the beloved "Andy Griffith Show," called "home and people's feelings, and how they grew up." He continues to lead with the civility and conscience that is a metaphor for North Carolina and with a spirit that would make even General Patton proud.
Two years ago, after an operation, Jesse -- typical of him -- disobeyed the doctor's order by leaving his sickbed early to hit the campaign trail for me and Dan Quayle. And I'll never forget how he literally stood up to support me. And tonight, I came down here to pledge him my support. You know where Jesse stands: for a safe, strong, and moral America. And I need him in the United States Senate, so let's keep him there -- for your sake, for North Carolina's sake, and for America's sake.
And thank you for this occasion. And let's reelect Jesse Helms. And God bless the United States of America. Thank you.
Note: The President spoke at 7:25 p.m. in Liberty Hall at the Merchandise Mart. In his remarks, he referred to Jack Hawk, chairman of the State Republican Party; Jack Laughery, president of Hardees; Roger Milliken, president of Milliken Industries; Mike Krzyzewski, coach of the Duke University basketball team; and author Thomas Wolfe. Mrs. Bush spoke at the Wellesley College commencement ceremony. Following his remarks, the President returned to Washington, DC.
George Bush, Remarks at a Fundraising Dinner for Senator Jesse Helms in Charlotte, North Carolina Online by Gerhard Peters and John T. Woolley, The American Presidency Project https://www.presidency.ucsb.edu/node/264433