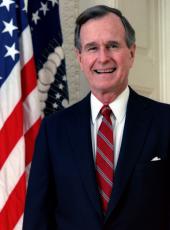 Remarks at a Fundraising Dinner for Gubernatorial Candidate Pete Wilson in San Francisco, California
Thank you so much for that welcome. And, Pete, oh, how strongly I feel about this gubernatorial race. And I came out here to wish you the very best and to state with confidence, especially after talking to some of your most enthusiastic supporters before dinner, that you will indeed be the next Governor of the State of California. And I am delighted to predict that right here. Just don't use the same pollster Ortega [President of Nicaragua] did. [Laughter]
To you and Gayle, Barbara and I send our very best. The Wilsons were just upstairs and talked to Barbara at home. And sorry she is not here tonight -- she is going to meet me in a day or so as we receive the Prime Minister of Japan in California.
I want to salute Lee Atwater, who is doing an outstanding job as the chairman of the Republican National Committee. And, Frank, I'm not upstaging you, but I'm saying nice things about you it seems just yesterday and the day before. But I'm glad you're here, sir, and I appreciate the work you're doing for the party. I'm delighted to once again be with Bill Walsh, who's been such an example not just in the field of athletics but in his commitment to helping others. And I also think we would be remiss if we didn't thank the Lowell High School Band for their participation here tonight.
And as some of you know, I was just in San Francisco 3 weeks ago. But as Kipling said, San Francisco, like all of California, has one drawback -- it's hard to leave.
So much has happened, even since my last trip right here to San Francisco. And Bishop Swing, my old, dear friend, our pastor, now a bishop out here -- it's not that we find that hard to believe, sir, but I'm so glad to see you again. But he was our pastor in Washington. Would it seem presumptuous of me to say that many of our prayers seem to be answered? From Moscow to Managua, change is in the air. And the Revolution of '89 has continued into a new decade, a decade of democracy.
Time and again in this century, the political map of the world was transformed. And in each instance, a new world order came about through the advent of a new tyrant or the outbreak of a bloody global war, or its end. Now the world has undergone another upheaval, but this time, there's no war. We've seen a bold Soviet leader initiate daring reforms. We've seen a playwright -- humble man that I received in the White House the other day -- Vaclav Havel, move from prison to the Presidential palace in Czechoslovakia. We've seen both the Berlin Wall and the Romanian dictatorship tumble into ruins. And I think it's fair to say that the day of the dictator is over.
Victor Hugo said that no army can match the might of an idea whose time has come. In the Revolution of '89, an idea overcame armies and tanks, and that idea is democracy. This has been true in the East. Now it is becoming true throughout the Western Hemisphere -- first in Panama after Operation Just Cause, and now, at long last, for the brave people of Nicaragua. And how could we ask for more?
Another symbol of change: This morning I called President Gorbachev, and we had a long talk on matters affecting Nicaragua and Eastern Europe. And after the call and this highly rational and, I would say, cordial discussion with this dynamic new Soviet leader, my mind went back to those days not so many years ago when a talk of this nature would not have been possible. The mood of the day back then -- confrontation, rhetorical overkill, tension bordering on hostility.
Yes, we've got some problems with the Soviet Union. But today's talk was so different -- no polemics. Where we differed, we vowed to discuss the differences further. And the point is: Reason and calmness have replaced rhetoric. And as your President, I am determined to consult often with President Gorbachev to keep open the door to negotiation and peace. These indeed are exciting times, and I'm proud to be your President in these times of change.
But we're gathered here tonight to celebrate events closer to home. As I said, California is hard to leave, and for me, it's been hard to leave even when I'm back at the White House. You see, it was just yesterday, Bill, that for the second time in my Presidency, Barbara and I had the pleasure of entertaining the winners of the Super Bowl; and once again, our guests were the San Francisco 49ers. And just a few months earlier, Barbara and I hosted the Oakland A's after their great World Series victory. Something about monopoly -- there's something in the books about cornering the market here -- a little antitrust action. [Laughter] But when it comes to champions, I'm beginning to think you have cornered the market.
Yet I'm here on behalf of another champion, a champion for the victims of crime and drug-related violence, a champion for the environment, a champion for California, a champion for a sound and growing economy. And I'm talking about the next Governor of your State: Pete Wilson. And in this critical -- critical for the Nation -- election, with Pete at the top of the ticket, come November, California will go Republican in a big way.
California is prized for more than its political importance or the size of its GNP that Pete in a slightly braggart fashion there was talking about. We must win the State because California really does represent the future. California is at the forefront not just regionally and nationally but, as he rightfully pointed out, internationally, and needs a special kind of leadership -- and Pete Wilson's kind of leadership it is. Twenty-three-year career in public life -- it began under the dome in Sacramento, and today he is a lawmaker still, this time in Washington, DC. But it was as mayor of San Diego that Pete first showed a flair, a talent, for executive leadership. And it is exactly this kind of executive leadership that the whole State of California needs to take it to the threshold of a new millennium. You've got a good Governor. In my view, we have a great Governor, and I want to see that tradition continue with Pete Wilson.
And sadly, California needs something else. It needs to continue a crime-fighting tradition. It needs a Governor who will continue the war against violent crime. California needs a Governor who shares our philosophy about crime. And our philosophy -- relatively simple -- prison sentences should be at least as tough as the criminals we convict.
At the Federal level, I relied on Pete's help to pass a major part of our anticrime package. More money has been provided for prison space and more Federal law enforcement officers. But Congress has left too much work undone. We need action on the rest of our proposals to fight violent crime -- by toughening Federal sentences for those who use a firearm in the commission of a felony. And if the kingpins who deal drugs are dealing death, then let's judge them for what they are -- murderers. It's time we took the shackles off the policemen, the courts, and the law. I am convinced we must be tougher on these drug criminals.
And a Governor has to be as tough as the times. But the challenges of the future will also require vision and compassion if we're to protect a fragile coastal ecology or educate a new generation of children.
From the urban canyons of Los Angeles to the Yosemite beloved by Ansel Adams, Californians were among the first to stand up for the environment, and Pete Wilson was among the first environmentalists to hold office. He's added thousands of acres to the California wilderness system, saved canyons, protected urban recreation sites. And he supports our "America the Beautiful" initiative to plant a billion trees, to expand our national parks and wildlife preserves, and to make this more like the unspoiled green continent our forebears knew.
Right now Pete is working with me on our administration's proposal to enact our clean air bill, the first significant change since 1977, one that will clean up the smog and curb acid rain and cut back on the air toxics that plague California's air. Cleaner cars, cleaner fuels, cleaner factories -- that's what we're striving for. And with Pete Wilson at the helm, you'll have a Governor who works for a cleaner California, just as he has in the United States Senate.
Education is also critical to the future, and it's a critical responsibility, I'd say, an increasingly critical responsibility of every Governor. Governors across the country are disturbed that there are still many American children -- often in the inner city, often immigrants -- who are denied the American dream because of a lack of literacy, a lack of job skills. This is unfair, this is unjust, and this is unacceptable. And that's why Pete Wilson backs our proposal for a half-billion-dollar increase for Head Start to give these children a hopeful start in life. I need that through the United States Congress.
Almost a year has passed since I sent the Educational Excellence Act to Congress. It's based on a few basic concepts: To make our schools work, we must give parents, teachers, and children the power to choose. To make our system work, States, schools, and individuals will need greater flexibility in the way in which they can pursue these goals. And then we must all be accountable for the results.
Last April I asked Congress to pass these measures to reform our educational system. And look, thanks to Pete's help and that of others, education reform has already passed the United States Senate. Now it's time for the House to finish its homework and pass our education reform now.
The political future of California and all of America rests on yet another issue -- an issue that affects the voting rights of every Republican, every Independent, every Democratic voter -- an issue of fundamental fairness, and I am talking about reapportionment. Some say reapportionment has been a political gold mine for both parties. They may be right. The Democrats get the gold and we get the shaft. [Laughter]
Remember, after the 1990 census almost one out of eight Members of Congress will represent the State of California. Remember that. This is bigger than party politics. Gerrymandering violates the spirit of one man, one vote. On a summer night in 1981, a group of California Democrats sat in a restaurant in Sacramento with pencil and paper and redesigned your political future. Lines were drawn -- crazy, twisted lines -- that cut across communities, towns, and even streets without the slightest regard for the will of the people. Since those district lines went into effect, there have been 135 general elections for California's congressional seats, and only once has a seat changed party control. And remember, this same brand of political manipulation that hurts Republicans also hurts every minority voter in the State of California.
So, isn't it ironic, if a little sad, that in the very decade democracy dawned around the world a small group sitting around a table in a restaurant who called themselves Democrats infringed on voting rights in America? Still, Republicans do not seek revenge, don't seek a gerrymander of our own. No, with fair lines, we can win on the issues, and we can also win on the strength of our candidates.
You know, in the early days of our great nation, some Americans stayed in the cities of the East and built great industries -- and they have every right to be proud. And some Americans came halfway across the continent and farmed our rich and fertile plains -- and they, too, have every right to be proud. But then there were those who pressed ever forward until they reached the sea. Gumption, gold, and glory took them all the way to the shore of the shining Pacific. We call these people Californians. Some found gold; most didn't. But all Californians found something precious: the future. So, today's State of California is tomorrow's state of the Union. And there's no one better to lead California into that exciting future than Pete Wilson.
It's been said that "if you would test a man, first give him power." For 23 years, Pete Wilson has been tested. He's used power not to glorify self, to glorify one man, but to make a better life for millions. He's a great Senator today, a sterling example of California's passion for excellence. Tomorrow, the Golden State will be proud to call him Governor.
Thank you, and God bless you all. Thank you for having me here once again. Thank you very much.
Note: The President spoke at 7:48 p.m. in the Grand Ballroom at the St. Francis Hotel. In his remarks, he referred to Gayle A. Wilson, wife of Senator Wilson; Frank Fisco, California Republican Party chairman; and William Walsh, former coach of the San Francisco 49ers football team. A tape was not available for verification of the content of these remarks.
George Bush, Remarks at a Fundraising Dinner for Gubernatorial Candidate Pete Wilson in San Francisco, California Online by Gerhard Peters and John T. Woolley, The American Presidency Project https://www.presidency.ucsb.edu/node/264407