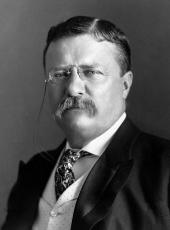 Remarks in Freeport, Illinois
Congressman Hitt, and you, my fellow countrymen:
Here where we meet to-day there occurred one of those memorable scenes in accordance with which the whole future history of nations is molded. Here were spoken winged words that flew through immediate time and that will fly through that portion of eternity recorded in the history of our race. Here was sounded the keynote of the struggle which after convulsing the nation, made it in fact what it had only been in name, at once united and free. It is eminently fitting that this monument, given by the women of this city in commemoration of the great debate that here took place, should be dedicated by the men whose deeds made good the words of Abraham Lincoln—the soldiers of the Civil War. The word was mighty. Had it not been for the word the deeds could not have taken place; but without the deeds the word would have been the idlest breath. It is forever to the honor of our nation that we brought forth the statesman who, with far-sighted vision, could pierce the clouds that obscured the sight of the keenest of his fellows, could see what the future inevitably held; and moreover that we had back of the statesman and behind him the men to whom it was given to fight in the greatest war ever waged for the good of mankind, for the betterment of the world.
I have literally but a moment here. I could not resist the chance that was offered me to stop and dedicate this monument, for great though we now regard Abraham Lincoln, my countrymen, the future, will put him on an even higher pinnacle than we have put him. In all history I do not believe that there is to be found an orator whose speeches will last as enduringly as certain of the speeches of Lincoln; and in all history, with the sole exception of the man who founded this Republic, I do not think there will be found another statesman at once so great and so single-hearted in his devotion to the weal of his people. We can not too highly honor him; and the highest way in which we can honor him is to see that our homage is not only homage of words; that to lip loyalty we join the loyalty of the heart; that we pay honor to the memory of Abraham Lincoln by so con ducting ourselves, by so carrying ourselves as citizens of this Republic, that we shall hand on undiminished to our children and our children's children the heritage we received from the men who upheld the statesmanship of Lincoln in the council, who made good the soldiership of Grant in the field.
Theodore Roosevelt, Remarks in Freeport, Illinois Online by Gerhard Peters and John T. Woolley, The American Presidency Project https://www.presidency.ucsb.edu/node/343702