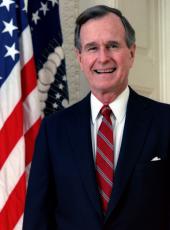 Remarks to Ford Aerospace Space Systems Employees in Palo Alto, California
The President. Thank you, Don, very much. And my respects to our congressional representatives that are here today -- Pete Wilson, our United States Senator with us today; and Congressman Campbell especially; other Members of Congress that are here -- and all of you at Ford. I want to thank Don Petersen for coming from Detroit for this occasion and thank everybody involved in this visit. And I know what a logistical headache a visit like this might be. [Laughter] So, we promise to go on time. [Laughter] Thank you, gentlemen from the Navy. And, Don, thanks for the introduction, and all of you for the generous welcome. It's a pleasure to be back in the Bay Area, among friends. I'm taking a chance by quoting him in north California, but it was that noted gourmet, Dodger manager Tommy Lasorda -- [laughter ] -- who conceded -- --
Audience. Oh!
The President. I knew I was taking a chance. [Laughter] "I'm on a seafood diet. I eat all the food I can see," he said. [Laughter] Well, he's not like most of us; he never met a meal he didn't like. And if you ask, he'll insist that food ranks among his most precious investments. It uplifts his performance, mentally and physically. It enhances his ability to compete and, indirectly, to keep his ball club in contention. And I'm sure you've all heard the old saying: "Never invest your money in anything that eats or needs repainting." [Laughter]
Well, today I want to talk briefly about a different kind of investment -- investments which prize the new horizons of America's technological future; investments which can create new jobs, unlock new markets and unleash new technologies; investments, in short, which will make us more competitive and keep America number one.
In a sense, this attitude is typically American. For we are, at heart, a very competitive people. We measure life by today's Dow Jones average or by how our ball club did most recently, or whatever the statistic. And as Americans, we expect short-term results, and historically, we get them. Government's role is to unleash America's ambition, to make us more competitive, by pointing toward the 21st century, ensuring long-term results.
The best investment in the future is to slash the Federal budget deficit. And every dollar the Government does not borrow means more capital available for sound, productive investment. Recently I unveiled an important bipartisan budget agreement with Congress to reduce the deficit. It is but a first step, but the very fact of it was important -- agreement between the executive branch and the Congress. And our accord will narrow this deficit to $99.4 billion in the fiscal year that began October 1st. And that's far below the $163 billion estimated for the current fiscal year. And now, this plan's an agreed outline -- tough talks still lie ahead. And we will resume consultations soon on a plan aimed at balancing the budget by 1993.
Think of the deficit reduction as exercise, like walking the dog every day. Believe me, I know: Exercise keeps you at the top of your game. And so will another investment to build a more competitive America, one of many that I'll be asking Congress to make. And I am talking about getting Congress to restore the capital gains differential, a step which, according to Treasury estimates, will raise $4.8 billion in new revenue.
I listen to all the criticism, and I've heard, as you have, the criticism of people who ridicule cutting the capital gains tax as somehow a tax break for the rich. Well, they couldn't be more wrong. Lower capital gains taxes will create jobs for those who don't have jobs, will help build a better America. It worked once before, and it will work again. So, I would urge everybody here to give strong support, contacting your Members of the United States Congress to help me restore the capital gains differential.
Consider, on the one hand, those countries that cripple opportunity. They know firsthand the damage caused by excessive taxation on capital gains. And then consider that our second-largest trading partner, Japan, with whom you are working very closely, has taxed them little, if at all. And so, the lesson then, again, is self-evident: Restoring the capital gains differential will make America more competitive. Our plan supports reducing it to 15 percent on long-held assets. So, let us act to lift revenue, help savings, and free American businesses without distorting world markets.
You know, ordinarily, I take statistics with a grain of salt. I've seen too many of these polls. These political polls go up and down. And I guess if I'd have listened to them and gotten discouraged by them I wouldn't be standing here as President of the United States of America. But I like what Woody Hayes said -- remember Woody Hayes, the coach at Ohio State? He put it best: "Statistics always remind me of the fellow who drowned in a river whose average depth was only three feet." One statistic, though, does bear reciting. Since November 1982, nearly 20 million new jobs have been created in this country. And many have been created right here in the Silicon Valley. Well, through investments to increase competitiveness, I know that we can do even better.
For instance, we have proposed a permanent extension on the research and experimentation tax credit. America must remain in the front lines of technological innovation. And we want to actively increase domestic research by multinationals and end the uncertainty of expiring temporary rules. These steps and others can help us walk the unexplored frontiers of high technology. For high tech is potent, precise, and in the end, unbeatable.
The truth is it reminds a lot of people of the way I pitch horseshoes. Would you believe -- [laughter] -- would you believe some of the people? [Laughter] Would you believe our dog? [Laughter]
Look, I want to give the high-five symbol to high tech, and I want to do it by investing in competitiveness. And that's why I've asked Congress for an increase of $2.4 billion for NASA, as it moves ahead with the space station Freedom. We have selected a new Science Adviser, and I will elevate his status. It is important that the President's Science Adviser have access to the President and that his views be considered in a wide array of important issues. I've also just reestablished the National Space Council, headed by the Vice President, to coordinate our future space efforts.
But we can't stop there; our future won't allow it. So, let us also invest in the superconducting supercollider, a bold new experiment fusing science, technology, and education. Because science is so critical, let us double the National Science Foundation budget by 1993. And let us use our own technological prowess to expand free and fair trade. I'm talking about excellence in such fields as microcomputers and superconductivity and, yes, aerospace.
In aerospace, we can point to satellites whose technology is American, point with pride to satellites like the Superbird satellite, among the largest, 5,500 pounds. The most powerful communications satellites yet developed -- 5,500 pounds -- that's even bigger than the 49'ers' offensive line. [Laughter] Today America's satellites are among the most competitive spacecrafts for customers who want affordable high-powered communications satellites. And they are providing regular and cable television access, telephone lines, newspaper transmission, and other telecommunications services. And best of all, they're just a preview of the next generation of satellites. In the 21st century, they will keep America as number one.
You know -- remember Satchel Paige -- great black pitcher, self-proclaimed philosopher? They asked him what was the secret of his competitiveness. You remember what he said. "Don't look back. Somebody might be gaining on you." Well, Satchel, like high technology, knew that as Americans we do look ahead and not back. We always have, and we must now, more than ever. For the coming decade will see and shape a rapidly changing work force. To invest its talents will be our challenge as a nation.
According to the National Science Foundation, for instance, by the year 2000 the college-age population will have shrunk almost 20 percent. Among college-age youth, minorities will comprise one-third. And women, minorities, and immigrants will total almost two-thirds of the new entrants into the labor force. These facts demand a new investment to build a more competitive America. It's an investment different from lower capital gains taxes or more funds for space and other high tech, but it is vital. And I'm referring, of course, to child care.
At Ford Aerospace, officials are responding to changing demographics and the needs of its employees. By increasing parental options, Ford's Employee Assistance Program is helping to keep us competitive. And it is involving community agencies as child care resource referrals, like the YMCA Child Care Center in Palo Alto, approved and supported by the United Way.
Now, I salute this example, and I applaud its emphasis on choice. There are some congressional child-care initiatives, well-meaning, I am sure, but which don't reflect this emphasis. Our new child-care initiative -- mine, the one that I've sent up to the Congress -- does. And our proposal urges a new tax credit to make child care more affordable. And it puts money in the hands of the low-income parents, limits Federal intervention, and increases options. A church can help, or grandparents or professional nursery. When it comes to child care, we say: Let the parents decide. Keep the family strong. And we must do that.
For in the end, it's decisions we come down to: decisions to say yes to child care, more funds for space and other high technology; decisions which serve the entire community -- workers, investors, students, parents; decisions to invest in America so that we can create a more competitive America.
As Californians, you know what I'm talking about. You've always believed in daring, aspiring, and charting unexplored frontiers. And you look ahead, not back. And you know that nothing is impossible. And by giving of yourselves and to your country, you give lift to the American dream.
Thank you for that. Thank you for a fascinating day in the laboratories here. Thank you for your kindness and your generosity. God bless you, and God bless the United States of America. Thank you all very much.
Note: The President spoke at 9:27 a.m. in the facility's cafeteria courtyard. He was introduced by Donald Rassier, president of Ford Aerospace Space Systems Division. Donald E. Petersen was chairman of the board of the Ford Motor Co. Following his remarks, the President traveled to Los Angeles, CA.
George Bush, Remarks to Ford Aerospace Space Systems Employees in Palo Alto, California Online by Gerhard Peters and John T. Woolley, The American Presidency Project https://www.presidency.ucsb.edu/node/263257