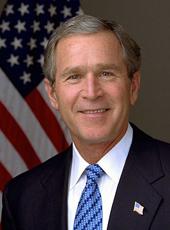 Remarks Following a Visit With Wounded Troops at Walter Reed Army Medical Center
Listen, I've—Laura and I have just toured one of the wards upstairs. I am— every time I come to Walter Reed, I'm struck by the courage and bravery of our men and women who wear the uniform. It's such an honor to meet the troops who are wounded. And it's so uplifting to see their spirit, their drive to become rehabilitated, their love of their country, their support of the mission.
Laura and I spent time with the moms and dads and husbands and wives of those who are wounded, and I was struck by just the patriotic sense that they have and that—their strong support for their loved ones.
Every time I come to the hospital, one of the things I try to determine is to— whether or not our troops and their families are being treated with first-class care. It's very important for all of us involved in decisionmaking to know that a troop who had been injured in Iraq or Afghanistan is immediately brought to care. And to a person, they were very strong in their support and praise to how this hospital is run.
I want to thank the generals, the doctors, the nurses for running this hospital. I mean—it's such a comforting sense for me to be able to tell a loved one, "Your person hurt, your loved one will get the best care possible."
And finally, we've got troops in harm's way in the Fallujah area right now, and our prayers are with the soldiers and their loved ones as they're doing the hard work necessary for a free Iraq to emerge. There are still terrorists there who are trying to stop the march of freedom. And at the request of the Allawi Government and alongside of Iraqi troops, coalition forces are now moving into Fallujah to bring to justice those who are willing to kill the innocent and those who are trying to terrorize the Iraqi people and our coalition, those who want to stop democracy. And they're not going to succeed.
And so we wish our troops all the best and Godspeed to them as well. Thank you all.
NOTE: The President spoke at 3:01 p.m. In his remarks, he referred to Prime Minister Ayad Allawi of the Iraqi Interim Government. A tape was not available for verification of the content of these remarks.
George W. Bush, Remarks Following a Visit With Wounded Troops at Walter Reed Army Medical Center Online by Gerhard Peters and John T. Woolley, The American Presidency Project https://www.presidency.ucsb.edu/node/215138