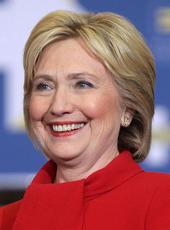 Remarks Following the Nevada Caucuses
I had a great campaign here. I had a lot of wonderful help from friends around the country, like Mayor Villaraigosa from Los Angeles, who has been with me, and I am particularly gratified that the people of Nevada have given us such a positive send-off.
This is one step on a long journey throughout the country as we put our cases forward and take that case to the people and this was an especially wonderful day for me.
So I'd be glad to answer your questions.
Q: (OFF-MIKE)
CLINTON: Well, you know, I don't have any response to that. I think that we had a very effective campaign. We have a lot of reports ourselves and, obviously, we're not focused on that right now, because the fact is that people turned out and I got a significant share of the popular vote and I think that _ you know, my view always is you just keep going, and that's what we intend to do.
Q: (OFF-MIKE) of the popular vote, but you may not have won in the delegates. Your response to that?
CLINTON: Well, nobody really knows and we are looking very good. Obviously, this is about delegates, but it's also about what people are voting for and who they think the best president will be.
And I find it somewhat strange, actually, that there is such a reaction when this was a very effective campaign to reach as many people as possible and we did and I'm very proud of that.
QUESTION: What do you think made the difference here in Nevada?
CLINTON: I think it was the message of real results, that we want to solve problems. The people of Nevada spent a lot of time talking to me about their worries concerning the economy and health care and education, home foreclosures, which I spend a lot of time talking about, because it's such a problem here in Nevada.
And I think that the people of Nevada, they want somebody who's going to give them solutions, not just rhetoric. They want to hear what it is you're going to do, and I have been very specific about my plans, because I want to be held accountable.
I want people to know what I plan to do, because I want to bring accountability back into our government. I want people to understand that we can meet these challenges. We shouldn't be overwhelmed by them. We shouldn't get discouraged about them. We can do that.
And I think the best way for me to do that is to be very specific about how I think together we can solve our problems.
QUESTION: (OFF-MIKE)
CLINTON: I don't know. We'll have plenty of time to analyze that, but I am very proud of a lot of people who came out to support me against some pretty tough odds, and I know that it wasn't easy for them. I know their stories.
Hillary Clinton, Remarks Following the Nevada Caucuses Online by Gerhard Peters and John T. Woolley, The American Presidency Project https://www.presidency.ucsb.edu/node/277020