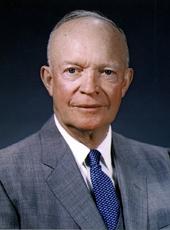 Remarks Following the Acceptance of the Resignation of Secretary Hobby
Well, Oveta, this is a sad day for the administration. My mind goes back to the day I first met you in London--in 1942 I suppose it was--when you came over there as head of the WAG Corps, something entirely new in my experience. But you were the first one that sold it to me, and I must say it proved itself, under your leadership, to be one of the finest organizations that the Army has ever had.
In these last two years--two years and a half--your talents have again been devoted to the service of your country, and most effectively. And I would think I could best express the feeling of the Cabinet toward you by quoting the Secretary of the Treasury--I am sure he wouldn't mind. The other day in my office, shortly after you had told me that you would have to go, I said to him that we were going to lose you. And his eyes popped open and he said, "What?--the best man in the Cabinet!"
That is the feeling that the whole Cabinet has towards you. I assure you that none of us will forget your wise counsel, your calm confidence in the face of every kind of difficulty, your concern for people everywhere, the warm heart you brought to your job as well as your talents. We are just distressed to lose you, but the best wishes of the entire executive department--indeed, I think of the Congress and all Washington that knows you--will go with you as you go back, and we will be very hopeful that you will have many fine, happy years there from here on.
[Following Mrs. Hobby's response, the President resumed speaking.]
Oveta, if I had known that you felt like that, I never would have accepted your letter of resignation.
Mrs. Secretary--I can still say that--thank you very much.
Note: The President's letter accepting Mrs. Hobby's resignation appears as Item 152, above.
Mrs. Hobby's response to the President's remarks follows:
Thank you very much, Mr. President.
Mr. President, during the past 31 months, I have had the most singular opportunity. I have had an opportunity to serve with you, to serve a man whose entire life has been devoted to the people of the United States. I have had the most unfailing support and leadership from you in trying to develop sound programs for the American people in the field of health, education, and welfare. And as I look back over the 31 months, Mr. President, when you came to this Office, and realize what has transpired in those 31 months, I am a very, very happy citizen.
In those 31 months we have moved away from the shadow of war; we have moved into the greatest prosperity this country has ever known, with more people working, greater wages, and being able to buy more of the good things of life.
And now perhaps we stand in the area of widest peace, and perhaps on the threshold of a universal peace. When I think of what has been accomplished in your 31 months, I feel humble and grateful to have had a part in it. When I think of the people of the United States who have had their pensions and their social security protected by a stable dollar, Mr. President--the smallest variation in the purchasing power of the dollar in 42 years--the time we have kept records; when I think of the millions of people that have been given an opportunity under social security and the hundreds of thousands that will be given an opportunity under vocational rehabilitation, and when I think of the millions of people that will benefit from your wise policies in education--in letting the people of this country think through their own education problems and bringing them up here--I feel particularly blessed.
Now, Mr. President, as you go to Geneva for all of us, I believe that every one of us will be praying that there, in that meeting, the first step will be taken toward a truly universal peace. And I for one, Mr. President, have never had such a privilege. I know this country would have been blessed at any time to have had your leadership, but in these crucial years in world affairs, I truly feel that God has had His hand on the United States in the kind of leadership you have given us.
Dwight D. Eisenhower, Remarks Following the Acceptance of the Resignation of Secretary Hobby Online by Gerhard Peters and John T. Woolley, The American Presidency Project https://www.presidency.ucsb.edu/node/233242