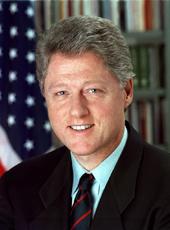 Remarks Following a Memorial Service for Former Prime Minister Keizo Obuchi of Japan in Tokyo
I would like to begin by thanking Ambassador and Mrs. Foley for welcoming me back to the American Embassy and the Ambassador's residence, along with our American party.
I came here today to pay my respects to a friend. And on behalf of the American people, I want to extend our deepest condolences to the Prime Minister's family, especially to his wife and his three children, as well as to the people of Japan.
Two years ago Prime Minister Obuchi took office in a difficult time for Japan and the world. There were many who wondered if any person could meet the tremendous challenges brought on by the global economic crisis we faced. I think history will record that Keizo Obuchi rose to the challenge with courage and confidence.
Thirty-seven years ago he was the youngest person ever elected to the Japanese Parliament. Over time, it's clear that he learned a profoundly important lesson, how to reach out to all sides and bring people together. As Prime Minister, he became known for imitating the art and skill of an orchestra conductor, in finding harmony among people of different views.
From his first days in office, he took swift steps to put Japan on firmer economic ground, and he gave strong support to the cause of peace, from East Timor to Kosovo. He worked to strengthen our alliance and to place it on a solid foundation for the 21st century. He believed in a U.S.-Japanese partnership built upon mutual respect and shared values of democracy and human rights, economic freedom and security, and that this partnership must remain the cornerstone of stability in East Asia.
Prime Minister Obuchi touched hearts around the world in simple, human ways. His telephone calls are legendary. I remember his human touch when he came to America last spring: when he threw out an unhittable pitch to the Chicago slugger, Sammy Sosa; when he told us of the honor he felt in meeting Robert Kennedy as a young man; and how much he appreciated the dinner we hosted in his honor when he shared a table with Mrs. Robert Kennedy.
Early in his career, Prime Minister Obuchi competed for votes in the same district as two former Prime Ministers. He used to describe himself as a "noodle shop sandwiched between two skyscrapers." As usual, he was being modest. Prime Minister Obuchi represented to the whole world the Japanese virtues of honor and loyalty, vision and determination, love for and commitment to ordinary people. Our world is a better place thanks to the life that he lived and the work that he did.
On his last day in Washington, Prime Minister Obuchi gave me a beautiful painting of Mount Fuji. I will cherish it always. And whenever I look at it, it will always remind me of him. I hope very much that, in his memory, Japan and the United States can work together as partners and friends to lift humanity to a new mountaintop in the 21st century.
Thank you very much.
NOTE: The President spoke at approximately 4:05 p.m. at the U.S. Ambassador's residence. In his remarks, he referred to Ambassador Thomas S. Foley, and his wife, Heather; Prime Minister Obuchi's widow, Chizuko, his son, Go, and his daughters, Yuko and Akiko; and Ethel Kennedy, widow of Senator Robert F. Kennedy.
William J. Clinton, Remarks Following a Memorial Service for Former Prime Minister Keizo Obuchi of Japan in Tokyo Online by Gerhard Peters and John T. Woolley, The American Presidency Project https://www.presidency.ucsb.edu/node/228314