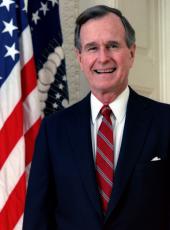 Remarks Following a Meeting With West German Foreign Minister Hans-Dietrich Genscher
The President. May I just thank you for bringing me, Mr. Minister, the piece of the [Berlin] wall. Maybe you'd care to say something about it. But I will treasure this. And I'd like to take this opportunity to share this fact that the Foreign Minister brought me this piece of the wall, and he brought with this his thanks from him and the Federal Chancellor [Helmut Kohl] to the American people. And this is a good chance to say thank you, sir.
The Foreign Minister. And I think it's an expression of the strength of freedom and democracy all over Germany that our Germans in the GDR were in a position to have a peaceful means to reach -- that the wall now is open and that the German Democratic Republic is on the way, really, to become a democratic republic. But this depends that -- free elections they will have during the course of this year.
And we are supporting very strongly these demands of our Germans in GDR. And I, again, would like to express, Mr. President, our great gratitude to the support, the help, and the firmness of the American nations in the past decades -- in good times, but also in difficult times. I think this is the result of a very clear policy of the West advocating freedom and democracy all over Europe. And we continue on this way, using all the possibilities of the CFE process, the possibilities of cooperation with the East, encouraging the reform developments in the East, and gives a strong signal to the countries in the East that we want the success of the reforms, that we will do nothing to undermine this process or even to weaken this process.
We don't look for advantages when they have to face difficulties. We want a stable framework for the reform process.
Q. Mr. President, can you tell us anything about the situation in El Salvador?
The President. No, not now, not at this time I can't.
Q. What about modernizing nuclear forces in West Germany, Mr. Genscher?
The Foreign Minister. I think this is a time to be discussed in '92 as was agreed in the NATO communique.
Q. It's inconceivable though, isn't it?
The President. Thank you all. It's been a pleasure here, as always.
Note: The President spoke at 10:21 a.m. in the Oval Office at the White House. A tape was not available for verification of the contents of the remarks.
George Bush, Remarks Following a Meeting With West German Foreign Minister Hans-Dietrich Genscher Online by Gerhard Peters and John T. Woolley, The American Presidency Project https://www.presidency.ucsb.edu/node/263742