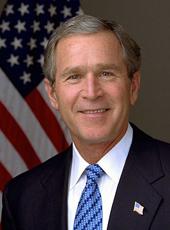 Remarks Following a Meeting With Prime Minister Nguyen Tan Dung of Vietnam
President Bush. Mr. Prime Minister, welcome to the Oval Office. I fondly remember my trip to your country. I remember the wonderful hospitality that you and your Government gave to Laura and me. I remember the thousands of people lining the street in Ho Chi Minh City and Hanoi, and it was just a memorable trip. So it's my honor to welcome you back here.
We had a good dialogue. We talked about economic cooperation, and we talked about educational cooperation. We talked about the need to work together on the environment. I thanked the Prime Minister for his work on accounting for the POWs and MIAs. We discussed the neighborhood and the region. We talked about the freedoms—religious and political freedom. And I told the Prime Minister that I thought the strides that the Government is making toward religious freedom is noteworthy, and I appreciated the efforts that he and his Government are making.
All in all, we had a very good discussion. Our relationship with Vietnam is getting closer, in a spirit of respect. And I thank you for coming to help make that relationship even stronger. Welcome.
Prime Minister Dung. Mr. President, ladies and gentlemen, I would like to thank you, Mr. President and American friends, for your warm hospitality.
I would like to tell you that Mr. President and I have just had successful talks in a friendly, constructive, and understanding spirit. And we took note, with great pleasure, of rapid development in the Vietnam-U.S. relationship toward a friendly and constructive partnership, multifaceted cooperation on the basis of equality, mutual respect, and mutual benefit. We agreed with each other on a wide range of issues, which will be fully reflected in our adjoined statement.
And now I would like to give you some highlights of our conversation. Mr. President and I agreed to establish a new dialogue mechanism at the senior level on the strategic matters of economics, education, environment, science, defense, and security. And President Bush reiterated his support for Vietnam's sovereignty, security, and territorial integrity.
We agreed to establish a high-level education task force to effectively advance the education cooperation between our two countries. The two sides also agreed to set up a new subcommittee to assist Vietnam in conducting researches to respond to the climate change and the rising sea level.
And President Bush reaffirmed that the U.S. is actively reviewing Vietnam's request to join the GSP program and acknowledged Vietnam's request to be accorded the market economy status. The U.S. is also considering the import of fruits from Vietnam. Also, the two sides agreed to commence negotiations on a bilateral investment treaty.
Both sides also agreed to strengthen cooperation to address humanitarian issues left over by the war, such as the American MIA issue, mine clearing, remediation of the Agent Orange consequences, the Vietnamese MIA issue.
Ladies and gentlemen, my visit to the U.S. this time is the follow-up of the foreign policy of independence and sovereignty, diversification and multilateralization of our external relations. Vietnam wants to be friends with all country and trusted partners with all nations and nationalities in the international community. And along that line, with—Vietnam will continue to strengthen the fine relationship between Vietnam and the United States under the framework defined by the two countries' leaders.
I hope that with the fruitful outcome of my visit, the Vietnam-U.S. relationship will be elevated to new heights in the interest of both peoples, of peace, stability, and development cooperation in the region and the world.
Thank you, Mr. President.
President Bush. Thank you. Yes, sir.
NOTE: The President spoke at 1:53 p.m. in the Oval Office at the White House. Prime Minister Dung spoke in Vietnamese, and his remarks were translated by an interpreter.
George W. Bush, Remarks Following a Meeting With Prime Minister Nguyen Tan Dung of Vietnam Online by Gerhard Peters and John T. Woolley, The American Presidency Project https://www.presidency.ucsb.edu/node/278592