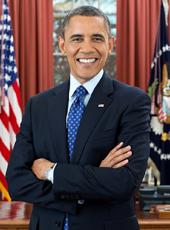 Remarks Following a Meeting With Prime Minister Najib Razak of Malaysia in Kuala Lumpur, Malaysia
Prime Minister Najib. Well, first of all, I'd like to thank President Obama for visiting Malaysia once again. Not only he has corrected history—we had a hiatus of almost 50 years without a U.S. President visiting Malaysia—but he's visited us twice now. [Laughter] So that's a wonderful accomplishment in terms of his commitment to not only to Malaysia, but also to the region. And we are delighted at his support for the ASEAN as well as the East Asia Summit process.
We had a very good discussion on bilateral issues. As expected, we have a very similar position in terms of combating violent extremism. We both agree that we need to work closely together to make this region safer. This region is not immune from threats of violent of extremism. There are groups here operating, and there are groups here that have announced they are aligned to IS. As you know, the Malaysian Government is very clear, unequivocally, that we are against IS, against its ideology, what it stands for. It is evil. It is against Islam. It's the perversion of Islam. And they do not represent us. So we will work very closely together with the United States and other like-minded countries to make this region safer and to combat any form of violent extremism.
We've also agreed to make Malaysia as a center for—countermessaging center. Because in fighting violent extremism, it's not only a military solution that's required, but it's winning the hearts and minds of its people. And that is why it's important for us to present the counternarrative, to present the authentic Islam, the true Islam, so that people realize that what IS represents, or tries to represent, is a total perversion of Islam. So that work is important for us, and we will continue to present what we believe is a true picture of Islam.
We also talked about the TPP, which is important. We have crossed the finishing line. I've explained to the President the domestic process. We will present to Cabinet a cost-benefit analysis next week. We will take to Parliament in January, a special session. And we hope with a support and approval of Parliament, the TPP will be ratified within 2 years or put into operation within 2 years.
We believe it will create the kind of increase in trade, investment, innovation, and set the kind of standards with respect to labor, environment, which will ensure that TPP countries be able to create more wealth, more innovation, and set new standards in terms of things like environment and labor.
We also discussed about climate change. The President and I agree that we need a deal in Paris. Malaysia is committed to work to find a deal. If necessary, we will revise our position to make sure that we do not fail in Paris. I think we owe this to the world. We cannot afford not to have a deal in Paris. And that's—I hope we will be able to find common ground so that we can find a deal can be reached in Paris.
We also talked about the South China Sea. We know that—the position of the United States, and I explained to President our position, consonant with the rule of law. And we hope that area of tension will not escalate and that we be able to find a negotiated settlement that's consonant with the principle of international law and that respects the rights of big and small nations as well.
We also talked about general developments. I explained the current situation in Malaysia. President also raised a certain of his views. And we are—we take into account some of his views, some of his concerns. But Malaysia is committed to reforms, and we are committed to ensuring, at the same time, there's peace and stability in Malaysia.
So overall, it's been a very good meeting, and we appreciate the strengthening of the partnership with the United States on all fronts. And we will continue to work closely together.
Thank you.
President Obama. Well, it is good to be back in Malaysia. And hopefully, I've set a good example so that future Presidents won't wait another 50 years before they come back. [Laughter]
As I said at the town hall meeting with young people from all across ASEAN, this part of the world occupies a very special place in my heart. But I'm here as the President of the United States because ASEAN countries represent enormous growth, enormous potential, and are critical partners for the United States if we're to achieve our national security, economic, and environmental objectives.
And over the last several years, the relationship between the United States and Malaysia has strengthened on a whole variety of fronts. We have, as the Prime Minister indicated, developed a very strong relationship around counterterrorism issues. Malaysia, like Indonesia, is a majority-Muslim country that represents tolerance and peace. And as a consequence, its voice is critical in the debates that are taking place internationally around terrorism.
And Malaysia, as part of the coalition to fight ISIL, I think can be extraordinarily helpful, particularly, as the Prime Minister mentioned, in issues like countering the destructive and perverse narrative that's developed. And Malaysia's willingness to host a center that uses all the tools of social media and engagement with scholars and clerics to counter this violent narrative is extremely important and most welcome. So we look forward to working with them on that.
Malaysia is also one of the 12 countries that have joined together around TPP. And we had a good discussion about the progress that's being made, even as Malaysia debates and, hopefully, ultimately ratifies the agreement. Malaysia has already started to take some steps in reform, for example, around countering human trafficking and other issues that are embedded in the agreement. And so we will continue to work with Malaysia on that front.
We talked about the South China Sea, and this will be a major topic with all the ASEAN countries. There are a number of claimants there. The United States is not one of them, but the United States does strongly believe in the need to apply rule of law and international norms to the resolution of maritime disputes. And ASEAN has taken a common position on that. And we look forward to working with them to ensure that those basic rules apply, because freedom of navigation and the free flow of commerce has been really the foundation stone for extraordinary development here in this region.
And as the Prime Minister discussed, we talked about the importance of civil society and issues not just in Malaysia, but in the region generally, and how we can promote those values that will encourage continued development and opportunity and prosperity. And so I very much appreciate this conversation. I think it was constructive. We thank Malaysia for the extraordinary job they've done not only as in sharing ASEAN, but also hosting the EAS summit. The East Asia Summit has become one of the premier mechanisms by which countries can coordinate on a whole range of issues. And we look forward to the participation in the summit over the next several days.
So, Mr. Prime Minister, thank you for your hospitality again, and to the people of Malaysia. Thank you so much. It's good to be back.
NOTE: The President spoke at approximately 7:59 p.m. in Room 406 of the Kuala Lumpur Convention Centre. The President referred to the Islamic State of Iraq and the Levant (ISIL) terrorist organization, also known as IS.
Barack Obama, Remarks Following a Meeting With Prime Minister Najib Razak of Malaysia in Kuala Lumpur, Malaysia Online by Gerhard Peters and John T. Woolley, The American Presidency Project https://www.presidency.ucsb.edu/node/311494