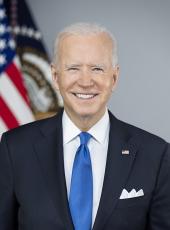 Remarks Following a Greeting With President Charles Yvon Michel of the European Council and President Ursula von der Leyen of the European Commission and an Exchange With Reporters in Brussels, Belgium
President Michel. Well, Mr. President, dear Joe, we are so pleased to welcome you in Brussels. You are back in Brussels, and America is back on the global scene. It's great news. It's great news for our alliance. It's also great news for the world. And we are really delighted to work with you in order to tackle, together, some important global challenges.
President Biden. Well, I think we have a great opportunity to work both with the EU, as well as NATO. And we're feeling very good about it. We found the reception to be good, and I—and America is back.
We are committed. We have never fully left, but we are reasserting the fact that it's overwhelmingly in the interest of the United States of America to have a great relationship with NATO and with the EU. I have a very different view than my predecessor did.
So I'm looking forward to talking with you all about what we're about to do.
President von der Leyen. Yes.
President Biden. And I'm anxious to begin.
President von der Leyen. And a very warm welcome for my part too. What a pleasure to have you here. What an honor to have you here.
So the fact that you are coming so early in your mandate, I think, underlines your personal attachment to Europe, and we really appreciate that.
And indeed, the last 4 years have not been easy. The world has dramatically changed. Europe has changed. But we wanted to reassure you: We are friends and allies, and we are very much looking forward to working together. So a very warm welcome.
President Biden. Well, we have great opportunities to take advantage of each other. Thank you.
The President's Meeting President Recep Tayyip Erdogan of Turkey
Q. Mr. President, did you agree on a Turkish presence in Afghanistan?
President Biden. Did I agree on a what?
Q. Turkish presence in Afghanistan, after you met with Mr. Erdogan yesterday.
President Biden. Did I agree on a Turkish——
Q. Did you discuss or agree on any kind of Turkish presence in Afghanistan after your withdrawal?
President Biden. Oh, we had long discussions, and I feel very good about our meeting. And I'll let the Turks tell you about it.
Q. Mr. President, do you have an agreement on Airbus and Boeing?
[At this point, the President crossed his fingers.]
European Union
Q. Mr. President, what do you like about EU the most?
President Biden. I like the Presidents. [Laughter]
President Michel. The Presidents' chocolate. [Inaudible]—chocolate.
NOTE: The President spoke at approximately 12:15 p.m. at the Europa Building. In his remarks, he referred to former President Donald J. Trump.
Joseph R. Biden, Remarks Following a Greeting With President Charles Yvon Michel of the European Council and President Ursula von der Leyen of the European Commission and an Exchange With Reporters in Brussels, Belgium Online by Gerhard Peters and John T. Woolley, The American Presidency Project https://www.presidency.ucsb.edu/node/350428