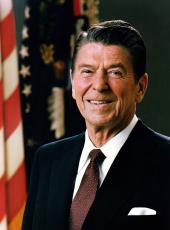 Remarks Following Discussions With Prime Minister Turgut Ozal of Turkey
The President. Mr. Prime Minister, it's been a great pleasure to welcome you to the White House and to our Nation's Capital. I'm delighted that we've had this opportunity to discuss a wide variety of issues of mutual importance to our two countries.
Prime Minister Ozal's official visit, the first in more than a decade by a Turkish leader, has been an important part of a long-overdue revitalization in U.S.-Turkish relations. Our two governments can be justly proud that by working together we have made great strides in improving bilateral understanding and cooperation. The Prime Minister has brought me up to date on major changes that have recently occurred in Turkey and on his plans for Turkey's future.
Mr. Prime Minister, you and President Evren have good reason to be proud of your success in rebuilding democratic institutions and rekindling economic growth. You have brought a difficult international debt problem under control and opened your country to expanded trade and foreign investment. Turkey's economic reform program reflects your courage and vision and is testimony to the determination of the Turkish people. I understand and appreciate the sacrifices that your countrymen have made in this difficult but necessary undertaking.
With regard to NATO, Prime Minister Ozal and I reaffirmed our firm commitment to increase our cooperation within the alliance. The strength and cohesiveness of NATO have assured the security of the Western democracies for more than three decades. But our past success does not mean we can become complacent. The forces opposing NATO continue to modernize, and continuing dangers face us in southwest Asia and the eastern Mediterranean. We agree that our multilateral security ties and bilateral military cooperation are more important than ever.
We also discussed the need to strengthen and broaden U.S.-Turkish relations. Until recently, most Americans have known Turkey best as a NATO ally. Well, Mr. Prime Minister, thanks to your leadership and the forward-looking policies you're pursuing, we're now getting to know your country better as a trading partner and for growing opportunities in finance and investment.
A new U.S.-Turkish trade organization is being established, and new treaties and agreements in the economic field are being concluded. The United States welcomes these important and progressive developments. Let me also assure you that the United States remains committed to high levels of security assistance for Turkey to speed the modernization of your armed forces and to support your economic reform program. And, of course, this assistance serves the interests of both our countries. I reiterated to the Prime Minister that I will continue to urge the Congress to fund my full security assistance request for Turkey in fiscal year 1986.
In our discussion of international and regional issues, we devoted particular attention to the Cyprus problem, and I expressed satisfaction with the progress made in the U.N.-sponsored proximity talks last fall and with the Turkish Government's positive role in promoting that progress. Resolution of the Cyprus problem remains a high priority for our administration. Though the January summit, held under the U.N. Secretary-General's auspices, did not succeed, we remain hopeful that a fair and lasting settlement can be achieved.
It's essential, Mr. Prime Minister, that our two governments do all we can in support of the Secretary-General's Cyprus initiative. Turkey is a land bridge between Europe and Asia and provides us with a special view. The Ottoman Empire managed East-West problems long before America was even known to Europe.
Today, as before, Turkey serves as a particularly important cultural and diplomatic bridge between East and West. I thank you, Mr. Prime Minister, for briefing me on Turkish policies and diplomacy in areas of great importance to both of us. You're a good friend and important ally, and I thank you for all that you're doing to strengthen our cooperation. Together, we're serving the cause of peace and freedom.
Mr. Prime Minister, in your visit to America and as you reach out to the American people to acquaint them better with Turkish achievements and hopes, please be assured that we'll do all we can to make our bilateral relations even closer.
Mr. Prime Minister, I know that your visit will make an important contribution to the further development of our relations. So, again, welcome to Washington, and Godspeed.
The Prime Minister. I wish to thank President Reagan for the warm welcome he has extended to me. My visit to this great, friendly nation has a particular importance in view of the fact that this is the first visit for 14 years by a Turkish Prime Minister. Our talks have been extensive, open, and very constructive.
I have renewed to President Reagan the heartfelt congratulations of my government for his impressive victory at the elections. I have also expressed my congratulations for his success in expanding the American economy, which I hope will be to the benefit of all of us.
I have expressed to the President my assessment of the issues which Turkey follows with utmost attention. We live in a turbulent world, and as far as Turkey is concerned, our region is at the present full of dangers. Again, on this occasion, I have realized how deep and strong are the bonds of friendship, alliance, and cooperation between Turkey and the United States.
I have particularly appreciated the consideration shown by the President and his administration for Turkey and for the development of Turkish-American relations. I consider this attention as a recognition of the steady commitment of the Turkish Government to democracy, peace, and defense.
Turkey's new economic policies, I believe, are well understood by the Reagan administration. Our exchange of views confirmed the existence of broad and encouraging convergence. Both administrations, I believe, are strongly committed to dialog as the best means to solve international problems. The basic cause of both of us remains peace and stability in the world.
We are also firmly convinced that a substantial balanced and verifiable reduction of armaments is an essential condition for a safer world. I have explained to the President our views as far as the situation in our region is concerned. I must say that we view the situation as quite dangerous and unstable.
I wish to thank President Reagan for this fruitful exchange of views. For me it was a confirmation of how much the sharing of values and aspirations in a context of longstanding friendship makes it easier to reach mutual understanding and agreements.
Thank you.
Note: The President spoke to reporters at 1:21 p.m. at the South Portico of the White House. Earlier, the President and the Prime Minister met in the Oval Office and then attended a luncheon in the Residence.
Ronald Reagan, Remarks Following Discussions With Prime Minister Turgut Ozal of Turkey Online by Gerhard Peters and John T. Woolley, The American Presidency Project https://www.presidency.ucsb.edu/node/259685