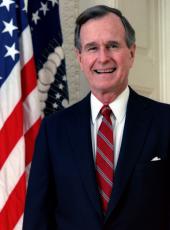 Remarks Following Discussions With Prime Minister Toshiki Kaifu of Japan
The President. Mr. Prime Minister, and ladies and gentlemen, an old proverb says, "The foundation for a better tomorrow must be laid today." Mr. Prime Minister, you and I are here today to shape tomorrow. And on America's behalf, let me welcome you to this country.
When I was in Japan earlier this year, I observed how ties, national and personal, bind our two people. Your visit reaffirms those ties and underscores this commitment by you and your government to the continued health of our historic friendship. That friendship lives and grows, as today's meeting evidenced. But while we met as new friends, our talks were conducted like old friends. And they were characterized by cordiality, a positive atmosphere and understanding, and by broad agreement on the major items of our bilateral and international agenda. For that, Mr. Prime Minister, I credit the good will and perspective that you brought to these discussions and the enduring partnership between our two governments.
That partnership is based on shared interests and mutual respect, and rests on our belief that together we can be a global force for peace and prosperity. This global partnership works in several ways. First, as in past meetings between our nations' leaders, the Prime Minister and I affirmed that the treaty of cooperation and mutual security is vital not only to our joint security but to the stability of the entire Asia-Pacific area. And in that context, we agreed that this alliance will continue to be crucial to the region's future. And we vowed to continue to consult closely on all aspects and arrangements of our security partnership and shared responsibility for peace and stability.
And second, the Prime Minister and I discussed how we can promote peace and prosperity through greater freedom -- economic and political -- around the world. Already, we've joined to support the multilateral assistance initiative for the Philippines launched in Tokyo in July. And today we restated our intent to encourage still more open economic and political systems and, specifically, to support recent political and economic reform in Eastern Europe, notably in Poland and Hungary. And we also discussed the situation in China for, as I've said before, we seek to preserve our relations there while endorsing the legitimate aspirations of the Chinese people for political expression.
And then, a third area of agreement concerns how diplomacy can help resolve regional conflicts. America and Japan, with others, will continue to urge a comprehensive settlement that gives the people of Cambodia both security and the ability to choose their own government. We agreed, too, to accelerate our efforts to protect our citizens against international terrorism.
And in particular, we repeated the mutual commitment to aviation security that we made at the summit in Paris, and pledged to pool our technical and economic resources to combat all forces of terrorism that affect civil aviation.
And finally, the Prime Minister and I discussed our economic relationship at great length. And we are mindful that our economies are the world's largest. And we know that the health of our relationship partly depends on bringing our economic relationship into better balance. The Prime Minister confirmed the agreement I reached with his predecessors at the Paris summit to launch talks on structural impediments, and these discussions will begin in a few days. And I stressed to him the importance that we attach to the success of those talks and to the trade committee talks which will also occur next week.
And I share the Prime Minister's belief that, while Japan is noted as an exporting superpower, the time has also come for Japan to be an import superpower. Each of us desires that these discussions produce results which further strengthen our economic relationship and open the world trading system. To advance that goal, we restated our commitment to the success of the Uruguay rounds, and we also vowed to continue our frequent consultations at all levels on other international economic and trade issues.
In sum, Mr. Prime Minister, ours has been a highly productive meeting -- one which will enhance the broad U.S.-Japanese agenda. A writer once observed: "Friendship is a sheltering tree." Because of ties which prosper and a partnership which endures, both the United States and Japan have been, I believe, and will remain, better for its shade.
Mr. Prime Minister, we have a mature, effective working partnership. And with you at the helm, I know the partnership between Japan and the United States will produce positive results. I look forward to seeing you again. And thank you very, very much for honoring the United States by this very, very early visit in your Prime Ministership.
Thank you, and good luck, sir.
The Prime Minister. Mr. President, I wish to express my heartfelt gratitude for your heartwarming hospitality and kind words. This is my first visit as Prime Minister, and I have just completed my first meeting with the President.
Nevertheless, I was able to conduct talks with the President as if I were meeting an old friend, which I believe is because the Japan-U.S. relationship rests on a solid foundation laid down by the strenuous endeavors of both Japanese and American peoples over these many years. I conveyed to the President my conviction that the Japan-U.S. relationship is the cornerstone of Japan's diplomacy and that it shall continue to be so.
The President and I confirmed that we shall firmly maintain the Japan-U.S. security arrangements which are the basis of our bilateral relations. The President and I shared a view that cooperative Japan-U.S. relations based on the Japan-U.S. security ties are indispensable for the peace and stability of the Asia-Pacific region, including Japan.
At the same time, the solution of various economic problems that arise between our two countries because of our close ties requires effort on the part of both Japan and the U.S., and it is important to continue efforts and joint collaboration toward their resolution.
I conveyed to the President my thinking that Japan will continue to promote appropriate macroeconomic policies as well as structural reform, and make efforts for expanding imports. I expressed my appreciation to the President for his continuing efforts to reduce the budget deficit, improve the savings rate, and strengthen competitiveness. In this connection, I expect the Structural Impediments Initiative between Japan and the U.S., which will start shortly, to bear significant outcome.
Japan and the U.S. share such fundamental values as freedom and democracy, and are partners sharing major responsibilities in global tasks. Japan and the U.S. must join forces in dealing with many broad issues related to world peace and prosperity, such as management of world economy, problems of debts in the developing countries, relief for starvation, efforts for strengthening the free trade system such as the Uruguay round, resolution of regional conflicts, protection of human rights, international cooperation for the prevention of terrorism, and the eradication of drugs.
The President and I expressed our common determination to actively shoulder responsibilities in a manner commensurate with our respective abilities under such global partnership. In this connection, the President and I shared the view that further importance must be placed on international cooperation for the preservation of the global environment. My present visit will take me to Mexico and Canada, where I intend to discuss the global environmental problems with their leaders. And as a program symbolizing Japan-U.S. cooperation in development issues such as combating poverty in the world and relieving hunger, I proposed to the President the establishment of a Leland Memorial Program for International Development in commemoration of the ideals and achievement of the late Congressman Leland, and obtained his support.
I stated to the President that my ideal in politics is the realization of a more equitable and humane society and that, to this end, I believe it crucial to advance political reform and to promote reforms for improving the Japanese peoples' quality of life with an emphasis on the views of consumers. I strongly emphasized with the President, who is not relaxing with the success of the United States, but is implementing realistic policies aimed at realizing the gentler and kinder society, Japan and the U.S. are facing common challenges to realize their aspired societies.
For example, the role of education, which brings up the generation which will shoulder tomorrow's responsibilities, is very important for both Japan and the U.S. I stated to the President that deepening discussion on those tasks, including the problem of education, is useful for Japan and the U.S. and that such discussions will also lead to enhancing genuine mutual understanding between the two countries.
I believe the President strongly supports my views. I am convinced that the expansion of such an in-depth dialog is precisely what is needed to add another important dimension to our bilateral relationship. I believe the last decade of the 20th century, which is called the century of war and revolution, should be devoted to laying the groundwork for a 21st century filled with peace and prosperity for all. To this end, I am determined to fulfill the role that Japan should play in the world on the basis of close and cooperative Japan-U.S. relations.
Thank you very much.
Note: The President spoke at 1:43 p.m. at the South Portico of the White House. Prime Minister Kaifu spoke in Japanese, and his remarks were translated by an interpreter.
George Bush, Remarks Following Discussions With Prime Minister Toshiki Kaifu of Japan Online by Gerhard Peters and John T. Woolley, The American Presidency Project https://www.presidency.ucsb.edu/node/263683