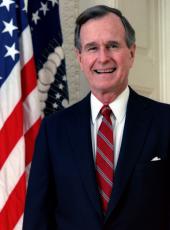 Remarks Following Discussions With Prime Minister Felipe Gonzalez Marquez of Spain
The President. It is a pleasure to have Prime Minister Gonzalez and the Spanish delegation as our guests in the United States. Our discussions at the NATO summit in May were an excellent start to a dialog that we've continued in Washington. As before, our talks have been friendly; they have been constructive and another sign that our bilateral relations, our partnership, if you will, is healthy and growing stronger.
We discussed extensively the ways in which the West can best support the historic reforms transforming Eastern Europe, especially in Poland and Hungary, and our hope that these reforms will lead to a Europe whole and free. I informed Prime Minister Gonzalez of the steps that the United States has taken to support this economic reform and democratic change in Poland and Hungary. And I told him about my request that Congress approve $200 million in economic stabilization grants to assist Poland in implementing its bold, new reform program -- the U.S. contribution to Poland's $1 billion request. And I hope that all of the major industrialized democracies will also contribute to this request. I also explained that the United States will soon be extending the most-favored-nation status to Hungary on a continuing basis, making it the first Eastern European nation to ever receive such treatment. This will strongly encourage trade and investment in Hungary.
Prime Minister Gonzalez and I agreed that the futures of Poland and Hungary depend on sustained Western action, coordinated with the IMF and the World Bank as part of a long-term economic recovery program. We discussed the important progress made by the 24-nation Group for Economic Assistance to Poland and Hungary, which has already met three times under the chairmanship of the EC [European Communities] Commission and has encouraged the commitment of hundreds of millions of dollars in new assistance to both countries. We also agreed that Spain's successful transition to this strong and flourishing democracy makes it a powerful model for Eastern European countries now attempting similar transformations.
We also reviewed ways in which we can help sustain the growth of democracy in Latin America, an area of traditional concern to both our nations, an area where our distinguished guest today has enormous respect.
And we exchanged views on the serious international challenge the drug menace presents to consumer and producer nations alike. And we agreed on the need to give President Barco and the brave people of Colombia our full backing in their struggle against the narco terrorists.
Our talks also included progress in arms control negotiations, while underscoring the need to keep our mutual NATO defenses strong.
Throughout our discussions, there was a shared belief that Spain is emerging with a new vitality not just in Europe but in the entire world scene. In supporting democratic change in Eastern Europe, Latin America, and elsewhere, I am convinced that Spain can play a unique role, for Spain provides that world with a very special example.
Prime Minister Gonzalez, you have said that your nation is both a very old country and a very young country, an authoritarian government reborn as a constitutional democracy, a sheltered state-dominated economy now reoriented to the market and prospering. So it's no exaggeration to say that Spain today is living a renaissance of liberty, prosperity, and culture. And it now seems that the role of Spain as the mother of so many nations provides a model of political and economic reform, a move away from the dead hand of state control toward greater freedom and opportunity and advancement.
Mr. Prime Minister, I commend you for your idealism, and I value your partnership. So, thank you for your visit to these shores. I hope the rest of your visit goes well and that you have a very safe visit back to Spain.
Welcome, hail, and farewell.
The Prime Minister. I would like to begin by expressing my great sorrow for the recent events in California and express the solidarity that Spain feels for the people who suffered there.
First of all, I should like to thank President Bush for his kind words and for the welcome and hospitality that has been extended to me and the Spanish delegation.
We have had an opportunity to hold talks which I consider to have been very productive. And I'm sure that my meetings during the next few hours will be equally fruitful. We have discussed matters of common interest, both of an international nature and in the bilateral level. I'm pleased to say, as President Bush has also mentioned, that there has been wide agreement between us regarding the favorable progress of events since 1983, when I last made an official visit to Washington.
When reviewing the international situation, we agreed that the prospects today are encouraging. We talked about the progress of events in central and Eastern Europe with realism and hope. We also underlined the importance of making the greatest possible effort in disarmament and arms control talks, which are currently being held in different fora. We reviewed the milestone of 1992 from two points of view -- a special relevance for the relations between our two countries -- the completion of the European single market and the commemoration of the quincentenary of the discovery of America, with all that this implies for relationships between both sides of the Atlantic in the political, cultural, scientific, and technical fields. Regional conflicts have also been very present in our talks, especially those of the Middle East and Central America and in general, Latin America's prospects for advancement in democracy and economic development while facing problems such as the external debt and drug traffic.
Insofar as bilateral relations are concerned, we have confirmed their excellent state as well as our mutual wish to enhance and further strengthen them. We have also been able to confirm that we are now undoubtedly in a new stage in the dialog, in cooperation between Spain and the United States.
I should like to conclude by telling you that I've conveyed an invitation from His Majesty the King to President Bush to make an official state visit to Spain. And, please, don't lose that opportunity to visit us, Mr. President.
The President. Thank you. Thank all of you. Well, shall we wander on out here?
Note: The President spoke at 12:24 p.m. in the East Room at the White House. The Prime Minister spoke in Spanish, and his remarks were translated by an interpreter. Earlier, the President and the Prime Minister met privately in the Oval Office and with Spanish and U.S. officials in the Cabinet Room.
George Bush, Remarks Following Discussions With Prime Minister Felipe Gonzalez Marquez of Spain Online by Gerhard Peters and John T. Woolley, The American Presidency Project https://www.presidency.ucsb.edu/node/264080