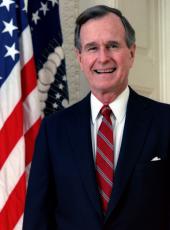 Remarks Following Discussions With Prime Minister Chatchai Chunhawan of Thailand
The President. To our visitors, Prime Minister Chatchai, Minister Sitthi -- Foreign Minister -- and all the honorable members of the delegation: It has been a pleasure to host this delegation from Thailand, one of America's oldest friends and closest allies.
Prime Minister Chatchai is a distinguished emissary from a noble land. From the temples and palaces of Bangkok to the teak forests and fertile rice paddies of the provinces, the Kingdom of Thailand is a land proud in its independent history, rich in its resources, and steadfast in its culture and faith. But in this era of breathtaking change, in Asia and around the world, what is most remarkable about Thailand is that it has combined a double-digit economic growth with the emergence of parliamentary democracy.
As His Royal Majesty King Bhumibol reminded a joint session of Congress 30 years ago this month, the word "Thai" actually means "free." Thailand is the only country in Southeast Asia that maintained its independence throughout the colonial era. So, even though our peoples live on opposite sides of the globe, our countries are joined by a common vision. And we have made freedom our common cause. And in freedom, our nations have found an abiding friendship.
In our discussions, the Prime Minister and I agreed on the importance of maintaining a U.S.-Thai security relationship. I told him that while regional circumstances and world conditions have changed, America's commitment under the Manila Pact to Thailand's security and integrity remain firm.
America is proud of her role in the Pacific -- a commitment that has fostered peace and freedom and economic development among democratic friends like Thailand. But the Prime Minister and I agreed that much work remains, and I expressed our profound appreciation for Thailand's long cooperation in providing asylum to Indochinese refugees and assured him that we will continue to welcome to America our share of Vietnamese refugees presently residing in Thailand.
And we also talked about resolving the tragic conflict in Cambodia. And we agreed that both our countries should continue our diplomatic efforts to end the violence, to achieve a comprehensive solution that meets the aspirations of the Cambodian people by assuring genuine self-determination through free and fair elections under U.N. auspices and in the presence of an international peacekeeping force.
The Prime Minister's visit comes shortly before a meeting in Singapore on greater economic cooperation among the Pacific Basin countries. And Thailand and the five other ASEAN nations are key to the success of this promising initiative.
I assured the Prime Minister of America's commitment to closer cooperation, to a successful conclusion to the Uruguay round of trade negotiations this year, and to mutually beneficial economic growth.
In the spirit of collective effort that extends back to our first economic treaty back in 1833, the Prime Minister and I agreed to establish a joint U.S.-Thai Committee for Commercial Cooperation, chaired by the Secretary of Commerce for the United States and by Thailand's Minister of Commerce. This committee will develop opportunities for bilateral cooperation in trade and investment while promoting greater commercial activity between the United States and Thailand.
Thailand is now enjoying a diversified and rapidly expanding economy, a stable government, and a business community attractive to foreign investors. We are working closely with the Thai people to assure that the mutual benefits of economic growth as well as environmental protection in joint science and technology efforts.
But there's one kind of business we agree we will not tolerate, and that is narcotics. It's a challenge of global proportions, and we look forward to expanding cooperation with Thailand in suppressing the production and trafficking of these poisons. And I assured the Prime Minister we were going to continue our battle on the demand side of the narcotics equation.
Mr. Prime Minister, relations between our countries now span some 150 years, and we share many goals in common. But what unites us is our commitment to peace, prosperity, and to the freedom that makes peace and prosperity possible. So, as you and your delegation depart after what we feel were very productive meetings and cordial discussions, we wish you the very best. Good luck and Godspeed, sir.
The Prime Minister. Mr. President, it is a great honor for me to be here at the White House on this auspicious day when the Americans throughout the United States are celebrating Flag Day, a day of great pride for all Americans. It is also with a sense of pride that we Thai look upon our relationship with this great nation. I have expressed to President Bush my hope that we would be able to build upon our 157 years of friendship and cooperation and together forge a closer and active partnership into the future.
With the more favorable trends of international relations, our two countries are committed more than ever to work together in bringing peace to Cambodia and to end the suffering of the Cambodian people. We will do all we can to accelerate the ongoing peace process. In this regard, we are prepared to work with the United States and the other permanent members of the United Nations Security Council to obtain our common objective of comprehensive peace in Cambodia through a free and fair election. We look upon the United States active participation in the Cambodian peace process and a United States presence as a stabilizing role in the region as being vital to peace and stability of Southeast Asia.
In our economic relations, we have agreed to set up consultative mechanism on all aspects of our economic relation, which I hope could lead to a new framework for economic cooperation and partnership between our two countries. Such a mechanism would allow us to regularly discuss any potential trade issues before they become trade disputes. It would also serve as a vehicle to promote the constructive areas of economic cooperation, especially in Thai investment, which is bound to assume greater significance in our economic relation in the future. United States technology is second to none, and so United States investment should be second to none.
Mr. President, I share with you your concern on the need to rid our societies of the menace of drugs. It is tearing apart the very fabrics of our societies. Our efforts must be directed at both the supply and demand side of this problem. On our part, His Majesty the King is particularly concerned about the problem and has urged the Government to take serious steps to tackle it. I pledge to you the full support of the Thai Government in the war against drug trafficking.
These are the important issues which President Bush and I discussed. These are the issues that our two governments will be working on in the days and months ahead. Lastly, I would like to thank President Bush and the United States Government for the warm and cordial reception accorded to us.
Thank you, sir. Mr. President, thank you.
The President. Mr. Prime Minister, thank you. Glad you were here.
Note: The President spoke at 1:23 p.m. at the South Portico of the White House. Prior to their remarks, the two leaders met privately in the Oval Office and with U.S. and Thai officials in the Cabinet Room, and then attended a luncheon in the Old Family Dining Room.
George Bush, Remarks Following Discussions With Prime Minister Chatchai Chunhawan of Thailand Online by Gerhard Peters and John T. Woolley, The American Presidency Project https://www.presidency.ucsb.edu/node/264244