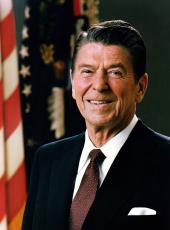 Remarks Following Discussions With Prime Minister Bettino Craxi of Italy
The President. I'm honored today to welcome Prime Minister Craxi back to the United States. Since your visit in October of 1983, Mr. Prime Minister, you've taken on a new responsibility—assuming the Presidency of the European Community.
We're pleased to have had this opportunity to meet with you as a friend, as a leader of a great nation, and as the representative of the European peoples. Cooperation between Italy and the United States is at a level unsurpassed in our history.
Your country, Mr. Prime Minister, is an ally second to none. Our efforts have kept the peace in Europe for almost 40 years. Italy has played an active role in the cause of peace. It continues to do so today in the Middle East, an area which, as Prime Minister Craxi explained, is of special importance to Italy.
And today the Prime Minister and I also discussed East-West relations and arms control. We reviewed the approach the United States will take in the coming Geneva talks. And the Prime Minister reconfirmed Italy's continued steadfastness on INF development—deployment, I should say.
We also discussed the Strategic Defense Initiative. The Prime Minister assured me of Italy's full understanding of the program's objectives, and we agreed on the great potential benefits this research effort could provide. We firmly agree that now is the time for alliance solidarity. And our goal remains the reduction and eventual elimination of the means of aggression, nuclear and conventional.
In another area of cooperation, we look forward to a productive Bonn summit. I affirmed to the Prime Minister the high priority we place on undertaking a new round of trade negotiations by early 1986. These talks are necessary, not just to forestall a possible slide back toward protectionism, but to take new steps for freer and more open trade and a stronger world economy.
The United States and Italy are two of the world's great democracies. Our bilateral relations, reflecting our shared values, are on a high plane. When the Prime Minister last visited, we decided to improve our coordination and cooperation against narcotics. And I'm happy to report that our initiative has now yielded an effective new instrument to combat this scourge—our Binational Working Group on Narcotics and Organized Crime.
Our common fight against terrorism is another area of close cooperation, and Italy deserves accolades for its courageous struggle against terrorism. I know I speak for all Americans in thanking you publicly, Mr. Prime Minister, for Italy's successful thwarting last November of a potential bomb attack against our Embassy in Rome.
As the head of a vital, vibrant democracy, nurtured by statesmen like yourself and your illustrious predecessors, you and your coalition partners have put Italy in the forefront of the world's functioning democracies. You've demonstrated your unequivocal and compelling commitment to Western values. We're grateful to the Italian people as our friends and allies. And we're also proud, Mr. Prime Minister, to welcome your historic address to the Congress tomorrow. It will, I'm certain, be another milestone in the numerous and long-lasting ties between our two countries.
Mr. Prime Minister, America welcomes you with her warmest friendship, and we salute you and your partners and wish you continued success.
The Prime Minister. I wish to thank President Reagan for the warm welcome he has extended to me. My visit to this great, friendly nation has a particular importance in view of the responsibilities which fall upon Italy now that it is holding the Presidency of the European Community. Our talks have been extensive, open, and very constructive.
I have renewed to President Reagan the heartfelt congratulations of the Italian Government and my own personal ones for the great consensus received at the recent Presidential elections. I have also congratulated him for his success in expanding the American economy which has resulted in greater employment.
The United States has succeeded in the hard task of combining modernization of productivity with the creation of new jobs. Europe and the United States should work together to achieve coordinated action and initiatives which are necessary to improve transatlantic economic cooperation to mutual benefit.
I have expressed to President Reagan my assessment of the issues which Italy follows with the utmost attention: first of all, those of peace, security, development, and the safeguarding of the rights of peoples. And while also illustrating the programs and prospects of the Ten [European Community member nations] for a wider community integration, I have stressed that our willingness to proceed towards European unity is consonant with the framework of constant strengthening of the European-American partnership through a balanced relationship and more effective mutual responsibility.
Again, on this occasion, I have realized how deep and strong are the bonds of friendship, alliance, and cooperation between Italy and the United States. It is our firm intention to continue to strengthen them. I have particularly appreciated the special consideration shown by President Reagan and his administration for Italy and for the development of Italian-American relations. I consider this attention as a recognition of the consistency and the commitment shown by the Italian Government in making a positive contribution to the search of more stable international equilibria in the field of defense, as well as in the economic and political ones.
Our exchange of views confirmed the existence of broad and encouraging convergence, since I am convinced that the basic goals of the United States policy remain defense and peace based on a balance of forces. The President has assured me that these same goals will be pursued through the SDI, from whose research program we will draw mutual advantages in the scientific and technological field.
We attach a fundamental importance to the success of the forthcoming Geneva negotiations. We are firmly convinced that a substantial, balanced, and verifiable reduction of armaments is the essential condition for a stabler and safer peace. We will work hard to strengthen confidence so that this negotiation and those which are taking place in other fora may develop under the best possible circumstances.
There are no substitutes for the negotiation process. An agreement on a gradual and balanced elimination of armaments and on the organization of peace based on an accepted and recognized balance is in the interest of all.
We have discussed the Middle East situation and noted with satisfaction the emergence of positive signs indicating that there is a possibility of reactivating the negotiation process towards a political solution of the Arab-Israeli crisis. We both noted with interest the recent Jordanian-Palestinian dialog. We hope that this agreement will shortly allow for a joint Arab stand on the opening of realistic negotiations with Israel.
We agreed to keep in constant contact in order to effectively support all positive steps towards a just, global, and lasting peace in the Middle East.
In my talks here in Washington, we also examined the international economic situation and exchanged views on ways and means to consolidate and strengthen economic recovery within the context of greater stability. We must harmonize our national efforts so that the beneficial results of recovery will be fully reflected on the occupational levels.
However, we cannot pay attention only to our own economic prosperity. The increasing serious problems in the Third World are a matter of great concern. We must help in seeking solutions to them. We agreed to hold effective consultations between our governments on these issues in order to ensure the success of the summit conference of the industrialized nations, which will take place in Bonn on May 2nd through the 4th.
Having just visited Latin America, I also emphasized, in my talks here, the great importance of the return of democracy in the highly civilized nations of that continent and drew attention to the expectations for the democratic solidarity of the peoples living there who aspire to a regime based on freedom.
Last year I worked out with President Reagan a program for a more effective bilateral cooperation in the fight against drug traffic and organized crime. The results have been positive and significant. Our cooperation has been carried out with mutual satisfaction. We will continue these efforts, while trying at the same time to improve bilateral and multilateral agreements so as to defend our democratic system against any rise of the threat of international terrorism.
I wish to thank President Reagan for this fruitful exchange of views. It was, for me, a confirmation of how much the sharing of values and aspirations, in a context of longstanding friendship, makes it easier to reach mutual understanding and agreement on how to cope with and solve problems for which we have responsibilities not only as governments but for which we have responsibilities to our own peoples.
Note: The President spoke to reporters at 1:28 p.m. at the South Portico of the White House. Prime Minister Craxi spoke in Italian, and his remarks were translated by an interpreter. Earlier, the President and the Prime Minister met in the Oval Office and then attended a luncheon in the State Dining Room.
Ronald Reagan, Remarks Following Discussions With Prime Minister Bettino Craxi of Italy Online by Gerhard Peters and John T. Woolley, The American Presidency Project https://www.presidency.ucsb.edu/node/260009