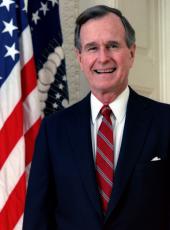 Remarks Following Discussions With President Rodrigo Borja Cevallos of Ecuador
President Bush. It has been a great pleasure to talk once again to my colleague, President Borja, with whom I had this marvelous tennis game yesterday. You know, when we met in Costa Rica, we enjoyed some good conversation, and we also found time to work in a little tennis. And so, today we had stimulating, substantive talks, and yesterday we worked in a little tennis. And I can say unequivocally that we thoroughly enjoyed the rematches on both fronts.
For many years, the whole world has been watching the progress of this courageous Pacific nation. A little over a decade ago, Ecuador became one of the first to set sail in the rising tide of democracy in Latin America, and like so many of its neighbors, it's raised our hopes for a fully democratic hemisphere. And today the people of Ecuador can be proud of their free press and their exemplary record on human rights, hallmarks of both true democracy and true leadership, I might say.
When he first came to office, President Borja faced difficult economic challenges. Inflation was up at about 100 percent; a debt, a staggering 110 percent of GNP, all payments suspended. But undaunted by the great political pressures he faced, President Borja began taking the kind of courageous steps that characterized the new generation of democratic leaders in this hemisphere. He made important economic reforms, such as improving the tax and tariff systems, and there's also been movement toward reforming market mechanisms and government programs, including steps taken toward the elimination of price controls that have created serious distortions in the past.
As a followup to the Cartagena [antidrug] summit and because of my special concern for the needs of the Andean countries, I am today announcing a package of new measures for the Andean region. These measures will build on my Enterprise for Americas Initiative and will be steps en route to achieving our ultimate objectives of trade and investment liberalization and economic reform in the region.
First, I will ask Congress for legislative authority to enter into a one-way tariff preference arrangement for duty-free entry for selected imports from Ecuador, Bolivia, Peru, and Colombia, to give these countries a special boost in fighting drugs and promoting their transition into a comprehensive free trade zone for the Americas.
And second, I am proposing that we expand U.S. cooperation in technical assistance with the countries of the entire Latin American and Caribbean region, and particularly with Andean countries to enhance the immense potential for agricultural trade.
Third, in fulfillment of my commitment last year to consider additional GSP access for Andean products, this morning I signed a proclamation granting GSP treatment to 67 new products.
And fourth, concurrent with the transitional preferential tariff regime, we propose to negotiate with the Andean countries comprehensive, long-term undertakings on trade and investment liberalization. Bilateral framework agreements are appropriate vehicles for achieving these goals. Today our governments will be signing such an agreement establishing a joint council to help our efforts to expand trade and investment between our countries.
Ecuador has also led the way in environmental reforms, becoming one of the first countries to engage in a debt-for-nature swap program. When we visited Ecuador in 1984, I saw a beautiful country -- an extraordinary mix of animal and plant life, the towering Andes, the sweeping vista of the Pacific, and the Galapagos beyond. And we are committed to assist Ecuadorean efforts to preserve their unique environmental heritage.
Ecuador has collaborated closely with the United States in our global effort to deal with the scourge of cocaine. And Ecuador is a leader in rolling back coca cultivation. In fact, several years ago, Ecuador eradicated all coca plantings. And the antidrug legislation you have sponsored not only has kept the destructive cocaine culture from taking root in Ecuador, it also aids us in stanching the drug flow here.
President Borja, I look forward to continued close cooperation with you across the full range of our common concerns, from strengthening democracy throughout our hemisphere to working for expanded trade and investment opportunities to the fight against cocaine trafficking. Our talks have served to reconfirm the great value of our partnership.
Thank you, and Godspeed in your journey ahead. Thank you for coming here.
President Borja. Mr. President Bush and ladies and gentlemen, it has been truly a pleasure to have been invited to this country and to have been received by Mr. Bush and by his family, to have enjoyed the warmth of a close personal association with the family, and especially to have had the opportunity of continuing our tennis match, which started in Costa Rica. And yesterday, fortunately, not due to any diplomatic reasons or -- of that nature -- the results were tied.
I would like to take advantage of this opportunity to offer you some reflections and some comments as to the nature of the world in which we are living and the nature of the relationships in which we live in this environment between Ecuador and the United States.
Every day, we are witnessing surprising and astounding events. I am certain that the years of 1989 and 1990 will go down in history as 2 years of extraordinary interest and extraordinary events. All of these events that we have witnessed have come with surprising speed and agility. We have been present at the fall of the Wall of Berlin. We are also witnessing the destruction and the disappearance of the Marxist monocracies that are giving way to a new concept of socialism and liberty. We are also witnessing that there is a decrease in the armament race. There are changes in what is NATO and the Warsaw Pact. There are also indications of the unification of Germany, and Korea is also attempting to do the same.
I think that all of these things bring to mind that there are two basic elements that are worthy of mentioning. One is the end of the cold war, which began in World War II. And the second element of importance is the fact that we are witnessing the appearance of a new opening as far as international relations -- an era where there will be more just and equitable relations between the various countries.
We are present here at these various elements of this new international order; and we hope that this new international order will be based upon a system of equity, of justice, and of equal participation. We applaud and commend the initiative of President Bush, his Enterprise for the Americas, which is based on three basic columns: one is the participation and growth of trade, the second one is a promotion of investments in all of these other countries, and the third is a reduction of the international debt that weighs so heavily upon us.
We admire the words that have been mentioned by President Bush and his concept that prosperity for Latin American nations depends basically on trade and not so much on foreign assistance that our countries may receive. We are sure that this prosperity will be the result of the work and of the creativity that we ourselves can develop.
Therefore, we are a country that, at present, together with other countries in Latin America, have very low saving rates in our population. The capital transfers are beyond any reason in this sense, and they can provide better opportunities for the future to have better investments that will allow us to find the solutions to the social and economic problems of the countries.
Ecuador is truly a nation of peace. It is an oasis where you find a great deal of tranquillity and peacefulness. We have a group of citizens that are hard-working people, and we have a government that is responsible not only for its mandate but also is projecting the future of Ecuador. And we are also having the basic foundations laid out for a democracy that will continue to survive. Our country, therefore, offers an excellent environment for foreign investments, and we will welcome all foreign investments that come into our country, and that they will also comply with the needs of our country and meet the social and legal elements.
President Bush, Mr. Baker, and Mr. Brady have been extremely courageous in attempting to find solutions to the problems of the foreign debt. This foreign debt, as they have indicated, is not only a financial problem but it also constitutes a political problem with different expressions. The foreign debt for Latin American countries is basically a matter of survival. And we are seeing that this debt, the burdens that it weighs upon our countries, provides the risks of placing our governments into a position of incompetence, of inability of being able to find and solve social and economic problems.
I have mentioned to Mr. Bush and his associates that our government in Ecuador has dedicated the decade of the nineties as the decade for ecological development. We, as all the nations of the world, wish to breathe pure, crystalline air, we wish to have healthy, good, fertile lands, and we also want to have clear waters running through our countries. As Ecuador is a member of the Amazon Basin pact, we are aware that the Amazon region is the largest humid tropical forest that exists in the world. This provides 40 percent of the oxygen that the world breathes. One fifth of the fresh water supplies are residing in this section. We have over 4,000 vegetable species in these lands. Just to give you an idea: 1 square mile of Amazon jungle has more species than all of the United States and Canada together. Therefore, we must take care of this environmental concern, to handle it properly, and to give it the necessary balance and equilibrium for future generations.
First, I want to thank President Bush for this opportunity of visiting the United States and also for being the first Latin American President that has been invited to hold talks at the issuance of the Enterprise for the Americas. Also, a special word of thanks for the family, for the warmth, for the cordiality that we received during yesterday. And further thanks for the important statements that Mr. Bush has just issued.
We wish to hold the President and the Government of these people responsible in the future to assist us in their commitment to achieve the progress and the well-being of Latin America and the Caribbean nations. And furthermore, a special expression of appreciation for the very kind and warm hospitality that President Bush has given us during these few hours in this wonderful country.
Thank you.
Note: President Bush spoke at 1:12 p.m. at the South Portico of the White House. President Borja spoke in Spanish, and his remarks were translated by an interpreter. In his remarks, President Borja referred to Secretary of State James A. Baker III and Secretary of the Treasury Nicholas F. Brady. Prior to their remarks, the two Presidents met privately in the Oval Office and with U.S. and Ecuadorean officials in the Cabinet Room, and then attended a luncheon in the Old Family Dining Room. The proclamation is listed in Appendix E at the end of this volume.
George Bush, Remarks Following Discussions With President Rodrigo Borja Cevallos of Ecuador Online by Gerhard Peters and John T. Woolley, The American Presidency Project https://www.presidency.ucsb.edu/node/264781