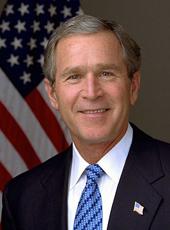 Remarks Following Discussions With President Luiz Inacio Lula da Silva of Brazil in Strelna
President Bush. It's an honor for me to have a discussion with my friend the President of Brazil. He represents a great country, right in the heart of our neighborhood.
We've got a lot to discuss. I'm, of course, interested in his views about different nations in our neighborhood. He's a man who looks at the world and is able to give a good assessment.
I'm interested in continuing our dialog about alternative energy. Brazil has been a leader in development of biofuels. I'm interested, as well, in talking to the President about how we can move the Doha round of WTO forward. He's one of the leaders when it comes to trade discussions. A lot of the world looks to his—to him for judgment. And so I view this as a very important meeting. We're committed to a successful Doha round. In order for the round to be successful, the United States and Brazil must continue to strategize.
And so, Mr. President, welcome. You're looking good. You're looking good.
President Lula da Silva. This is because of the election campaign that's going on. [Laughter]
Mr. President, for Brazil, the fact that the G-8 had decided to create, open a special moment to discuss the Doha round at the G-8 meeting is extremely important. After our phone conversations, I am convinced that now is the time for us to make a political decision, whatever might it be. We cannot leave in the hands of our negotiators only. They already have done immense work, but now it seems to me that they don't have any hidden card in their pockets anymore. Now we're the ones that have to take our cards from the pockets. So that's why it is extremely important that the G-8 discusses this subject matter.
And another important thing is that we see that we will open up the possibility for us to build partnership with the United States of America on the issue of renewable sources of energy and fuel. And we are advancing this field. The biodiesel program is already a reality. And now we have another novelty that is the H-bio that is directly, finally, in the refineries—of the blend of oil seeds and vegetable oil with petroleum.
I'd like to take advantage of this moment and hand over to you—[laughter]—our program of renewable sources of fuel. We have ethanol, biodiesel, H-bio—it's almost an invitation, Mr. President, for us to build a major partnership.
President Bush. Thank you, sir. [Laughter]
NOTE: The President spoke at 8:55 a.m. in Cottage Nine at the Konstantinovsky Palace Complex. President Lula da Silva spoke in Portuguese, and his remarks were translated by an interpreter.
George W. Bush, Remarks Following Discussions With President Luiz Inacio Lula da Silva of Brazil in Strelna Online by Gerhard Peters and John T. Woolley, The American Presidency Project https://www.presidency.ucsb.edu/node/267159