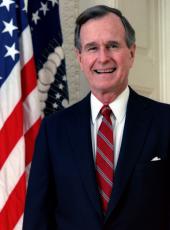 Remarks Following Discussions With President Gnassingbe Eyadema of Togo
President Bush. With your permission, Mr. President. First, it has been a privilege to welcome you to the White House on this historic visit to our country. From the first days of Togo's independence 30 years ago, ties between our two nations have been very strong, and today's meetings are proof that Togo and the United States build on firm foundations, proof that we share a commitment to work together in what can be a decade of great promise for all of Africa.
In the past year, we have seen a narrowing of many of the great differences that divide nations, a growing consensus on the principles and policies that secure peace and progress. As our meetings today made clear, there is no more potent engine of economic progress than the free market.
Mr. President, I was very interested to learn more about the reforms that the Togolese Government is taking to open trade, encourage investment, and improve overall economic growth. And I am pleased that the United States has been able to assist Togo in this time of transition, pleased that AID and OPIC are now working with your government to create a duty-free industrial zone near the port of Lome, the point of entry for so many of the goods bound not only for Togo but for the neighboring nations of Mali and Burkina Faso and Niger. With each of these steps, Togo moves steadily toward a more prosperous future for its people and a leading role in the development of west Africa.
The U.S. is ready to do what it can in order to build on the encouraging economic changes already taking place in Togo. Our aim is to provide expanded trade opportunities and help Togo attract new capital to fuel lasting economic growth. But in the great revolution of ideas the world is now witnessing, the free market is only one half of the equation. What we have seen in country after country in every continent is the universal desire to live, work, and worship freely; a universal desire that finds its political expression in democracy. As in Europe, Asia, and right here in the Americas, the love of freedom is alive in Africa. And people the world over are discovering that, in the deepest sense, the path to development and the path to democracy are one and the same.
Mr. President, I'm encouraged by your recent statements in favor of a more open political system and on the value of the free flow of ideas. Mr. President, we share the view that Togo, like so many of its African neighbors, is a land of tremendous potential. And our talks today, proof of the strong and stable relationship between our two countries, point the way to a future of progress and prosperity.
So, once again, welcome to Washington. And with your permission, and at great risk, I would like to just say a few words in my very bad French to the Togolese people.
[At this point, President Bush spoke in French, but a translation was not provided.]
God bless you, sir, and God bless the people of Togo.
President Eyadema. Mr. President, it is a great pleasure for us to be in your great and charming country on this official and working visit at Your Excellency's kind invitation. This visit has given us a good opportunity to exchange views on problems concerning relations of friendship, cooperation, and ever-broadening solidarity which unites the American and the Togolese people. Taking place at a time when serious changes are happening throughout the world, this visit has also given us the opportunity to go over a wide range of matters which concern the international community, and especially the Third World.
Seven years ago, when I visited your country for the first time, nobody could imagine that our world would become today the scene of social, economic, and political changes which, in so short a time, have thoroughly shattered the well-known facts of contemporary history. In less than 3 years, rivalries between ideological blocs have diminished and have removed the barriers of prejudice, thus favoring the negotiated settlements of several regional conflicts and the process of a nuclear disarmament which has become a reality today. This climate of eased tensions, trust, and tolerance, as a token of balance of mankind, is the result of the pragmatic, realistic, and perfected policy that you have instituted -- and which quite recently opened right here in Washington, DC, a new era of cooperation between your country and the Soviet Union.
Yet the positive evolution which marked international relations in recent months and which gave rise to rightful feelings of hope within people who love peace, freedom, and justice will only be fruitful if appropriate remedies are found for the serious development problems facing Third World countries in general and Africa in particular.
Our continent, victim of starvation, widespread diseases, and all kinds of calamities, relies only on an economy which is still at a preindustrial stage. The considerable decrease of export revenues resulting from the constant fall of the prices of the raw materials is at the origin of our shaky economies as well as the burden of the African debts, which according to estimates will rise from $250 billion in 1990 to $600 billion in the year 200 [2000]. That is the reason why we are instantly calling on industrialized countries that supplies the market of raw materials to eliminate obstacles that hinder the North-South trade and to set up resources in favor of Africa in order to enable her to promote a sustained and lasting development.
I would like to take this solemn opportunity to once again appeal to the friendly nations of Africa, such as the United States, so that, like the aid granted to the Eastern countries, they set up a real Marshall plan in favor of the African Continent. Just as in the past, I'm quite sure that Togo can rely on your country, to which it is bound by links of friendship and cooperation covering not only agricultural, social, and political sectors but cultural ones as well.
This American-Togolese cooperation, which grows stronger and stronger every day thanks to the contribution of the U.S. AID and of the Peace Corps volunteers, recently found a new inspiration through the position of your government and that of the OPIC to set up an industrial free zone in the Togolese territory. Allow me to acknowledge to you, Mr. President, how the Togolese people are so much touched and honored by this invaluable gift you offer them and which is particularly meant for our young people, whose hopes lie in that industrial free zone as a source of prospect and job opportunities. Our country, which has already chosen the way of private initiative, economic liberalism, protection and defense of human rights, and which continues its step-by-step democratization processes, enjoys all the necessary conditions that guarantee the success of that industrial free zone.
I, therefore, wish to invite American investors to come in numbers and settle in Togo where, within the framework of that industrial-free zone, they could enjoy a climate of peace, security, and freedom, a necessary condition for the development of their businesses, including the best attracting conditions of investments.
Our country has a strong belief in the future of the close cooperation which links our two nations, and there is no doubt on my mind that this official visit will further consolidate the friendship and the solidarity which bind the people of both nations and strengthen our thoughtful and sincere relations in any field.
Long live the United States of America. Long live the friendship and the cooperation between America and Togo.
Note: President Bush spoke at 1:16 p.m. at the South Portico of the White House. President Eyadema spoke in French, and his remarks were translated by an interpreter. Prior to their remarks, the two Presidents met privately in the Oval Office and with U.S. and Togolese officials in the Cabinet Room, and then attended a luncheon in the Old Family Dining Room.
George Bush, Remarks Following Discussions With President Gnassingbe Eyadema of Togo Online by Gerhard Peters and John T. Woolley, The American Presidency Project https://www.presidency.ucsb.edu/node/264928