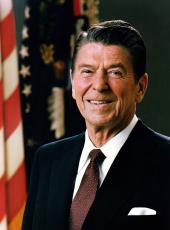 Remarks Following Discussions With President El Hadj Omar Bongo of Gabon
President Reagan. President El Hadj Omar Bongo has been a very welcome guest at the White House. This has been a long-awaited visit that has given us a chance to return the generous hospitality President Bongo personally accorded to so many representatives of this and earlier administrations.
For 20 years President Bongo has led his country in an era of stability and progress. Under his leadership, Gabon has consistently encouraged the peaceful settlement of regional disputes, siding with reason, dialog, and moderation over bloodshed, war, and terror. Recognizing this, the Organization of African Unity asked President Bongo to help find a solution to the conflict in Chad.
President Bongo has been a champion of African development and has worked tirelessly for the welfare of his people and all Africans. The United States and Gabon have cooperated closely in the effort to achieve these noble goals. We have enjoyed a positive and friendly relationship for the past two decades, a relationship that has served both our countries well. I've greatly valued President Bongo's advice and counsel concerning America's role in Africa's political and economic development.
Today President Bongo and I found ourselves in harmony about many of the key issues that confront Africa. We agreed that economic reform, which is the best hope for growth, self-sufficiency, and full economic sovereignty, must proceed. The United States has encouraged reform through special aid funds and increased contributions to international financial institutions. Gabon is contributing, as well, by setting an example, taking positive steps toward reform on its own and in coordination with the IMF [International Monetary Fund]. We admire this commitment and wish President Bongo great success. For our own part, we will soon be signing a bilateral debt rescheduling agreement with Gabon. The U.S. investors have had a favorable experience in Gabon. President Bongo is working to make the investment climate even more attractive, and we're working with him to promote increased U.S. investment there.
President Bongo and I also reviewed the situation in southern Africa. We share the conviction that negotiated, peaceful solutions to the disputes that afflict that region are urgently and clearly possible. The evil of apartheid is no exception. President Bongo and I are committed to working together, along with other African leaders of good will, to set the region on a peaceful course.
The United States will continue to stand unequivocally by the side of Africa, with our counsel, our friendship, and our assistance. Constructive meetings, like the one I held today with President Bongo, bolster that commitment. I was very much heartened by our discussions and pleased to have President Bongo as our guest.
President Bongo. Mr. President, I'm deeply touched by the attention lavished upon us and friendship and sympathy that my delegation and myself have received during this official visit, which is now beginning, which it is my privilege to carry out throughout your great and beautiful country. I'm also touched by your kind words towards me, and touched also by the confidence you displayed toward my country. May I thank you for this, Mr. President, and tell you, in turn, on behalf of the people of Gabon and in my own name, how much esteem and friendship we feel towards you personally and towards the American people.
In you, the American people finds its perfect embodiment, because beyond your great statesmanlike qualities, it has found the leader which has given back confidence and greatness and dignity back to the American nation. No country can stand idly by and watch what is going on in the United States, and Gabon watches with keen interest, the deep and rapid shifts taking place under your leadership within American society.
In this political world in which we live, the United States built its own nation, predicated upon the diversity of origins of your people. Thus, you have become an example for all countries which love liberty, solidarity, and peace. Therefore, speaking as a leader of an African nation, may I state that we follow very carefully all your efforts to put an end not only to apartheid and regional conflicts but also to put an end to the steady deterioration of the economic situation of the African continent.
For our part, Mr. President, we have set up with the IMF an austerity program which imposes drastic constraints upon us if we want to preserve the future. The IMF and the Paris and London Clubs have been made aware of our determination and of our will to honor our commitments. In this connection, may I tell you how much I appreciate to the full extent of the impact the rescheduling measures taken, vis-a-vis our debt, that you were kind enough to undertake in this very difficult situation. We wish, Mr. President, for the spirit of solidarity to prevail in the end and for our export commodities to gain access to world markets and their remunerative level. Solidarity, indeed, must become the reality in relationships among states.
In this connection, distance between our two countries, the difference in our levels of development, and in our respective economic impact must not be an obstacle to cooperation in many areas. Gabon is a peaceful and peace-loving country, stable, and a welcoming country; and there is security in Gabon. Gabon is the special preserve of no one. Gabon seeks to diversify its partners, and in this connection, we know that there is a place for your country. The United States, indeed, can bring us their know-how, their technology, and their capitals in order to contribute to our development.
Mr. President, the United States and Gabon have for some years now enjoyed a harmonious relationship. We have a few American companies in Gabon already. What I wish for in the future is to see our relations enjoy a new impetus, particularly after we sign the bilateral agreement on treaty protection and investments. Finally, Mr. President, may I express my best wishes for your personal happiness and your success, for the prosperity of the great American people, and stronger cooperation between our two countries.
Note: President Reagan spoke at 1:30 p.m. at the South Portico of the White House. President Bongo spoke in French, and his remarks were translated by an interpreter. Earlier, the two Presidents met in the Oval Office and then had lunch in the Residence.
Ronald Reagan, Remarks Following Discussions With President El Hadj Omar Bongo of Gabon Online by Gerhard Peters and John T. Woolley, The American Presidency Project https://www.presidency.ucsb.edu/node/252710