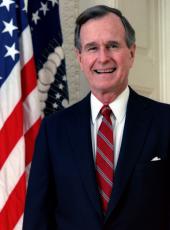 Remarks Following Discussions With President Alberto Fujimori of Peru
President Bush. Mr. President, it has been a great pleasure and a privilege to meet with you today and exchange views on the important issues that our two countries must overcome together. You, sir, you, Mr. President, are Peru's hope for the future. We have spoken openly, discussing the tough challenges Peru faces, from economic hardship to renegade insurgencies, from the war against drugs to the battle to preserve human rights. Much has been done on all these fronts, but much more waits to be achieved.
Mr. President, since taking office, you have cut government spending, eliminated price controls, knocked down barriers to trade and investment. Those reforms have begun paying off. They've begun paying dividends. Inflation has eased; net international reserves have risen. Peruvians feel confident in themselves, their economy, and their nation. We want to be a full partner in your efforts to restore Peru's economy because your people deserve the fruits of economic growth after so many years of suffering.
We also discussed narcotics trafficking and production, a scourge that blocks Peru's path to a peaceful and prosperous future, drains its resources, drives insurgency, and dampens its hope for a better tomorrow. Under your leadership, sir, Peru has moved to combat this deadly threat. You've both strengthened policy and military operations against the drug industry and stressed the need for alternative crop production. The U.S. and other nations have joined to support Peru's efforts with training, resources, and equipment. And in this spirit, I was pleased to reaffirm last May's accords in which we agreed to cooperate closely in combating drug trafficking.
To support these efforts, my administration wants to send $94 million in economic and military assistance to fight drugs. Unfortunately, Congress has placed a hold on disbursement of these funds, chiefly because of stated human rights concerns. We share these concerns, and so do you, Mr. President. But you have made progress on human rights, and let's also then see progress on releasing these funds.
Without this needed aid, cocaine traffic will continue unabated and violence and abuses will increase unredressed. So, I urge Congress to help Peru and the Andean nations create economic alternatives to coca production by passing my Andean Trade Preference Initiative.
Mr. President, you've combined strong leadership with swift action. You've replaced police officers suspected of corruption and abuse, begun to open up detention centers to prosecutors, and pledged to strengthen your military code.
Your reforms have begun to help improve the human rights record of the security forces, and your deeds echo the words of your country's constitution, "That all men, equal in dignity, have rights of universal validity." Rights abuses have fallen sharply since you took office last year. And Mr. President, your leadership and your nation deserve our support, and you have it.
Our Government is pleased to cochair with Japan an international group to help Peru with its debt problems and hasten its reintegration into the international financial community. A number of other countries, including several in Latin America, have joined this process which is so important for Peru's future. We hope the democratic community will rally generously to support your people.
Mr. President, you are confronting the challenge of change with courage and vision. And you're building a new Peru with a sound economy, respect for law, and a new sense of social justice and national reconciliation. You're steering your country steadily toward a place of renewed leadership in the community of democratic nations which Peruvian patriot Juan Pablo Viscardo y Guzman once called "the great family of brothers."
And so, once again, sir, it has been an honor to welcome you and, yes, your family to the White House and your excellent team that you brought with you. We welcome you once again, and let me just say may God bless you and the people of Peru.
President Fujimori. Mr. President, as President of Peru, I would like to express my appreciation and that of the Peruvian people for all your hospitality during our trip and for the considerable assistance that your Government has provided to my country through your leadership of the refinancing group. Thanks to your support, Peru will be able to resume normalized relations with the international financial community.
As we have discussed together, Peru and the United States have joined in a terrible intimacy in the war against drugs. Our country can play a significant role in the effort to wipe out drug trafficking. Peru produces 60 percent of the world's coca leaf, while the United States consumes 80 percent of the world's cocaine. The efforts on the part of both our countries to fight this scourge, within the framework of the antidrug agreement which we have signed and with the support of the coca-growing farmers of Peru, are critical. And we all recognize that each victory in this fight will benefit the youth of the entire world. In order to replace the coca leaf with other crops in Peru, it will be necessary to change our systems and create the conditions for a true market economy. It is only in this manner that the coca-growing farmer can switch to alternative and profitable crops.
We are making progress in this difficult war. We have achieved a national consensus which includes all of the coca-growing farm organizations for a move to legal crops and alternative development. Through intelligent efforts based on the shared vision between our two countries, we can consolidate a relationship which will vanquish drug trafficking.
As I informed you, we have established a new policy in Peru for the protection of human rights which will complement our fight against drug-trafficking and terrorists and will guarantee the full respect of those rights.
We are committed to ending the problems in Peru without abandoning the rule of law and democracy. Our plan for fighting drugs in Peru calls for identifying the coca-growing farmers. By identifying the coca farmers, we will also be able to identify the drug traffickers. I wish to assure you that our efforts to put an end to the activities of drug-trafficking will be implacable.
I am certain that with the cooperation of the United States of America, with its friendship and fraternity, together we will be able to free humanity of the terrible scourge of drug-trafficking.
Mr. President, again, my sincere thanks. Your support and concern for the reconstruction of my country will long be remembered by myself and the people of Peru. Many thanks.
Note: President Bush spoke at 1:22 p.m. in the East Room at the White House. Prior to their remarks, the two Presidents met privately in the Oval Office, met with U.S. and Peruvian officials in the Cabinet Room, and attended a luncheon in the Old Family Dining Room.
George Bush, Remarks Following Discussions With President Alberto Fujimori of Peru Online by Gerhard Peters and John T. Woolley, The American Presidency Project https://www.presidency.ucsb.edu/node/266327