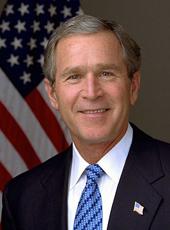 Remarks Following a Discussion With President Mahmoud Abbas of the Palestinian Authority
President Bush. Thanks for coming, Mr. President. I appreciate your chance to talk about peace. I assured the President that a Palestinian state's a high priority for me and my administration—a viable state, a state that doesn't look like Swiss cheese, a state that provides hope. It's in—I believe it's in Israel's interest and the Palestinian people's interest to have leaders willing to work toward the achievement of that state.
People that can deliver that state, that vision, to the Palestinian people were sitting right here in the Oval Office, led by the President. The President is a man of peace. He's a man of vision. He rejects the idea of using violence to achieve objectives, which distinguishes him from other people in the region. I'm confident we can achieve the definition of a state. I'm also confident it's going to require hard work.
To that end, I'm going back to the Middle East. I'm looking forward to meeting you, sir. And thank you for making time. I consider you a friend. I also consider you a courageous person. And I'm also will consider—believe strongly that when history looks back at this moment and a state is defined, that the Palestinian people will thank you for your leadership.
There are a lot of issues we discussed, issues of importance: the security of the Palestinian people and the Israeli people, the economic advancement of the Palestinian people. The thing that I'm focused on, and you are: how to define a state that is acceptable to both sides. I'm confident it can get done. I want to thank you for coming. I appreciate your time.
President Abbas. Thank you. Mr. President, thank you very much for receiving us here at the White House these days. And I also would like to thank you very much for the initiative that was launched during the Annapolis conference.
We believe that you actually are truly seeking a true, genuine, and lasting peace in the Middle East. And I am certain that you would like to see an agreement and settlement before the end of your term. And at the same time, we are doing everything we can in order to seriously negotiate and reach a peace that will be satisfactory to both the Palestinian side and the Israeli side, a peace that would be promoted around the world.
There are many parties also that are working very hard to support our efforts and to help us reach that peace. When I talk about your initiative, Mr. President, I also have to praise the Arab peace initiative that simply states that peace will be achieved after the Israeli withdrawal from the occupied Arab and Palestinian Territories. As a result of that, I believe strongly that more than 57 Arab and Islamic countries will normalize their relations with Israel. I believe very strongly that time is of the essence. We are working very hard and hope not to waste any time and continue these efforts to achieve peace.
Mr. President, your efforts, the efforts of your administration, the various visits— your previous one and your upcoming visit to Sharm el-Sheikh and to the region— all of this is a strong indication that you are very keen to continue to work very hard and to achieve your vision.
I cannot say that the road to peace is paved with flowers; it is paved with obstacles. But together we will work very hard in order to eliminate those obstacles and achieve peace.
President Bush. Thank you, sir. Thank you all. Shukran jazeelan.
NOTE: The President spoke at 1:51 p.m. in the Oval Office at the White House. President Abbas spoke in Arabic, and his remarks were translated by an interpreter.
George W. Bush, Remarks Following a Discussion With President Mahmoud Abbas of the Palestinian Authority Online by Gerhard Peters and John T. Woolley, The American Presidency Project https://www.presidency.ucsb.edu/node/277566