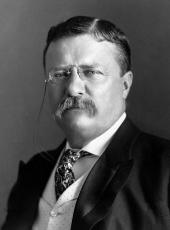 Remarks in Flomaton, Alabama
My fellow citizens:
I wish to thank you most heartily for coming to greet me today. The last time I came through your great and beautiful State I was with my regiment on the way to the Spanish War. In that regiment I had more men whose fathers had worn the gray than I had whose fathers had worn the blue; but they united in the generous rivalry to know no difference and in the emulation of seeing whether or not each could do all that was in him for the flag of your common country.
Gentlemen, think how fortunate we are as a people that, whereas, most great wars leave memories of rancor and bitterness, we now have the right of Americans all over this country to claim as part of the glory of all Americans all that was done alike by the ex-Union and ex-Confederate men, provided only that man did all that in him lay; acted as he should act in the times that tried men's souls.
There are surely here in the audience men who are veterans of the Civil War; and they have given us a lesson, not merely by what they did in war, but by what they did in peace. The same spirit that made them valiant in battle made them, when they came home from battle, take up the strings of their lives where they had dropped them when the appeal to arms came, and do their best in walks of peace. It is because of that quality that we as a people have such a right to glory in the progress made in our land.
In greeting the people, in greeting the veterans of the Civil War, I now want to get down to the other end of the line, and say just a word about the children. Children of to-day are going to decide what our country shall be in the immediate future, and accordingly as they are brought up well or ill our country will go forward or backward in the years that are now open. While much can be done by schools, do not forget that most, after all, must be done in the home itself.
There is nothing unusual, nothing out of the way, demanded in making a good citizen. What we need is not genius, not brilliancy, but the ordinary commonplace virtues that every man or woman can have, if only he or she will. The man who is decent in his home relations, who is kind to those dependent upon him, who is a good husband, father, and son; is a good citizen; and an even better citizen is his wife. What we need in the average man in his relation to the State is that he shall have the three qualities—courage, honesty, and common sense.
Theodore Roosevelt, Remarks in Flomaton, Alabama Online by Gerhard Peters and John T. Woolley, The American Presidency Project https://www.presidency.ucsb.edu/node/343619